With a $1,100 Shopping Bag, Balenciaga Keeps Trolling and the Internet Keeps Falling For It
Balenciaga once again trolled the internet with a $1,100 tote, and just debuted its next trolly 'It' bags.
---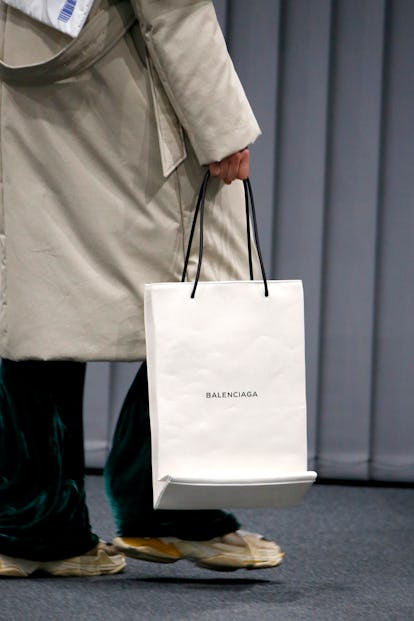 Estrop
Has Balenciaga successfully hacked the internet's outrage cycle for maximum promotional game? It sure seems like it. Since Demna Gvasalia took creative control of the house, he's continually churned out luxury (and incredibly expensive) versions of increasingly mundane bags.
The latest example: a calf-skin leather version of the brand's own paper shopping bags that sells for $1,100. It's not surprising that he keeps doing it, only that the internet keeps openly falling for the trolling.
Before this bag, there was the $2,145 leather Balenciaga totes inspired by Ikea's iconic $0.99 Frakfta bag. That was preceded by a bag that looked like the one a brand new comforter may come in, and a luxe take on the sort of plastic zippered market bags one might find in Thailand.
The cycle goes like this: Balenciaga debuts the bags on the runway and very few people outside of the fashion industry take note. A couple months go by, the bags actually go into production, then they're uploaded for sale on Balenciaga's website with a hefty price tag affixed, and that's, predictably, when the internet goes nuts. These particular luxe shopping bags made their runway debut back in January, yet the internet is just getting word.
"A Designer Is Selling A Fake Paper Bag For $1,100 Because Of Course," read a Buzzfeed headline yesterday. It came exactly two months to the day after the same website published a headline that read, "A Designer Is Selling A $2,145 Version Of That Bag You Use To Do Laundry."
All sorts of earnestly outraged Tweets ensued.
Of course, just about everyone in fashion but the most clueless hype beasts know there's a high level of humor in Gvasalia's work both at Balenciaga and his even more trolly Vetements brand. Still, not everyone agrees what the punchline is or who the joke is on: the consumer? A fashion system that puts too much of an emphasis on the sale of 'It' bags? Those who are outraged by it?
While Gvasalia has mastered the joke at Balenciaga, he's not the first to tell it.
There was Jil Sander's $245 "brown paper" lunch bag from 2012.
Chanel had their own take on leather shopping bags in 2009.
Yet, it's not a joke that Balenciaga is done telling just yet. While unveiling their fall menswear line today they pretty much forecasted what a Buzzfeed headline will read in a few months. This time they went with riffs on plastic shopping bags:
And straw beach bags:
Meanwhile, the brand only continues to get buzzier and sales continue to roll in.
Related: Kyle MacLachlan, Über Dad and Twin Peaks' Agent Cooper, Sat Front-Row at Balenciaga's Dadcore Spring 2018 Show
Butterflies of Paris: How Street Style Stars Do Paris Fashion Week: