Who You Gonna Call? GucciGhost
The story of how a former Olympic Canadian snowboarder named Trevor Andrew caught the attention of Alessandro Michele with his playful online persona GucciGhost.
---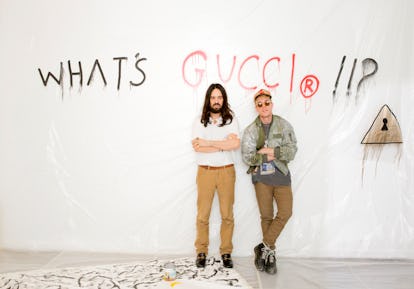 Three years ago, Trevor Andrew was an ex-Olympic snowboarder working in Bed-Stuy with a peculiar obsession with the Italian luxury label Gucci. He needed a last-minute costume for Halloween, so he cut a pair of holes in his fine Gucci bedsheets and called it a night. As he walked around, New Yorkers everywhere catcalled him: "Hey! Gucci ghost!" An idea took hold.
Encouraged, Andrew began to run all over New York painting his interpretation of the iconic Gucci logo on every surface he could find, later posting the images to his personal Instagram using the hashtag #guccighost. To his surprise, he attracted a following.
Last week, nearly 3,000 posts and 26,000 followers later, he found himself in an unlikely spot: front and center at Gucci's Milan headquarters not just in the presence of Alessandro Michele, but collaborating with the critically adored creative director.
"There were no crazy guidelines that I had to follow," Andrew said in his Brooklyn studio still dizzy from his Milan sojourn. "It was like, come in, create, and let's have fun." Originally from a small town in Nova Scotia, Canada, Andrew, grew up embedded in skate and snowboard culture, riding professionally for 15 years for Burton Snowboards and even competing as part of the national Canadian team at the 1998 winter Olympics in Nagano, Japan (he ranked 9th in the men's halfpipe at the 2002 Olympics in Salt Lake City).
It was with the money he won snowboarding that he bought his first Gucci watch at 17. He had seen Inspectah Deck wearing one just like it on a Wu Tang Clan album cover and he had to own it. "The value of that and what it represented to me was so much more than what I paid for," Andrew recalled. "When this GucciGhost concept came up kind of as a fluke, it made sense. And once I saw people react to what I was making, it told me that other people feel the same way about how something like Gucci can make you feel."
Today, Andrew still wears a Gucci watch, although it's one of many. He also has a two gold teeth and wears sunglasses inside. The GucciGhost logo was everywhere in his studio alongside shelves of old VHS skate videos, boom boxes plastered with Thrasher stickers, and a painting of the phrase "Life is Gucci." "It means 'Life is good,'" Andrew said. "Gucci is like a language. What's Gucci? Everything is Gucci. It's good. It's greatness. The fact that it's made it into English slang, that's so dope."
Andrew's interest in ripping up high fashion and putting it back together stems from his years thrifting with his mother while he was growing up. "I wouldn't use the world knockoff," he said. "I repurpose things." Skate culture also taught him to have an appreciation for the power of branding.
"People ask if I'm mocking [Gucci] and I'm honestly not at all. When I started the project, I wanted Gucci to notice me. Now more than ever before is a time when they would actually get what I was doing and see that it applies to high fashion and can reach a wide range of people," he said. "And it worked!"
Since Michele took over Gucci, he's expressed an interest in Internet culture and has brought into his fold artists who've earned a following through their Instagrams. After his fall 2015 show, he invited the artist Helen Downie, best known as @unskilledworker, to create a series of paintings based on the collection. And not only is fashion embracing skate culture and street artists, but designers like Michele are also tapping into something much deeper — one might call it a "new romance" — of boys and girls; high and low; vintage and new.
Andrew, who is married to the musician Santigold, actually came to Michele's attention through mutual friend and skate photographer Ari Marcopoulos, who shot the brand's pre-fall 2016 look book.
When Andrew met Michele, he said they enjoyed an instant bond, just like when he met other skateboarders when he was younger. "It was like we vibed immediately," he said. The collaboration on the fall collection flowed just as easily, with Andrew painting on bags his now-signature "REAL LOVE" logo above Gucci's own, as well as the iconic double 'G' and, of course, ghosts.
"We played music and it was really casual," Andrew said of working with Michele. (Trouble Andrew is Andrew's musical moniker, and he's worked with everyone from Diplo to Zoe Kravitz.) "Alessandro completely works off of love and no fear," he said. "His collections touch upon so many different things. It's not like, 'Okay, this works. So we're going with this.' It's like, a bunch of things work and he's so free. I never felt uncomfortable around [him]. Before I met him, I didn't know what to expect. But immediately, he's just such a gentle and awesome guy."
Now that he's returned from his first Milan Fashion Week ever, Andrew can hardly believe his luck. Later this week, he's getting the phrase "It was all a dream" tattoed on his left arm.
"When I first started this GucciGhost project, a lot of people were like, 'Yo, you're crazy man. It's never going to work. They're never going to talk to you. Those guys don't even light their own cigarettes!'" he said. "But that's just so not true and I'm so glad I kept pushing the concept. I was so honored for it to have gone as far as it did. But I would have been content with, 'He's cool.'"
Life is Gucci, indeed.
Photos: Who You Gonna Call? GucciGhost
Alessandro Michele and Trouble Andrew. Photo by Kevin Tachman.
Alessandro Michele and Trouble Andrew. Photo by Kevin Tachman.
Trouble Andrew and wife Santigold front row at the Gucci Fall 2016 runway show. Photo courtesy the brand.
Gucci Fall 2016. Photo by Kevin Tachman.
Gucci Fall 2016. Photo courtesy the brand.
Gucci Fall 2016. Photo by Kevin Tachman.
Gucci Fall 2016. Photo courtesy the brand.
Gucci Fall 2016. Photo courtesy the brand.