Cordell Broadus, Snoop Dogg's Son, Informed His Dad That Baggy Jeans Aren't Cool Anymore
The 20-year-old quit football to pursue other interests, including fashion and film. W caught up with him on the heels of his first Dolce & Gabbana show.
---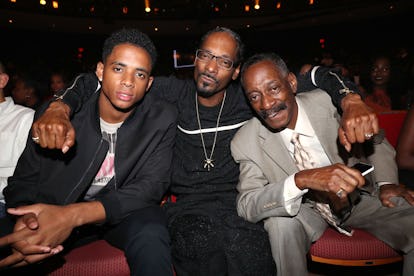 Getty Images
The 45-year-old rapper Snoop Dogg will forever be a hip hop style icon, but it's his 20-year-old son, Cordell Broadus, who is currently keeping him up-to-date with what's in and what's out.
"I'm like his personal stylist," Braodus said just days after his runway debut at the Dolce & Gabbana Spring 2018 men's show in Milan. "He used to wear these big ol' baggy jeans, and I literally had to take all his jeans out of his closet and get him some that were appropriate. He was wearing like a size 40 or 50 or something and he's like, a 32. I was like, 'Come on, dude! You can't be wearing big baggy stuff like that no more. That's not in.'"
Broadus said this while leaving the Joyrich offices in Los Angeles, a streetwear brand founded in 2007 by the Japanese creative director, Tom Hirota. On Father's Day this year, Broadus teamed up with Joyrich on a capsule collection and fashion show in honor of his dad and his signature laid-back West Coast style, which includes velour tracksuits, silk robes, and slides.
"I saw all these influencers like Kylie Jenner wearing him on their shirts, and he doesn't get paid from that," said Broadus of his dad. "I wanted to capitalize on what's happening right now, and having '90s rappers on your shirt is what's in."
So, not only can having a stylish scion for a son get you a wardrobe update, but it can also get you paid. "I had to check his calendar!" said Broadus of pitching the idea to his dad, who didn't go easy on him, and treated it like any other business deal. "He wasn't about to do anything for free."
In the end though, Broadus got the entire family to walk the runway during the MADE L.A. fashion week, including his brother, his dad, and his grandfather.
"It was an incredible experience," Broadus said.
A little over a year ago, Broadus could be found far from the fashion world on the football field at UCLA. His dad coached him growing up, and they were even on an ESPNU mini-series together titled, Snoop & Son: A Dad's Dream. But last summer, Broadus finally decided to quit to pursue other passions.
"I played football for my father because I thought that was the only way he would love me and be apart of my life," Broadus wrote in an Instagram caption. "It took me 12 years to realize he loves Cordell Broadus the person not Cordell Broadus the football player. The best day of my life was when I heard those exact words."
Now, not only is Broadus signed to Wilhelmina with over 600,000 Instagram followers of his own, but he's also got an entirely new wardrobe, too.
"Playing football is such a masculine thing," he said. "And the fashion industry isn't really known to be masculine. Doing that was a new experience for me, and I found it really cool. It was another outlet for me to express myself creatively. I'm more open-minded now and more mature."
At the end of the day, though, like most people his age, Broadus wants to do a million different things, and modeling is just a gateway to meet people, get noticed, and eat a lot of "bomb" pasta in Italy.
"I want to be known as an entrepreneur first, and a filmmaker second," said Broadus in a sudden conversation shift, revealing that he already has his own production company and shot a music video for his dad last weekend. His favorite films are Pulp Fiction and Pursuit of Happyness, and thanks to his dad, he's got a plan laid out for how to get to where Quentin Tarantino is today: "Meet the bosses, get right to it, be good to everyone, and have a positive attitude."
So, there you have it: The Snoop Dogg family recipe for success.
Related: Meet the Celebrity Scions Class of 2017, From Paris Jackson to Hailie Scott
All the Scions at Dolce & Gabbana's Spring 2018 Men's Show
Jeon June, Brandon Thomas Lee, and Karry Wang Jun-Kai present creations for fashion house Dolce Gabbana during the Men's Spring/Summer 2018 fashion shows in Milan, on June 17, 2017. (MIGUEL MEDINA/AFP/Getty Images)

MIGUEL MEDINA
Sistine Stallone walks the runway at the Dolce & Gabbana show during Milan Men's Fashion Week Spring/Summer 2018 on June 17, 2017 in Milan, Italy. (Photo by Jacopo Raule/Getty Images)

Jacopo Raule
Sophia Stallone walks the runway at the Dolce & Gabbana show during Milan Men's Fashion Week Spring/Summer 2018 on June 17, 2017 in Milan, Italy. (Photo by Jacopo Raule/Getty Images)

Jacopo Raule
Chase Hill walks the runway at the Dolce & Gabbana show during Milan Men's Fashion Week Spring/Summer 2018 on June 17, 2017 in Milan, Italy. (Photo by Venturelli/WireImage)

Venturelli
Melusine Ruspoli walks the runway at the Dolce & Gabbana show during Milan Men's Fashion Week Spring/Summer 2018 on June 17, 2017 in Milan, Italy. (Photo by Jacopo Raule/Getty Images)

Jacopo Raule
rincess Maria-Olympia of Greece and Denmark walks the runway at the Dolce & Gabbana show during Milan Men's Fashion Week Spring/Summer 2018 on June 17, 2017 in Milan, Italy. (Photo by Venturelli/WireImage)

Venturelli
Luka Sabbat walks the runway at the Dolce & Gabbana show during Milan Men's Fashion Week Spring/Summer 2018 on June 17, 2017 in Milan, Italy. (Photo by Jacopo Raule/Getty Images)

Jacopo Raule
Sonia Ben Ammar walks the runway at the Dolce & Gabbana show during Milan Men's Fashion Week Spring/Summer 2018 on June 17, 2017 in Milan, Italy. (Photo by Jacopo Raule/Getty Images)

Jacopo Raule
Presley Gerber walks the runway at the Dolce & Gabbana show during Milan Men's Fashion Week Spring/Summer 2018 on June 17, 2017 in Milan, Italy. (Photo by Jacopo Raule/Getty Images)

Jacopo Raule
Cordell Broadus walks the runway at the Dolce & Gabbana show during Milan Men's Fashion Week Spring/Summer 2018 on June 17, 2017 in Milan, Italy. (Photo by Victor Boyko/Getty Images)

Victor Boyko
Tyler Clinton walks the runway at the Dolce & Gabbana show during Milan Men's Fashion Week Spring/Summer 2018 on June 17, 2017 in Milan, Italy.

Estrop
Diggy Simmons walks the runway at the Dolce & Gabbana show during Milan Men's Fashion Week Spring/Summer 2018 on June 17, 2017 in Milan, Italy. (Photo by Victor Boyko/Getty Images)

Victor Boyko
Will Peltz walks the runway at the Dolce & Gabbana show during Milan Men's Fashion Week Spring/Summer 2018 on June 17, 2017 in Milan, Italy. (Photo by Victor Boyko/Getty Images)

Victor Boyko
Braison Cyrus walks the runway at the Dolce & Gabbana show during Milan Men's Fashion Week Spring/Summer 2018 on June 17, 2017 in Milan, Italy. (Photo by Jacopo Raule/Getty Images)

Jacopo Raule
Rafferty Law walks the runway at the Dolce & Gabbana show during Milan Men's Fashion Week Spring/Summer 2018 on June 17, 2017 in Milan, Italy. (Photo by Jacopo Raule/Getty Images)

Jacopo Raule
Roberto Rossellini walks the runway at the Dolce & Gabbana show during Milan Men's Fashion Week Spring/Summer 2018 on June 17, 2017 in Milan, Italy. (Photo by Venturelli/WireImage)

Venturelli
Taylor Giavasis, Brandi Cyrus and Vogue Williams attend the Dolce & Gabbana show during Milan Men's Fashion Week Spring/Summer 2018 on June 17, 2017 in Milan, Italy. (Photo by Venturelli/WireImage)

Venturelli
6 Rising Male Models from Famous Families Share Their Biggest Pet Peeves