Raury, a Dolce & Gabbana Model, Protested the Label During Its Own Fashion Show
Raury, a younger singer, was cast in Dolce & Gabbana's latest show, but only found out about the labels "#Boycott" shirts once he was in Milan.
---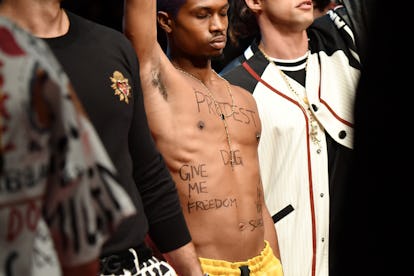 Jacopo Raule
It's not unheard of for a fashion show runway to be the site of an impromptu protest, but what happened over the weekend at Dolce & Gabbana's mens show in Milan is, if not unprecedented, than at least quite unusual: a high-profile model cast in the show protested the label on the catwalk.
Raury, an up-and-coming from R&B singer from Georgia, stripped off his top during the finale to reveal message he had written on his skin, including "Protest D&G."
To understand how it got to this point you need to know two things about Dolce & Gabbana's recent history:
The brand has really doubled down on the millennial influencer trend. Over the past year the brand has relied less on traditional models on its runways, and instead has employed casts full of web stars, up-and-coming musicians, young actors, and pretty young things who happen to be the children of famous parents.
The brand, specifically Stefano Gabbana, has also gleefully waded into political controversy, and often is unapologetic about it. Their clothing has been a favorite of First Lady Melania Trump, and Gabbana has been particularly proud of that fact on Instagram, posting pictures anytime Donald Trump's wife sports one of his outfits. Of course because anything involving Trump at the moment proves controversial, he's received some flack. So, the brand decided to produce $245 "#Boycott Dolce & Gabbana" shirts, and even shot a promotional film centered on a staged protest. Like many of the brand's designs, their response to a few negative Instagram comments was, well, quite maximalist.
Perhaps then it was inevitable that the brand's heavy efforts to court millennials would come into conflict with Gabbana's particular un-millennial view of political expression.
Raury, a new comer to D&G's model squad, but not to music, was already a woke, politically-minded, pro-youth thinker when we first caught up with him in 2015.
"People think that what I'm talking about, as far as peace in the world, is just a child's dream," he told us at the time. "But like, what the hell? Whoever thinks like that is completely jaded. If you've been jaded to the point where you hear a person talking about peace and love as a farfetched dream, that's a shame. It's horrible to not believe that. Listen to the kids."
As he told GQ, the singer arrived in Milan to walk the show without being aware of the recent D&G controversies, but suddenly realized he should do a quick Google search so when he met the designers he'd know which one was Dolce and which was Gabbana. Instead he found news stories about the designer's recent #Boycott shirt.
"Then I saw a commercial featuring the boycott T-shirt, and it looked playful and lighthearted—it was a joke," he said. "It was a troll. Me, as a young man from Stone Mountain, Georgia, the birthplace of the Klu Klux Klan, I really felt this mockery of boycotting. Who knows, if boycotts didn't happen, if Rosa Parks and M.L.K. didn't step up…who knows if I would even exist? Boycotting matters. Boycotting is real. Dolce's entire campaign says it's not real. I know that if I walk out there and support or endorse anything that sits next to Trump—or support someone who even makes dinner for Trump or whatever—then that means that I support Trump also. I don't support Trump. So I'm trapped, and I have to let people know that I don't support Trump and I don't support those who are trying to undermine the voice of the people."
The young singer, who counts Jaden and Willow Smith among his friends and fans, took off almost immediately after the finale.
D&G has not replied. Yet. Instead, Gabbana has been busy picking a fight with Miley Cyrus. Her brother walked the show, and Cyrus posted an image on Instagram noting that while she was proud of her brother she didn't agree with D&G's politics. Gabbana has escalated the feud on his own Instagram. Most recently he's posted an image on his Instagram Stories multiple times reading, "Fart from Malibu…the newest fragrance from Dolce & Gabbana," an apparent reference to Cyrus's latest single "Malibu."
In any event, this certainly seems to be a first for fashion protests. Some brands, including Chanel and Vivienne Westwood have staged fake protests during their shows before. At other times, actual protesters, most notable from anti-fur groups, have interrupted shows. The closest precedent to this situation seems to be a 2015 Rick Owens show where a model took it upon himself to unfurl a banner reading "Please kill Angela Merkel NOT."
See What's Trending in W Video: