Miley Cyrus and Stefano Gabbana Are In an Instagram Feud
Things are getting heated between the pop star and fashion designer.
---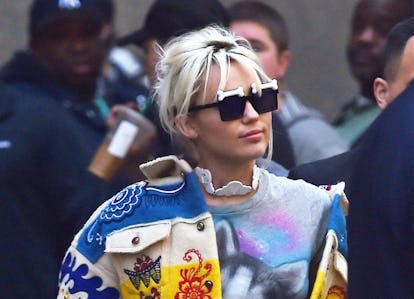 BuzzFoto via Getty Images
Today in news of Instagram interactions getting a bit out of hand, Miley Cyrus and Stefano Gabbana, of almost-eponymous Dolce & Gabbana, are embroiled in a feud. And to be honest, it's kind of hard to look away.
It all started when Braison Cyrus, brother of Miley, walked in Milan Fashion Week at D&G's Spring 2018 show alongside a number of other notable celebrity relatives. As a proud sister she posted an Instagram applauding her brother, but then she got political. The singer—who is, admittedly, no stranger to controversy—captioned the photo and then added a little P.S. to D&G:
"Congrats @braisonccyrus on walking in your 1st runway show…. It's never been my little brothers dream to be a model as HE is one of the most talented musicians my ears have ever been given the gift of hearing…. BUT it is a Cyrus family trait to try everything once (within reason HA) and to embrace opportunities that encourage you to step out of your comfort zone! We believe in trying something new everyday! I love you Prince Suga Bear and seriously congratulations on your experience! I am so proud of you always…. From Nashville to Italy! ?❤️?❤️?❤️ PS D&G, I STRONGLY disagree with your politics…. but I do support your company's effort to celebrate young artists & give them the platform to shine their light for all to see!"
Gabanna hasn't been shy about promoting the fact that First Lady Melania Trump has been wearing their pieces—at a time when other fashion designers are actively steering away from dressing or having an affiliation with her.
Yes, these are three posts of the same outfit. Technically, these came from Gabbana's account, but they were reposted by D&G. The company also came out with "BOYCOTT DOLCE & GABBANA" T-shirts in response to critics. D&G have said that dressing the First Lady is apolitical.
After Cyrus posted her congratulatory message (plus postscript), Gabbana reposted it with his own caption: "We are Italian and we don't care about politics and mostly neither about the American one! We make dresses and if you think about doing politics with a post it's simply ignorant. We don't need your posts or comments so next time please ignore us!! #boycottdolcegabbana ????❤️"
Gabbana didn't stop there: He commented on Cyrus's original post with "Ignorant!!!" as well as her Insta of Paper Magazine's post about Braison with a line of thumbs-down emoji and then: "For your stupid comment never more work with him ❤️❤️".
It's not the first time Gabbana's been caught up in an Insta-feud: the first time those "BOYCOTT" shirts appeared was in 2015 in response to a kerfuffle with Elton John. Gabbana and Domenico Dolce, who are both openly gay, made comments to an Italian magazine saying that they opposed gay adoptions. Dolce specifically chimed in with, "I call children of chemistry, synthetic children. Rented uterus, semen chosen from a catalog." John, who has two children with his partner who were conceived through IVF, responded with a spicy Instagram of his own vowing that he'd never wear the designers' clothing again, adding the hashtag #BoycottDolceGabbana. And thus the T-shirts and sassy faux-protest hashtag were born.
Related: Dolce & Gabbana's Stefano Gabbana Apologizes for Body-Shaming Lady Gaga
Miley Cyrus Gets Steamy for Planned Parenthood: