Zac Posen is the Latest Designer Who Won't Dress Melania and Ivanka Trump
Melania and Ivanka have worn Zac Posen before, but they probably won't in the future, after the designer declared he won't dress the first family.
---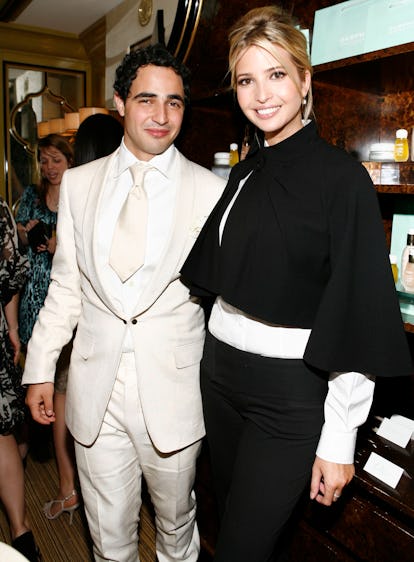 Amy Sussman
More and more, it seems American designers can be divided into two camps: those who would dress the Trump women and those who won't. Count Zac Posen among the latter. Though, unlike some of the designers who have spoken out, Posen has dressed both Melania and Ivanka Trump and mingled with the Trump family in the past. Notably, Ivanka chose to wear a red Zac Posen gown to the 2015 White House Correspondents' Dinner, while Melania sat front row at his show in 2004.
Posen, however, would prefer to keep his brand out of the current political muck. In a new interview with the Daily Beast, he said he has "no current plans to dress members of the first family. Right now, I'm staying away from bringing my brand into politics."
"There are issues that are being questioned that are fundamentally upsetting to me—deeply: LGBT rights, immigration, funding for the arts, Planned Parenthood, and women's rights," the designer continued. "These are just issues that are very close to my heart, and I use my own private voice and funds to fight for them and in support of them. I think it's important to use your voice. I think that every brand and person has a right to be vocal."
Posen also pointed out that he can't "dictate who buys my clothing in a store." Which means it's still possible that one of the Trump women could step out in one of his designs; he or his brand just wouldn't be actively involved.
That's what happened to Michael Kors last week when the First Lady wore one of his bedazzled skirt suits to attend President Donald Trump's speech before a joint session of congress.
Kors, a Hillary Clinton supporter during the election, quickly responded in smooth fashion by pointing out that his brand did not loan nor do custom work on the outfit, insinuating that Mrs. Trump either already had it in her closet or bought it through normal channels. "Mrs. Trump has been a longtime client at our New York boutique," he said. "She has a keen understanding of what works best for her and her lifestyle."
Typically, the first family does pay for most of their clothes out of pocket. In some cases, the First Lady can accept a custom dress as a gift, though she doesn't get to keep it. Those gowns become property of the government and are stored in the National Archive.
In any event, neither Trump women have been seen in any of the designers who have specifically said they wouldn't dress them. In addition to Posen, that list now includes Tom Ford, Marc Jacobs, Phillip Lim and Sophie Theallet.
For his part, Posen said that navigating politics can be a difficult task for designers. While he noted that "everybody has a political responsibility," he also told the Beast that, "You can't market or commercialize feminism as an entity. One has to be careful. I aim to be about powerful women in my clothing."
From Melania Trump to Jacqueline Kennedy, a History of First Ladies' Inauguration Day Style
First Lady Mamie Eisenhower, 1957

Getty Images
Watch W's Most Popular Videos: