This Is What the New Front Row Looks Like: Millennial Scions Take Over Fashion Month
Fashion brands have always sought to align youth influence with their own images. Now, a new generation of upstart social media influencers and celebrity scions have conquered the fashion industry.
---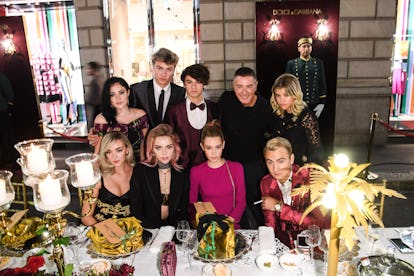 Getty Images
On Sunday night in Milan, a small army of Millennial influencers broke bread and plotted world domination at Dolce & Gabbana's post-show dinner. Among them were Hollywood scions Sofia Richie, 18, the daughter of Lionel Richie and rumored girlfriend of Justin Bieber; Rafferty Law, 19, the son of Jude Law; Brandon, 20 and Dylan Lee, 18, the sons of Pamela Anderson; Sistine Stallone, 17, the daughter of Sylvester Stallone; plus a handful of It kids in their own right including Vine star Cameron Dallas, 22, model Luka Sabbat, 18, model and Jaden Smith's girlfriend, Sarah Snyder, and Sonia Ben Ammar, who used to date Brooklyn Beckham. Together, their social media imprint is around 15 million.
Earlier that evening, the motley crew took over much of the front row at Dolce & Gabbana's Spring 2017 show, which was, as usual, a festa de Millennial — this season featuring a coconut water stand and a model wearing a burlap sack with a pizza on it. (Presley Gerber, 17, opened the men's show in June and models walked with headphones around their necks.) It was in keeping with the brand's intention to merge the "old world" with the new, and these young influencers' seat at the table with 400-something other fashion fixtures only solidified fashion's new world order. Put aside the raging debate over fashion bloggers; it's clear these days it's these scions and their cohort who are driving social influence.
But who benefits from this Millennial "influence," if anyone? Have we created a monster, or is this youth takeover of the front row a good sign for the fashion industry?
Millennial Scions Run Amok In Milan
Zhang Huiwen, Sistine Stallone, Thylane Blondeau, Leon Else, Sonia Ben Ammar, Luka Sabbat, Pyper America Smith, Sofia Richie, Talita Von Furstenberg, Brandon Thomas Lee,Cameron Dallas, Isabel Getty, Rafferty Law, Zoey Deutch, Dylan Jagger Lee, Starlie Smith, Daisie Smith and Sarah Snyder attend the Dolce & Gabbana dinner during Milan Fashion Week Spring 2017.

Getty Images
Thylane Blondeau, Pyper America Smith, Brandon Thomas Lee, Cameron Dallas, Isabel Getty, Dylan Jagge, Zhang Huiwen and Daisie Smith.

Getty Images
Thylane Blondeau, daughter of model Veronica Loubry and Patrick Blonde, Sistine Stallone, daughter of Sylvester Stallone, and Sonia Ben Ammar.

Photo by @sistinestallone.
Sofia Richie, daughter of Lionel Richie, and Sarah Snyder.

Photo by @sarahfuckingsnyder.
Brandon Thomas Lee, son of Pamela Anderson and Tommy Lee.

Photo by @brandonthomaslee.
Sofia Richie, Pyper America Smith, Sarah Snyder, and Dylan Thomas Lee, son of Pamela Anderson and Tommy Lee.

Photo by @dylanjaggerlee.
Isabel Getty, great-granddaughter of American oil tycoon, Jean Paul Getty, and Talita Von Furstenberg, daughter of Alexander and Alexandra von Fürstenberg.

Photo by @isabelgetty.
Model and girlfriend of Jaden Smith, Sarah Snyder.

Photo by @sarahfuckingsnyder.
Luka Sabbat and Sonia Ben Ammar, daughter of international movie producer Tarak Ben Ammar and actress Beata Ben Ammar.

Photo by @itsnotsonia.
Hailey Baldwin and Zoey Deutch, daughter of director Howard Deutch.

Getty Images
Rafferty Law, son of Sadie Frost and Jude Law.

Getty Images
For starters, the way this group in particular behaved at Milan Fashion Week did not bode well for the stereotypical Millennial image. After touching down in Milan last Friday, they proceeded to tear the ancient city apart, running unchaperoned through crowds at the Duomo like they owned the place and riding Segways through the notoriously narrow, winding streets — as children of the future do. Richie even posted a photo of Brandon Thomas Lee in a full denim tuxedo on the two-wheeled tourist-mobile with the caption: "Destroying Milano."
While it's very possible that these series of events was not only sponsored by, but also encouraged by Dolce & Gabbana, there's no doubt the label tacitly endorsed the youths' irreverence, already well documented before their Italian antics, by inviting them to lend their social clout to a brand name that's now 30 years old.
Although many of these Millennials flew home after Milan and did not continue on to Paris, their appearance followed a strong Millennial showing at New York Fashion Week, with Gaia Matisse, Julianne Moore's daughter, Liv Freundlich, and Madonna's daughter, Lourdes Leon, all sitting front row at numerous shows.
In London, Millennials were more scarce in the front row, but Burberry hosted Adwoa Aboah, 23, and Cara Delevingne, 24, and Lottie Moss, 18, attended Topshop. And in contrast to Dolce & Gabbana, other Italian brands showed a more diverse range of young influencers in Milan, including model Winnie Harlow at Versus Versace (plus Gigi and Zayn, of course), and musical artist Kelsey Lu, 24, at Gucci, alongside other individuals like Soko, 30, rock singer Ellie Rowsell, 24, and Japanese actress and model Fumi Nikaido, 22 — none of whom would be caught dead in a pizza dress.
As for Paris, the shows have only just begun, but so far we've seen a more mature audience, including French icons Charlotte Gainsbourg, Jane Birkin, and Lou Doillon front row at Yves Saint Laurent. Millennials will no doubt make an appearance though at shows like Balmain, Off-White, Louis Vuitton, Miu Miu, and of course, Chanel. Last season, Willow Smith, 15, stole the front row single-handedly.
When comparing the front rows in each city, the range of Millennial influence becomes more apparent. Dolce & Gabbana is interested in "keeping it in the family," by targeting a younger, borderline Gen Z audience, or the "next generation" of privileged, luxury consumers, while Gucci is more interested in the cutting-edge of youth culture. Burberry is perhaps toting the space in-between, while New York brands like Alexander Wang want both mother and daughter – ahem, Madonna and Lourdes – to wear weed motifs. Ahem, Madonna.
If you were dining with the Millennials at the Dolce & Gabbana table, you may have immediately asked for the check. But if we look at the bigger picture, the front row youth takeover is perhaps a good sign for the industry. Influence can be targeted but it can also force brands to cast a wider net. A lot of these kids would have never been invited to the table in the past. But both brands and their muses should proceed with caution, as there's a noticeable difference between toasting youth and swallowing it whole.