Meet Raury, Willow and Jaden Smith's Favorite Teen Hippie Singer
Raury Deshawn Tullis is the Internet's Teen Troubadour of the moment.
---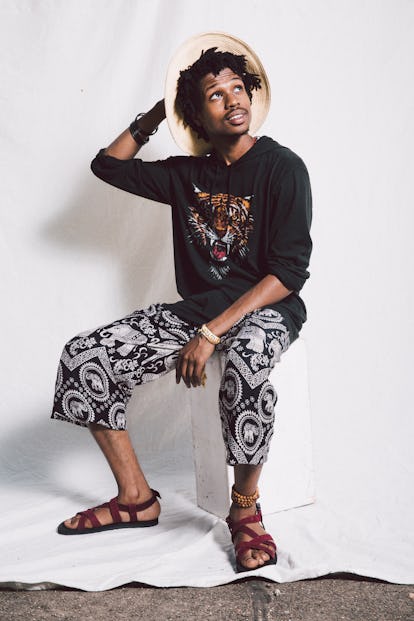 Roger Kisby/Getty Images
On Tuesday evening at the Bowery Ballroom in New York, a crowd of Millennials gathered to hear Raury Deshawn Tullis. Dubbed simply Raury, he is a 19-year-old musician from Atlanta, Georgia, who sings about peace, love, and the Internet. On tour promoting his debut album, "All We Need," which came out in October, the young soul, hip hop and folk singer is described by his fans as a "fresh voice," and someone who tells it like it is. His lyrics touch on political issues like corporate greed, racism and police brutality, but also spirituality, a vast range of interests he shares with friends Willow and Jaden Smith.
As Raury took the stage, he raised a pinky finger in the air—a gesture that the crowd automatically mimicked. Wearing an itchy-looking beanie and a velvet, embroidered blazer, he resembled a hippie Katniss Everdeen in the spotlight. He then told everyone to hug the person next to them, even if they were a stranger. For someone who grew up on the Internet, he's all about connection "IRL."
Is there a specific message behind "All We Need?" This album is for my generation. It's for kids my age or younger who are just like me and may be somewhat lost. When I was 14, I was in an extremely dark place. I didn't like life or myself that much. I found myself in music. I found myself in Kid Cudi's "Man on the Moon." I realized that I'm not the only person that thinks like this. I'm not in this alone. There's a bunch of kids who think like me and see the world the way I see it. This album was to help us find each other.
Explain your song, "Forbidden Knowledge," which is perhaps the most politically charged on the album. What do you mean by that? The main "forbidden knowledge" that we have today is the Internet. Technology played a role in my life in helping me get to the point where I am now. I taught myself how to play guitar on the Internet. I've been looking shit up about the music industry since I was 11. It's the reason I'm here right now. This applies to any kid growing up right now. We have this natural inclination to go searching and learn. A little girl can want to learn how to make cupcakes when she's four-years-old and by the time she's 17 she can be one of the best in the world. It's a whole new ballgame. That's the pro of "forbidden knowledge." But we can also go and learn all the wrong things on the Internet.
In the song, you say, "We don't share this universal space alone." What does that mean? Who's to say that all these things about energy and spirituality and astro-travel aren't true? They're also forbidden knowledge. Should we know that or should we not know that? Our views have been skewed along the way for man's hunger for power and to control people through dogmas and conservative ways. One thing I know is that I believe everything is connected to being a good person.
Kanye West says, "Listen to the kids." As someone who's met Kanye, how do you respond to that? He's one-hundred-percent right about listening to the kids. One of our main faults is that we're ashamed of having younger peers who we can actually look up to and listen to. We shouldn't hold their lack of experience or perspective against them. They're looking at the world with the purest mindset—with the most un-jaded eyes. As you get older, you become more and more out of touch with that. People think that what I'm talking about, as far as peace in the world, is just a child's dream. But like, what the hell? Whoever thinks like that is completely jaded. If you've been jaded to the point where you hear a person talking about peace and love as a farfetched dream, that's a shame. It's horrible to not believe that. Listen to the kids.
What does it mean to have a voice today? We have no excuse not to have a voice today. We have Twitter, Tumblr—all these outlets. I don't care how seriously people take it or not, it is something serious because that's where people are. That's where people are engaging and reading. Hell, if you're a Twitter activist, be that f–king Twitter activist. Who knows, they might actually be the person who's going to do something. Having a voice is being taken for granted, but we're so much more equipped. I can talk to 100,000 people right now and say what I want to say.
Where do you see yourself in five years? I have an undying will to completely reverse and change what is cool in the game right now. As far as what's commonly perceived as dope and what the ear is used to listening to. Because of kids like me, Jaden, and Willow, an 11-year-old is thinking about meditation now. Think about what that kid will be up to when they're 16. It's a whole new era.
Photos: Meet Raury, Willow and Jaden Smith's Favorite Teen Hippie Singer