Diddy Keeps "Accidentally" Shading Kylie and Kendall Jenner on Instagram
After cropping Kendall and Kylie Jenner out of a pic at the Met Gala, Diddy accidentally confused the two sisters on Instagram.
---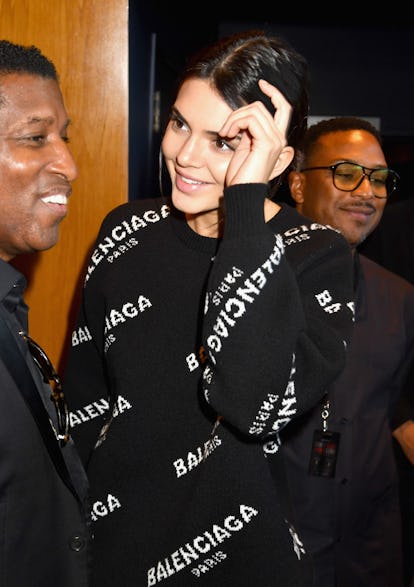 Jeff Kravitz
Kylie and Kendall Jenner may be two of the most followed people on Instagram (they are 8th and 11th on the leaderboard, respectively) but that doesn't mean that everyone who uses the app knows who they are. Sean "Diddy" Combs may or may not be one of those people. Despite meeting the sisters multiple times, he keeps slighting –perhaps just accidentally– the superstar sisters on the app.
The first incident happened back in May during the Met Gala. The sisters Jenner found themselves posing for what they thought was a group shot that included Combs, Wiz Khalifa, members of the band Migos and Jaden Smith. Kylie posted her version of the pic on the app with the caption, "Ladies to the left, fellas to the ?." It has racked up over 2.2 million likes, but it turned out not to be the most talked about version of the picture.
Diddy uploaded his own version, except with the Jenner sister cropped out. He captioned his "/#teamlove /#blackexcellence."
The internet took notice of the seemingly pointed admission, but the incident faded, as most silly celebrity things the internet takes notice of, back into the ether until last night when Combs accidentally did it again. Sort of.
Earlier this week, Combs hosted a celebrity-studded screening for his new documentary Can't Stop, Won't Stop: The Bad Boy Story, and Kendall Jenner was one of the many famous faces to show up. This time she seemed intent not to get herself cropped out of a picture with Diddy and posed for a photo with him one-on-one.
Diddy was even nice enough to post it on his account, except he seemingly inadvertently tagged the photo @KylieJenner.
He did end up catching his mistake this time around:
"I'm human people," he wrote as way of apology in the comments. "I make mistakes. Sorry."
One reading of this on-going sage of accidental shade is that Combs just straight up dislikes the Jenner sisters. Which, sure, he wouldn't be the only one.
The other is that he is an extremely busy 47-year-old man running a vast business and entertainment empire who doesn't have time every Sunday night to sit down on the couch and keep up with the Kardashians. Like many a man over 40-years-old he may still be only vaguely aware that their are now five separate Kardashian sisters with which we're supposed to keep up and not just the original three. Believe it or not folks, these kinds of people exist and they exist in droves and perhaps Combs is one of them.
Maybe the third time he uploads a Jenner-related picture to his Instagram he'll get it correct.
Related: Met Gala 2017: The Most Talked About Non-Fashion Moments on The Red Carpet
Kendall Jenner Dramatically Reads Nicki Minaj's "Super Bass":