An eBay Merch OG on How Times Have Changed
Colby Miers has been buying and selling vintage concert t-shirts on eBay for over 10 years. "I'd rather buy five t-shirts than one CD," he says.
---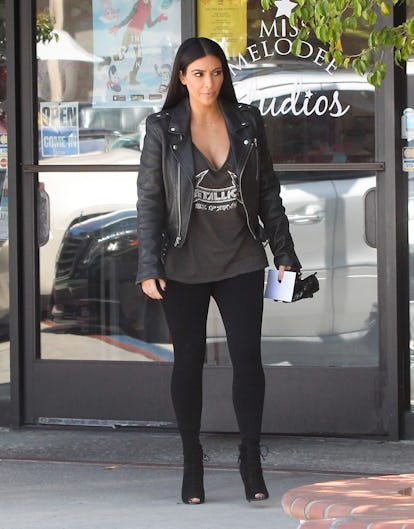 Getty Images
2016 is shaping up to be the year of merch. Kim Kardashian is regularly spotted wearing vintage Metallica t-shirts; Kanye West is still hosting "Life of Pablo" pop-ups; you can find Justin Bieber's hybrid merch at Barneys and it's recently become a street style staple.
Music and fashion have always been bedfellows, but now singers are designers too, with full-blown collections, collaborations, and identifiable personal brands. As a result, the world of merch buying and selling on eBay is hotter than ever before. Not only is there simply more out there, there are also more counterfeiters and fans clamoring for a piece of popular culture. Even Drake had an eBay "addition" before he had merch to call his own, as evidenced by a letter he wrote in 2006 to his mom, which he Instagrammed this week.
A prominent player in the merch eBay game is Colby Miers, 26, who has been buying and selling vintage pieces on eBay since it's heyday in the early 2000's. (Fun fact: the first fashion designer to sell on eBay was the ever-savvy Norma Kamali.) Miers' recent sales include seven vintage Marilyn Manson shirts to one buyer at $132 a pop, as well as Kanye West and Drake OVO shirts. However, he prefers to buy and sell merch for older artists like the Smashing Pumpkins, Black Sabbath, and the Ramones. (Miers declined to identify his seller name). In the future, he hopes to open an Instagram storefront as well. Overall, his experience on the site give him a unique perspective both on how the culture as changed as well as the products themselves.
When did you start selling on eBay and why?
I was 14-years-old when I joined in 2004, I think to sell some video games I'd grown out of. My t-shirt collecting didn't begin until I was probably 19 or 20.
Where do you buy your pieces from? What are you looking for?
I'm partially disabled so I do almost all of my shopping online. Vendors like eBay and Etsy have a lot to offer, but prices can be high since you're competing with a lot of other customers. I find the best pieces from private collectors, t-shirt trading forums, and overseas where other Americans are less likely to be watching.
As far as what I'm looking for, a lot of it's based on my personal taste. About 90% of what I collect are band t-shirts: Alternative rock, punk, hip-hop from the late 80s and 90s. I also have an interest in 80s and 90s anime (Akira, Ghost in the Shell, Studio Ghibli films) and other movie t-shirts.
How has the eBay merch culture changed since you joined? For better or worse?
There's been a transition on eBay from people aging out of their fandom and passing on their vintage merch to a new generation, to a more professional group of established "stores" and buyers like myself. Instagram has allowed some of these sellers to thrive by letting people use their accounts essentially as storefronts and avoiding eBay's hefty sellers fee.
I don't know as much about new merch, but I know there's an industry of resellers who go concerts, pop-ups — wherever limited merch is being sold, and buy as much as they can to flip on eBay or wherever else for way over retail. There are counterfeiters too who their versions of the same merch for a lot cheaper. A lot of them are upfront about it, which makes it more palatable, I guess. But it's still illegal.
Some artist are embracing the bootleg culture, too. There's a clownish guy in New York named "Ass Pizza" or Austin Butts (not a joke) who made his own bootleg "Life of Pablo" merch recently and sold it outside Kanye's pop-up store. Kanye supposedly liked the fake merch enough that he asked Butts to sell it in the pop-up along with the original merch.
How has merch itself changed over time? From Nirvana to Yeezy?
I think designs can be more abstract now than they've been in the past. A t-shirt doesn't have to feature album art, a photograph, or even an artist's name anymore. Besides that, there are more choices for the consumer than ever. 20 years ago a major artist might have 3 or 4 designs to choose from at their merch stand. Now acts like Kanye or Drake have dozens of designs and variations, so that's definitely changed.
What are some of the most memorable pieces you've sold?
I recently sold an original Nirvana "Heart-Shaped Box" t-shirt to a buyer in Japan. It's the same design Justin Bieber was seen wearing at the 2015 American Music Awards.
Do you see a lot of buyers coming from Japan? If so, why?
Yes, Japan is huge! There are a handful of super well-curated stores there. Laboratory/Berberjin is one of my favorites. In a lot of ways their market for American vintage is just as good, if not better than ours. I'm not sure why. I assume there's a market for it locally, though.
What are some pieces in your personal collection?
I like vintage long sleeve t-shirts, but they're hard to find. I have a near-complete collection of Smashing Pumpkins t-shirts from their original run from 1988 to 2000. I collect other bands too, like Black Sabbath and the Ramones. Most recently, New York City Hardcore and vintage black metal t-shirts.
Why do you think people are so drawn to merch? And willing to pay so much for it?
The optimistic answer is people are eager to identify themselves with and show support for the artists they love. Merch is valuable to them because it's part of a cultural history. But there's a superficial side too when people want to demonstrate their coolness by aligning with certain artists they don't necessarily like or know much about. When something's exclusive it can create a lot of demand.
What do you think the future of merch is?
It's hard for me to say, but I think merch is becoming more important than ever for artists who haven't been able to sell their music the traditional way. I'm hoping this will continue to foster creativity from designers and the artists they support. I'd rather buy five t-shirts than one CD.