Kylie Jenner, Non-Professional Athlete, Dared to Be Photographed in Fitness Attire
The professionals are not pleased with young Jenner's new Puma campaign.
---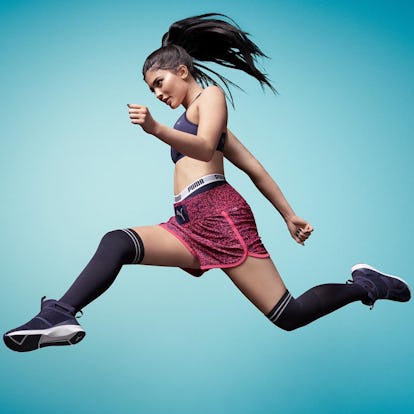 @puma
Just more than a year ago, Kylie Jenner was named the new face of Puma in a deal that reportedly earned her seven figures while still allowing the youngest member of the Jenner clan, noted car- and sneaker-aficionado, to wear the shoes of her choosing. At the time, it struck a nerve in Calabasas' first family: Jenner's half-brother-in-law Kanye West, Adidas collaborator, was reportedly quite hurt that Jenner had proceeded to sign with a competing brand. (At the time, he took to his favorite method of communication, the tweet storm, to air his grievances.)
But Jenner proceeded to be photographed for several campaigns for the activewear brand, beginning with her first Puma Fierce shoot in March 2016. It features the young Jenner in a blue Puma-branded sports bra, blue patterned leggings, and black Puma trainers, mid-lunge with a medicine ball. In another image, she's simply posed on the floor, legs splayed, head resting on her hand as she stares into the camera.
Jenner's most recent campaign for Puma debuted last week, and earlier this week, it sparked what's likely her most significant Puma-related backlash since those Kanye West tweets more than a year ago. (Being a Kardashian-Jenner, Kylie is never immune to controversy — her Lip Kits got some flack for essentially being rebranded Colour Pop lipsticks, and the Blac Chyna-Tyga saga deserves, and has earned, myriad think-pieces of its own.) The images depict Jenner, airborne, one in a pose that vaguely resembles a running stride, the other in a mid-leap that might have been a favorite move of your early-2010s Zumba teacher. Naturally, the internet is not happy.
Naturally?
The unexpected controversy, coming just days after elder sister Kendall's very legitimate controversy over a tone-deaf Pepsi ad that was promptly scrubbed from the internet, comes from the professional runners of the social media world. Kylie Jenner is not a professional athlete, they say: Just look at her imperfect form. Her feet aren't flexed. Her knees aren't sufficiently lifted. Her bowed head would not be conducive to much forward momentum.
"Does she even run bro??" one insightful commenter noted. "I hope this isn't supposed to be a running form," another wrote. It all echoes the blowback from Kendall's ballet editorial in Vogue España last year, in which the supermodel posed in pointe shoes despite not being a professional ballerina. (It could be argued, ahem, that such a pose is a bit harder to pull off for a non-ballerina than a running pose is for a non-runner.) And, given that Puma also represents professional athletes, perhaps it might be advisable to feature one or two in upcoming campaigns in addition to young Jenner.
Yet models, musicians, and other celebrities have long been roped into representing athleticwear brands, who profit off their cultural capital and make sportswear relatable even to non-professional athletes. Think Bella Hadid for Nike, Karlie Kloss, Grace Bol, Binx Walton, and Pharrell Williams, all for Adidas, and Rihanna and The Weeknd, also for Puma. Sportswear brands have also cultivated connections with fashion designers, recruiting the likes of Stella McCartney and Riccardo Tisci to design distinctly un-gym friendly capsule collections. It also bears noting the Puma Fierce, which Jenner models here, is not, functionally, a running shoe.
And professional runner she might not be, but Jenner, like her sisters, has trained with personal-trainer-to-the-stars Gunnar Peterson; the Kardashian body does not come naturally. There are many other things Kylie Jenner is not: of legal drinking age, a pop star (though some sources disagree on this point), a licensed puma trainer (though she posted a photo facing off against one of the big cats to her Instagram, captioning it "Puma Vs. Puma").
But, hey, I also stopped running track in high school. Guess it's time to turn in my sneakers.
Kylie Jenner's sister Kendall gets real in a new screen test: