Kim Kardashian Is Taking Security Precautions to 'a Crazy Level' Post-Paris Robbery
"You get patted down by security" and "it's intense," says a source of new precautions at the Kardashian-West compound.
---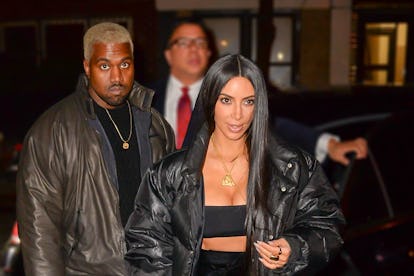 Composite. Raymond Hall/GC Images/Getty Images
Kim Kardashian only just opened up on a recent episode of Keeping Up With the Kardashians about what happened the night of her terrifying Paris robbery at gunpoint in October during Fashion Week. And in the wake of another robbery striking a member of the family—Kim's sister Kendall Jenner was recently a victim of theft—mom Kris Jenner is speaking out about new security measures in place to protect the famous brood.
In a new interview with Us Weekly, Kris revealed that there are new, firm precautions being taken to keep her family out of harm's way.
"It's an eye-opener how many people have tried to access our homes," Kris told Us. "We're protected to a crazy level."
The magazine reports that sources close to Kim say the reality star and her husband, Kanye West, have especially beefed up their security of late. All of Kim's security guards reportedly underwent (and passed) polygraph tests after she was robbed in order to rule out their involvement in the crime. Also, another source claims that before anyone can enter the $11 million Bel Air home shared by Kim and Kanye, "you get patted down by security" and "it's intense." Us Weekly has also reported that Kim has been using decoy vehicles and a slew of different cars to make it more difficult for people to track her down.
Meanwhile, Kendall reportedly fired her security guard after her home was burgled. People reported that the theft was allegedly an "inside job" (she was hosting a party at her home the night of the burglary), and according to TMZ, the model and her family were upset at the idea of someone being let into her home without being on the guest list.
Kendall also recently dealt with another security issue as a man stalking her was found trespassing on her Hollywood Hills property last August. In true Kardashian fashion, the saga will be aired on this week's episode of Keeping Up With the Kardashians.
How to Instagram Like Kim Kardashian
Kanye West Just Wants to Bring Joy to the World Like Will Ferrell in 'Elf':