Kim Kardashian Hints She's Having A Girl With Pink-Filled Baby Shower
North may be getting another sister.
---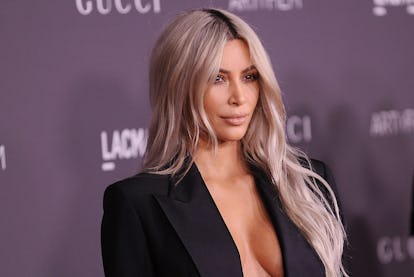 Photo by Jason LaVeris/FilmMagic
While the mystery of whether Kylie Jenner and Khloe Kardashian are pregnant lives on, we do have at least one-confirmed Kardashian baby coming our way: Kim Kardashian West and her husband Kanye West are expecting their third child in January via surrogate. On Saturday night, Kardashian had a baby shower to celebrate baby number three.
Most notably, the decor of the affair—documented across all forms of social media by Kardashian herself—seems to indicate that North and Saint West are getting a little sister. The reality star filled her home with cherry blossom trees, making for a predictably over-the-top affair.
Of course, all sisters were in attendance for the occasion. Kardashian matriarch Kris Jenner also gave a toast in which she refers to Kim's unborn baby as "lucky number seven,"—a nod to her existing six grandchildren—which North West, held by Kim, adorably parroted back.
According to Kardashian's Snapchat, the official theme of the party was "tea for three," though presumably more than tea was served.
Alongside the Kardashian clan, the party also drew out Chrissy Teigen, who brought a bundt cake to the event, as documented by pal Jen Atkin. The duo also partook in test-driving Kardashian's brand new fragrances, which have thus fair been kept fairly underwraps. Teigen, clearly stoked to get a sneak peek, doused herself in the spray, causing Kardashian to inform her that, "It is not face mist."
For the occasion, Kardashian donned a nude crop top—making her possibly the first woman to wear a crop top to her baby shower—and matching skirt, paired with long, still-blonde waves. Meanwhile, North opted for a kimono-like lavender dress and cute furry sandals. Now if the pink cherry blossoms are a sign of the baby-to-come, Kardashian will soon have another mini-Kim to dress come 2018.
Related: Kim Kardashian and Katy Perry Celebrated Taylor Swift's New Album Together
Halloween Couples Costumes Ideas That Are Celebrity Approved
Kourtney Kardashian and Kim Kardashian as Michael Jackson and Madonna at the 1991 Academy Awards.

Kourtney Kardashian/Instagram
Jonathan Cheban and Kim Kardashian as musical icons Sonny and Cher.

Kim Kardashian/Twitter
Gwyneth Paltrow dressed as her character in David Fincher's Se7en.

Gwyneth Paltrow/Instagram
Zoë Kravitz and Karl Glusman as Marla Singer and Tyler Durden from Fight Club.

Zoë Kravitz/Instagram
Doug Middlebrook and Ariana Grande as the feuding Joan Crawford and Bette Davis.

Ariana Grande/Instagram
Marina Diamandis and a friend dressed up as Fiorucci Angels.

Marina Diamandis/Instagram
Zayn Malik and Gigi Hadid as Spider-Man and The Black Cat from Marvel Comics.

Gigi Hadid/Instagram
Cameron Esposito and Rhea Butcher as Jack Twist and Ennis Del Mar from Brokeback Mountain.

Cameron Esposito/Instagram
Gabrielle Union and Dwayne Wade as Milli Vanilli.

Gabrielle Union/Twitter
Chloë Grace Moretz and Maika Monroe as Kenickie Murdoch and Danny Zuko from Grease.

Chloë Grace Moretz/Instagram
Tristan Thompson and Khloe Kardashian as Khal Drogo and Daenerys Targaryen from Game of Thrones.

Khloe Kardashian/Instagram
Kyle Draper and Laverne Cox as Jeannie and Major Nelson from I Dream of Jeannie.

Kyle Draper/Instagram
Mike Rosenthal and Jen Atkin as Napoleon and Pedro from Napoleon Dynamite.

Jen Atkin/Instagram
Ryan Seacrest and Kelly Ripa as Handmaids from The Handmaid's Tale.

Ryan Seacrest/Instagram
Wells Adams and Sarah Hyland as Eleven and Dustin from Stranger Things.

Sarah Hyland/Instagram
Amber Rose and her son, Sebastian Taylor Thomaz, as Tiffany and Chucky from Child's Play.

Amber Rose/Instagram
Sarah Michelle Gellar and Freddie Prinze, Jr. as Andy and Duckie from Pretty in Pink.

Sarah Michelle Gellar/Instagram