North West, Age Four, Talks About Kanye, Cheese, And Bringing Makeup to Church in Her First Interview
On her favorite type of pizza: "Just Cheese! Cheese, cheese—everywhere cheese."
---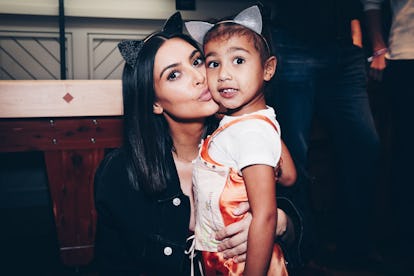 Handout
There is nothing quite like a Kanye West interview. With each new Q&A, we are blessed with some new insane (or genius, depending on who you are asking) quote that will undoubtedly make it to Twitter within minutes. Take, for example, this quote from his interview as part of W's Royals portfolio last October about his relationship with the fashion industry: "I'm the elf that's Will Ferrell, that's too big for his hands to make the toys."
Yes, he was referring to the children's Christmas movie Elf.
As West has been characteristically quiet in the past few months, it would seem we may have another burgeoning quote machine on our hands with someone who is likely also a fan of Will Ferrell's Elf, West's daughter North. Today, Interview released its latest cover, featuring Kim Kardashian and daughter North, with the former dressed up to resemble Jacqueline Onassis Kennedy as lensed by Steven Klein. Along with the retro photos, the issue includes an interview with Kardashian conducted by Janet Mock. And what's more: North, at the ripe age of four, also gets her very own questionnaire.
To grill the toddler, the magazine enlisted fellow child stars Millie Bobby Brown, Kaia Gerber, Presley and Jaden Federline (sons of Britney Spears), and her cousin Penelope Disick to ask a handful of questions.
So what did we learn? First off, North may be the Kardashian-West's biggest fan: she's really fond of her baby brother, Saint (" Giving him toy trucks, and I gave him a big toy bear" is her favorite thing about him), her best friend is Kim, and her favorite song is Kanye's "Amazing" ("So amazing!"). She's a burgeoning foodie: her favorite type of pizza is cheese ("Just Cheese! Cheese, cheese—everywhere cheese.") and her ideal night involves a baking party ("We can make rainbow princess cake!"; her favorite princess, for the record, is Aladdin's Jasmine). Other important tidbits: her favorite dress is purple, but her favorite color is rainbow; her nickname is Bubs; and her favorite show is Shimmer and Shine, a cartoon about twin genies-in-training.
And as for what she keeps in her purse (a clear warmup question for many, many fashion magazine interviews to come)? "Toys, and sometimes I put some makeup in there when I go to church."
Related: Kanye West, Uncensored and Unfiltered, on the Fashion Industry: "I Wouldn't Say Anyone is On My Side"
Kanye West Just Wants to Bring Joy to the World Like Will Ferrell in 'Elf'