Millie Bobby Brown Weighs In on the Pros and Cons of Being 13, Dislikes Airport Security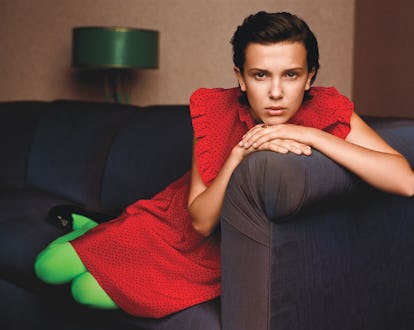 Photographs by Alasdair McLellan, Styled by Edward Enninful; Hair by Shay Ashual at Art Partner; makeup by Diane Kendal for Marc Jacobs Beauty at Julian Watson Agency; manicures by Casey Herman for Dior at the Wall Group. Set design by Stefan Beckman at Exposure NY.
Actress Millie Bobby Brown arrived at The Late Show with Stephen Colbert Thursday night, and from the moment she stepped in the building, it was clear this was not the same young woman who had graced the same stage just a year ago.
"I was a baby," she said on the show Thursday.
Brown showed up clad in a blazer, floral button-down blouse, and high-waisted shorts by LVMH Prize-endorsed designer Chris Gelinas of CG, black patent boots by Stuart Weitzman, and sunglasses by Chrome Hearts (an ensemble that prompted Emmy Rossum to comment with the applause emoji on stylist Thomas Carter Phillips's Instagram). She rolled up and took her seat next to the late-night host like she belonged there, because the girl is a teenager now.
That's right: Millie Bobby Brown is 13, and she's going to tell you all about it. She celebrated her birthday back in February—none other than Zac Efron posted a shout-out on his Instagram—and since then, she's seen the best and the worst of being a teen.
The best: a birthday party with a bouncy castle and "candy floss" (that's cotton candy for all you Americans out there) and a "bucking bronco" (a mechanical bull). The worst: the theme party apparently made observers believe the party was for a three-year-old, not a 13-year-old.
The best: She became one of the youngest Emmy nominees in history when she was nominated for her role as Eleven in Stranger Things, Netflix's hit supernatural thriller. The worst: airport security. As the young actress has gone from pre-teen to full-fledged teen, she has encountered the heightened security that comes with being an adult.
"You have to take your shoes off for the airport," she said, describing it as "the worst part" of being 13.
In any case, for all she cuts a more grown-up figure just a year later, Brown is not thrilled with being a teenager. "It's not good," she said of turning 13. "It's just…It's not really good."
Millie Bobby Brown does her best Bruno Mars impression: