Like Eleven, Millie Bobby Brown Can Be Very Badass
Whether her "Stranger Things" character returns in season two or not, the 12-year-old actress is here to stay.
Photographs by Matthew Priestley
---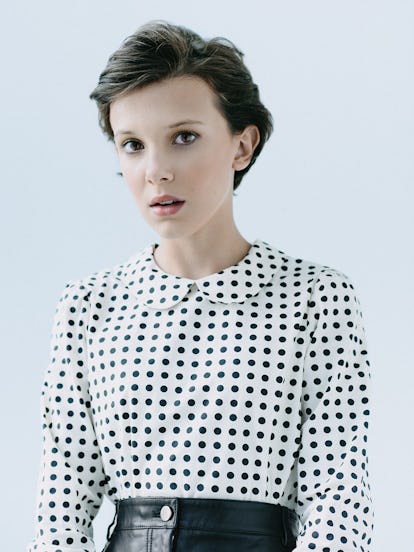 Matthew Priestley, styled by Caroline Grosso. Produced by Biel Parklee. Hair by Blake Erik at Jed Root Inc, makeup by Joshua Ristaino for TheOnly.Agency. Digital Technician: Evan Browning. Fashion Assistant: Alexandra Pastore.
Millie Bobby Brown, the saucer-eyed breakout star of Netflix's explosive hit series "Stranger Things," is curled up into a banquette of The Regency Bar & Grille, which given its power breakfast crowd is perhaps one of the few restaurants in New York where she can go unnoticed. The British actress exudes both hyper-precocity and age-appropriate innocence, a juxtaposition that has allowed a 12-year-old girl to become the obsessive fixation of peers and adults alike. In a Zara sweatshirt dress emblazoned with googly-eye patches and the phrase "Never Too Young to Rock," Brown is recalling, between sips of a Coke, her initial, pre-shooting Skype session with the "Stranger Things" creators Matt and Ross Duffer, brothers who are 32. "I was so surprised they were such young dudes, movie buffs and socially awkward geeks," she says. "But they are my big brothers. I argue [with] and love them!"
A few minutes later, discussing the series' sci-fi scary vibe, she readily admits to still using a night light: "I never liked sleeping in the dark. I have, like, twinkle stars around my bed, so it's not so bad."
Brown's easy toggling between old soul and youthful sweetness is not unlike the appeal of Eleven, the enigmatic character she plays in "Stranger Things," whose second season, pegged for a 2017 release, was announced the day before our tête-a-tête. For those who have somehow not yet seen it, the show melds sci-fi freakiness with government conspiracy and a healthy dash of The Goonies's childhood friendship (the initial reel Brown was sent for her audition was a mash-up of Stand By Me, Poltergeist and E.T.). Set in Indiana in 1983, it stars a trio of young boys who band together after the mysterious disappearance of their best friend, Will, one night. As Will's mother (a sensational Winona Ryder) flirts with supernatural explanations, they befriend Eleven (Brown), a young girl with a shaved head, limited vocabulary and immense powers, whom they learn — spoiler — has escaped from an experimental government facility.
Because of the cocoon in which she was raised, Eleven lacks any basic social skills, and yet possesses the deep otherworldly knowledge (and psychokinetic abilities) of a superhuman.
'Stranger Things' Star Millie Bobby Brown Is Here to Stay
"If you got to know her, I think she's just very caring and protective. And that's the only trait I could really relate to with my actual self," says Brown. After further thought, she adds, "I'd probably say I'm very strong. If somebody says something horrible, I'm like, 'Okay, whatever.' With Eleven, people call her the weirdo and she really doesn't care. She's very badass and I think when I can be, I will be."
Exhibit A: Besides her daily boxing and jujitsu regimen when she is in London, Brown has embraced her shaved head, now grown into a cute rumpled pixie-ish 'do. Her more than 1 million Instagram followers have all probably watched the two-part videos of her long locks being shorn, her face awash with shock and a touch of plucky enjoyment. As she tells it, the necessary cue-balling was "mentioned, but I thought it was a negotiation thing. No, no, that wasn't the case." Still, she is loathe to make a fuss over a few spilt hairs.
"I wasn't worried about my hair at all. I don't care what I look like; it's how people think of me. And I do care how people think of me. I want people to say, 'Oh, she's nice,' rather than, 'Oh, she's so pretty,'" says Brown. "Yes, it's hard for anybody to go through something like that, but it's harder for someone to go through a disease like alopecia or cancer, losing their hair without any choice."
Brown may be able to school older actresses who make a big to-do about physical transformations for the sake of a part, but she, too, got schooled, in a way, having her first kiss — onscreen or otherwise — when Eleven's friendship with one of the boys, Mike (Finn Wolfhard) takes a romantic turn. The scene was filmed in front of both kids' parents and the entire crew, to add to the awkwardness.
"It was really weird. I knew it was coming. But it didn't really make any sense to me. I was like, 'Why!'" says Brown. "It was a funny thing because afterwards, I was like, 'Kissing sucks!' And Finn was like, 'I know, right? But it wasn't too bad.'"
And for the moments the boys on set, with their silly crushes, became tiresome, Brown could turn to Winona Ryder. "I would just go to her like, 'Ugh, the boys are getting on my nerves today!' And she'd be like, 'Got it — come sit.' And we'd eat cheese."
Born in Marbella, Spain to British parents, Brown grew up first there, then in England and for six months in Orlando ("we moved [there] just for fun"). It was in Florida where she asked her dad for $50 to attend an acting school; when an agent insisted she go to Los Angeles, her father packed up the family, including her younger sister, older brother and English mastiff, and drove cross-country. She landed roles on TV shows like "Intruders," "Modern Family" and "Grey's Anatomy," but there's no question that "Stranger Things" has catapulted her to a different stratosphere. Asked where she calls home, she now says, "I live on a plane" (she had just flown in from a press event in the Philippines); she counts Maddie Ziegler as a close friend; and the actor Aaron Paul and his wife Lauren Parsekian are so enamored of her, they have publicly declared they wished she were her child.
Playing Eleven has also upped her fashion ante. Brown walked the red carpet of the Emmy Awards (and appeared in the live broadcast) in Valentino RED; she sat front row at the Coach show alongside Ryder during New York Fashion Week, and Nicholas Ghesquirére posted two Instagram shots with her and castmates Gaten Matarazzo and Caleb McLaughlin in Paris, suggesting a yet-to-be-announced upcoming project, ostensibly with Louis Vuitton.
Then there is her suddenly nascent music career. Brown claims to have started singing before she could speak, and videos of her crooning Adele songs and rapping Nicki Minaj on "The Tonight Show Starring Jimmy Fallon," not to mention performing a rendition of "Uptown Funk" at the Emmy's, testify to her talent. Once she turns 16, she's allowed to pursue music professionally. But until then, it's Eleven dominating much of the conversation around Brown. And thanks to her cropped 'do, she sometimes gets mistaken for a boy and has even adopted the alter ego Jon — "no 'h'" — for such occasions.
"Jon is going to be fading away soon, though," she says, fingering her longer strands. And what of the second season? Anyone who saw the first season's finale will be holding out hope for Eleven's return. "Nobody knows. The Duffers haven't told me anything," she says cryptically, just as her phone buzzes from a group chat Matt Duffer set up ("It's so annoying! Everybody is texting each other and I'm like, 'No, stop it! I'm having an interview.'"). On the off chance she does not reappear, at least she can thank "Stranger Things" and its 80's set design for, among other things, introducing her to the joys of pre-digital music. "I didn't know what [a record player] was. It was this square box and I didn't know what it was and I was like, 'What is that?' And the crew was like, 'That's a record player.' And then that Christmas I got one and it's amazing!"
See Millie Bobby Brown channel her inner Justin Timberlake with "Can't Stop the Feeling!":