Khloe Kardashian Is Reportedly Pregnant With Her First Child With Tristan Thompson
The Kardashian family is growing fast.
---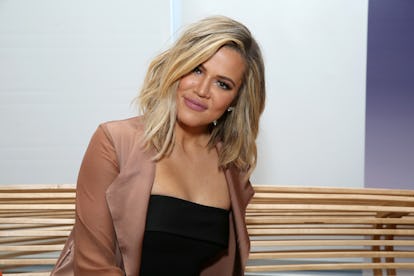 Cindy Ord/Getty Images for Allergan
The Kardashian-Jenner households have a lot of celebrating to do. Khloe Kardashian is reportedly pregnant with her first child with Cleveland Cavaliers center Tristan Thompson, People reports. "Yes, Khloe and Tristan are expecting and they are absolutely thrilled," a source told People. "This isn't something they were in a rush to announce to the whole world, and it's only been in just the past week or so that they've felt comfortable telling most of their inner circle."
Apparently, Khloe Kardashian and Tristan Thompson have waited to officially announce the news because they didn't want to steal the spotlight from another family member who is reportedly expecting her first child: Kylie Jenner. Emphasis on reported as the beauty mogul has yet to confirm the news herself, but a source who revealed Khloe's pregnancy to People also told the publication, "Things were complicated a bit by Kylie's announcement as they don't want to be seen as intruding on that moment for her but it is now reaching a point where Khloe doesn't want to be openly lying to people, and just staying quiet isn't going to work anymore."
Khloe and Kylie aren't the only Kardashian-Jenners expecting, though: Kim Kardashian and husband Kanye West have a third child on the way that is reportedly due in January. Kim, whose growing family includes four-year-old North and one-year-old Saint, talked about hiring a surrogate to carry her third child on Keeping Up With the Kardashians saying, "I feel like surrogacy is the only option for me. I always knew surrogacy was an option; now it's my reality."
Khloe has also spoken out about her own fertility on the show, specifically in the 13th season finale of Keeping Up With the Kardashians. "I was married, but I knew the circumstances weren't the healthiest," she told her doctor, referencing her faked attempts to get pregnant with then-husband Lamar Odom. "So, I just kept pretending I was doing it." In the same episode, Khloe also spoke about the possibility of having a child with her boyfriend Tristan Thompson. "He wants to have about five or six kids with me and that's lovely," she said. "We could start at one and we could grow from there. But now knowing I'm not on birth control is scary. It's like a really big step."
Khloe Kardashian and Tristan Thompson have yet to confirm the news.
Related: Kris Jenner Still Tight Lipped About Kylie Jenner's Pregnancy, But Caitlyn Jenner's Reps Just Confirmed
Khloe Kardashian Is an Unabashed Lover of Mini Dresses and Always Has Been
Khloe Kardashian arrives at TAO Las Vegas in The Venetian Hotel and Casino Resort on February 13, 2009 in Las Vegas, Nevada.

Getty
Khloe Kardashian at the "Keeping Up With The Kardashians" premiere party on October 9, 2007 in West Hollywood, California.

Getty
Khloe Kardashian attends her birthday at Pure Nightclub on June 26, 2009 in Las Vegas, NV.

Getty
Khloe Kardashian attends the Three-O Vodka Bubble launch at Greenhouse on July 9, 2009 in New York City.

Getty
Khloe Kardashian attends the grand opening of Dash NYC on November 3, 2010 in New York City.

Getty
Khloe Kardashian attends the 12th annual Cracked Xmas gala at The Wiltern at The Wiltern on December 6, 2009 in Los Angeles, California.

Getty
Khloe Kardashian attends the launch of the Kardashian MasterCard at Pacha on November 9, 2010 in New York City.

Getty
Khloe Kardashian arrives at the premiere of Screen Gems' 'Burlesque' at Graumans Chinese Theater on November 15, 2010 in Los Angeles, California.

Getty
Khloe Kardashian arrives at Kim Kardashian's 27th birthday celebration at Jet Nightclub at The Mirage Hotel and Casino Resort on October 26, 2007 in Las Vegas, Nevada.

Getty
Khloe Kardashian arrives at the People's Choice Awards in Los Angeles, California on January 5, 2011.

Getty
Khloe Kardashian attends the 2011 Teen Choice Awards at Gibson Amphitheatre on August 7, 2011.

Getty
Khloe Kardashian attends the Kardashian Kollection launch party at The Colony on August 17, 2011 in Hollywood, California.

Getty
Khloe Kardashian arrives at the 19th Annual Race To Erase MS Event at the Hyatt Regency Century Plaza on May 18, 2012 in Century City, California.

Getty
Khloe Kardashian arrives at The 16th Annual Critics' Choice Movie Awards at the Hollywood Palladium on January 14, 2011 in Hollywood, California.

Getty
Khloe Kardashian arrives at the 11th Annual InStyle Summer Soiree at The London Hotel on August 8, 2012 in West Hollywood, California.

Getty
Khloe Kardashian arrives at Sony Pictures' Premiere of "House Bunny" at the Mann Village Theatre on August 14, 2008 in Los Angeles, California.

Getty
Khloe Kardashian arrives at NSF, The Humane Society Of The U.S. And GQ Magazine Benefit to stop puppy mills on September 22, 2009 in Los Angeles, California.

Getty
Khloe Kardashian arrives at Nickelodeon's 26th Annual Kids' Choice Awards at USC Galen Center on March 23, 2013 in Los Angeles, California.

Getty
Khloe Kardashian arrives at The Hollywood Reporter's 22nd Annual Women In Entertainment Breakfast at Beverly Hills Hotel on December 11, 2013 in Beverly Hills, California.

Getty
Khloe Kardashian attends the 2014 American Music Awards at Nokia Theatre L.A. Live on November 23, 2014 in Los Angeles, California.

Getty
Khloe Kardashian arrives at Wet Republic on April 24, 2010 in Las Vegas, Nevada.

Getty
Khloe Kardashian attends the 2015 NBCUniversal Cable Entertainment Upfront at The Jacob K. Javits Convention Center on May 14, 2015 in New York City.

Getty
Khloe Kardashian attends the Grand Opening of DASH Miami Beach at Dash Miami Beach on March 12, 2014 in Miami Beach, Florida.

Getty
Khloe Kardashian attends the 22nd Annual Elton John AIDS Foundation's Oscar Viewing Party on March 2, 2014 in West Hollywood, California.

Getty
Khloe Kardashian attends the House of CB flagship store launch at House Of CB on June 14, 2016 in West Hollywood, California.

Getty
Khloe Kardashian attends Cosmopolitan's 50th Birthday Celebration at Ysabel on October 12, 2015 in West Hollywood, California.

Getty
Khloe Kardashian attends the 2016 Angel Ball at Cipriani Wall Street on November 21, 2016 in New York City.

Getty
Khloe Kardashian attends the 2017 NBCUniversal Upfront at Radio City Music Hall on May 15, 2017 in New York City.

Getty
Watch: Here Are the Real Heroes of the Kardashian Jenner Family Empire