Kris Jenner Still Tight Lipped About Kylie Jenner's Pregnancy, But Caitlyn Jenner's Reps Just Confirmed
Here's your latest Kylie Watch update.
---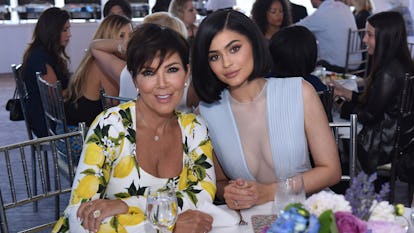 Vivien Killilea/SinfulColors/Getty Images
Friday, September 22, 2017 shall henceforth and forevermore be known as the day the world learned Kylie Jenner may be pregnant, and since then, everyone's been waiting with bated breath for something, anything remotely resembling confirmation or details. Given the extensive nature of the Jenner-Kardashian dynasty, one would figure someone would slip up and say something.
While Kris Jenner spent the past few days playing a game of "not confirming, not denying," a representative for Caitlyn Jenner may have just confirmed the news.
That's according to British tabloid The Sun, anyway. The paper asked the unnamed rep when Caitlyn was first told of the pregnancy, and the anonymous insider allegedly replied, "All I can tell you is that it was some time ago." Therefore, we suppose, confirming the news.
Kris Jenner has run a much tighter ship. When asked about the rumor by The Cut during Milan Fashion Week, Jenner just said, "She's not confirmed anything. I think it's kind of wild that everyone is just assuming that that's just happening."
She played pretty much the same game with Ryan Seacrest this morning.
Seacrest, who has the distinct pleasure of being both an executive producer on Keeping Up With the Kardashians and a Kardashian-Jenner family friend, took matters into his own hands on Monday morning and decided to text the Jenner matriarch about her daughter's pregnancy—live and on air. During the taping of Live! with Kelly & Ryan, he and co-host Kelly Ripa sent Kris Jenner an iMessage inquiring about her alleged grandchild-to-be. And she texted back almost immediately. While they watched Kris' bubbles, Ryan said what we were all thinking and quipped, "Two days go by, and the world can change." "I would say two minutes go by," interjected Kelly.
Not even a minute later, Ryan got a response. "Kris says, Kylie's not confirming anything," Ryan announced, much to the vocal disappointment of the studio audience, and also the world. "So now, we're here with that hanging over our heads," said Kelly.
Last Friday, TMZ broke the story about the pregnancy rumors, which claim that Kylie is four months pregnant with the child of boyfriend Travis Scott, who in turn has been reportedly telling friends how excited he is and how his life is about to change. No one from the usually social media-happy Kardashian-Jenner clan has confirmed or denied anything, though, and this Sunday's Keeping Up With the Kardashians 10th anniversary episode came and went with nary a peep about any forthcoming babies. Here's hoping Ryan gets another bubble from Kris sometime in the near future.
Related: Kylie Jenner Cosmetics Could Be Worth $1 Billion By 2022
9 Famous Kids Who Ruled the Runway at New York Fashion Week 2017: