Kim Kardashian Acknowledges Accusations of Blackface in KKW Beauty Campaign
"I would never in a million years be disrespectful and do that."
---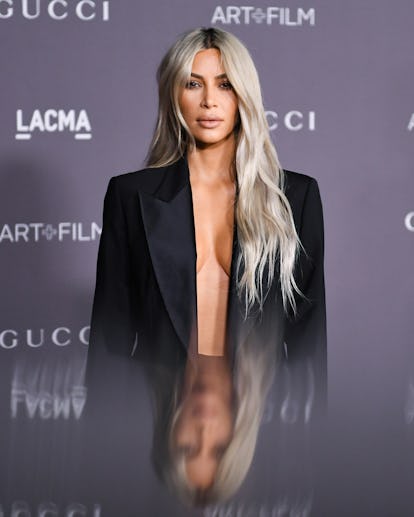 Billy Farrell/BFA.com
While this season of Keeping Up With the Kardashians might be light on any non-Scott Disick related drama, the one thing the reality show has not been light on is addressing the many rumors surrounding the Kardashian universe. In the premiere episode, Kendall Jenner finally opened up about the scandal surrounding her Pepsi commercial. And on Sunday evening's episode, it was Kim Kardashian's turn to address a controversy.
Earlier this summer, Kardashian debuted her first foray into the beauty business with KKW Beauty, introducing a contour kit, of course. To promote the new line, Kardashian posted a photoshoot of herself wearing the makeup on Instagram, which many Internet commenters compared to blackface.
"I'm seeing these photos from the campaign that we took and people online are saying that they are blackface. I would never in a million years be disrespectful and do that," Kardashian said of the images on Sunday night's episode. "We wanted [the photos] really moody, and I was really tan with the contour. The photos ended up being a little darker than I was and there were some people online saying that I was doing blackface and the photos were inappropriate. The Internet world is so toxic and I feel like people are waiting for you to make a mistake, just to point it out."
Looking for advice on how to handle the situation, Kardashian phoned up Jenifer Cohan, the chief digital officer of Jenner Communications, who recommended she delete the images. "You want this to be all positive, all about the product," Cohan advised. "And we don't want to get off on the wrong foot. Then we'll just have to explain that wasn't your intention. We'll redo the images, we'll make sure they're perfect, and just say that it was the lighting of the image."
Kardashian heeded her advice, adding, "When you're running s–t, you literally just have to own up to it and you have to change it and fix it and not hide. I fully understood what people were saying, but i'm not going to let this ruin all of the hard work that we put into it and dwell on it. Everyone knows, I think, that I would never ever do a photoshoot like that and I would never disrespect anyone."
So, there you have it. Of course, KKW Beauty didn't exactly take any hits from the short-lived controversy, either. According to Time, Kardashian sold out her product in under three hours the day it launched, bringing in an estimated $14.4 million. Next up: KKW fragrances.
Related: Kendall Jenner Finally Speaks Out About Pepsi Commercial Controversy: "I Completely Shut Down"
Here Are the Real Heroes of the Kardashian Jenner Family Empire