How Joey King Handles Her Kissing Booth Fame, Which Multiplied Her Instagram Following Tenfold
Joey King may be the star of the movie of the summer, but that won't stop her from posting embarrassing selfies on Instagram.
---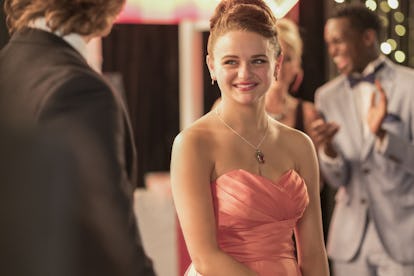 Marcos Cruz/Netflix
This year's biggest teen movie wasn't even released in theaters but rather uploaded to Netflix back in May. The Kissing Booth, which stars the upstart actors Joey King and Jacob Elordi, follows two best friends since birth whose lives are jolted when one falls for the other's brother, breaking a cardinal rule in their friendship, and has become "one of the most-watched movies in the country, and maybe in the world," according to Netflix's chief content officer, Ted Sarandos. To put its reach into perspective, one in three viewers have rewatched the feel-good film—and, no, that's not usual business, even for a platform where binge watching is the norm.
But the success of the film, which is based on a story written by the 15-year-old Beth Reekles and posted to Wattpad, can also be quantified by looking at the Instagram account of its lead, King. In just the two and a half months since the movie's debut, King's following has multiplied tenfold. She went from having 600,000 followers to just short of 6 million.
Much of that is due to King herself, who, as it turns out, is as relatable and as charmingly goofy as her character. "It's so exciting when you have your whole heart in something and then everyone else jumps on board with that," King says over the phone, in between discussing what it is about the movie that so many people have gravitated toward and whether or not a sequel is in store. (Spoiler alert: She and the rest of the cast are down.) Even more of King's heart was in this project, though, as she fell in love with the actor playing her onscreen love interest while filming, resulting in Elle and Noah's electric chemistry.
That's not an aspect she wants to talk about today, however. Instead, King opened up about how she's been balancing her privacy with sharing moments from her life with her newfound following, what the status of the sequel is, and her dos and don'ts of Instagram.
Congrats on having the movie of the summer. What do you think it is about the movie that resonated with so many people? As a viewer myself, trying to separate myself from it as much as possible to look at it as an audience member, I felt purely happy while watching it. I was entertained. It was funny. It was a happy movie. A lot of the teen comedies and romances that are out now have a dark twist or heavy plot. I think, with Kissing Booth, we're creating something like an old classic, like Sixteen Candles, Pretty in Pink, and Mean Girls—movies that are really fun to watch. I don't think one of those has come out in a while.
It helps that the movie has such a timeless feel, in part because social media and phones are so absent from it. I think it was fun to watch something that didn't center around [technology], because a lot of movies now have Instagram pop-ups and things that look like social media. That's realistic because it is what our world looks like, but I think it was nice—like you said—to watch a film where it didn't play such a big role.
What do you think Elle and Lee's Instagrams would like like if they had them? I think they would have their own joint account and also have separate Instagrams. I feel like Elle would be posting a lot of soccer clips and funny memes, and Lee would be posting clips from his favorite ballets [Laughs].
How do you think Elle would handle being a social media celebrity? Elle is the type of girl who goes with the flow. But, as you can see in the movie, the amount of attention she gets after coming back from the summer makes her slightly nervous and uncomfortable. I feel like Elle would enjoy it but she'd also be pretty overwhelmed by it.
On a more personal note, how have you been handling it? Your profile has skyrocketed since the release of the movie. Everyone I've met or who follows me has been really lovely and respectful. Although the number jump was so shocking, I was really, really excited. I loved making this movie so, so much, and I was hoping people would love it as much as I did. I didn't know it was going to do so well or take off. So when it did, and I saw my numbers and the boys' numbers grow, it was so thrilling to see that people responded to it in the way that we did. As much as it's been crazy that people want to know what's going on in my life, it's so exciting. There's no part of me that's like, I don't want this. It just makes me feel so lucky and happy inside.
Can we talk about how your follower count jumped to 10 times what it was before the movie? Yeah, isn't that crazy? I've been in this business for quite a long time, but I've never played a role like Elle before. I remember reading the script and falling in love with the character. She's really strong but also funny. Although she's navigating growing up, she never loses self-respect. It's so hard to explain how much fun we all had making the movie. It's so exciting when you have your whole heart in something and then everyone else jumps on board with that.
How do you balance maintaining your privacy while sharing some moments from your life on social media? It is a balance. It's important to me to remain true to myself on Instagram, and it's also important to have certain things be just for me. My last Instagram post is me with a face mask on in the shower, and I don't know what I was doing [Laughs]. It felt like something weird and private and personal, but part of me thought it was super funny and it would be worth sharing. I try not to overthink it because I'll just make myself crazy. Looking at my Instagram, I'm pretty happy with how I balance my social life and work. I also don't want to be too self-promoting; I think the reason people follow me and why I love Instagram is because I am myself.
It definitely seems like you have fun with Instagram. You don't approach it in the way of curating your most photogenic moments. Yeah, I look at my Instagram and there are so many weird, fun things on there I'm happy I shared because it was such an organic moment. I think it's important to remain spontaneous—and this is a problem I see when a lot of people gain a lot of followers quickly, where they start to worry and lose their sense of enjoyment of social media. I get that. It's easy to overthink when a lot of people are watching you. But if you don't overthink it, and just be yourself, it feels so much better.
How much time do you spend on Instagram every day? Oh, God. [Laughs] Probably more than I care to admit. Probably at least an hour and a half a day. I think most of what I do on Instagram is find and send memes to my sister [Laughs].
What does your explore page look like? Is it full of memes? I've got so many dog videos, some makeup stuff, a bunch of memes, and some Kissing Booth stuff. I feel like that's a good combo.
Do you have any rule of thumb for how often one should post on Instagram? No, I post pretty often: either every day or every other day. Then I'll take a three-day or a week break. I don't have rules for myself as to how much I should or shouldn't post. If I feel like posting, I just do it.
Is there anything you'd never post? Yeah, of course, I just don't know what exactly my limits for myself are yet. I never thought I'd post a photo like the mask photo I posted yesterday, but then, there we go. I never like to post photos with my sisters unless they approve them, because my sisters are picky. Of course, I would never post anything terribly inappropriate or horrible.
Are you a comments-reader? It really depends on my mood. Sometimes I go in there and peek, sometimes I don't look at all, sometimes I reply to a few. It all depends on how I'm feeling or how busy I am that day. But it's always fun to read the comments because people come up with the funniest stuff ever. It makes me laugh. Of course, there's going to be a couple of mean ones, but the majority of my comments are very, very sweet.
Do you have a favorite meme you've seen that has you in it? I did this Wednesday Wisdom video a week ago and made this funny face. People used my face and posted like, "When my teacher asks me if I care I'm failing my classes." What I said in the video, when I smudged my eyeliner, was "Do I care? No!" Then everyone took that and decided to make it a meme.
How do you unplug from social media? I just put my phone down, or, if I look at my phone, I don't go on Twitter or Instagram. I never have days where I'm like, I'm just going to go a whole week without it. Right now, it's really hard for people; social media can get to you in a big, negative way if it affects you too much and you're trying to be someone you're not. I've been fortunate because I haven't experienced these moments when I feel really negative about it. I try not to invest myself too much in it, to the point where I get to that place. It's important to know the limits.
You recently hinted at how much you'd love to see a sequel. Have any more conversations about it happened since then? Right now, I am as in the dark as everybody else. But I know that the boys and I miss working together and doing all the amazing things we got to do together. So we're not ruling anything out. We're waiting for it just like everyone else.
Do you want to shout out anyone's Instagram? My lovely sisters, @hunterking and @kelliisking. Those are the best follows on the 'gram for sure.