Joffrey Ballet Principal Dancer Fabrice Calmels Is Ready for His Fashion-World Takeover
The world's tallest ballet dancer made an auspicious modeling debut in a Versace campaign lensed by Bruce Weber. Now, with IMG's blessing, he's poised for dance and fashion domination.
---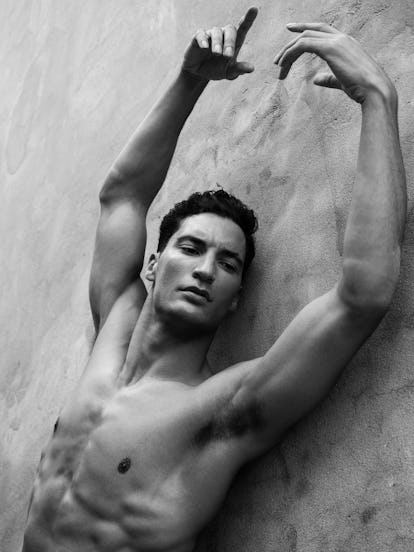 Clay Boutte
Joffrey principal dancer Fabrice Calmels became the latest dance-world star to cross over into fashion when he appeared alongside Karlie Kloss in Versace's Fall 2016 campaign. Photographed by Bruce Weber and supervised by Donatella herself, it was an auspicious start for a fashion newcomer. Three months later, he was juggling his duties with the Joffrey — rehearsing for the company's new staging of beloved Christmas ballet The Nutcracker — and a new gig: modeling as a new addition to the roster of IMG Models, to which he was signed in October.
Though Versace was his first foray into modeling, he's long been interested in fashion. "I'm from France," he said, deadpan. "Of course."
At 6'7, the Frenchman is of an unprecedented height for a ballet dancer — Calmels boasts the Guinness world record for tallest ballet dancer in the world. Yet the Joffrey Ballet has historically embraced dancers who don't fit the classical mold. "This company is made out of dancers who don't have the absolute body," ballet master Scott Barnard told W's Diane Solway in her biography of Joffrey star Eddie Stierle, A Dance Against Time. Just as Stierle had been rejected from the American Ballet Theater by Mikhail Baryshnikov because he was too short, so too Calmels confronted resistance at the notoriously conservative Paris Opera Ballet.
It wasn't until age 17 that Calmels stood out, though. He had been in and around the dance studio for much of his life —he followed his younger sister into ballet classes, where he found a niche as the only young male dancer in a room full of budding prima ballerinas. By 12, he had entered the school of the Paris Opera Ballet. But at 17, puberty brought with it a massive growth spurt that saw Calmels stretched into his new enormous frame practically overnight. (By his own recollection, he was growing at an alarming rate of nearly an inch and a half per month.) It threw off his coordination and his center of gravity; "My teachers were just shocked," he said.
The Paris Opera Ballet maintains a rigid hierarchy among the ranks of its dancers: After years of training at the company's school, dancers are eligible to audition for the company. They must continue to audition each year to maintain their place or earn a promotion. Yet Calmels chafed at the rigor: "I took my chance in the States and found my place here, because there's no such rules here," he said. "If you're good, you're good."
He auditioned for the Joffrey in 2001; by the next year, company co-founder Gerald Arpino had adopted him as mentee and appointed him as a principal dancer of the Joffrey. Since then, he's danced some of the most challenging and iconic roles in the Joffrey canon: Othello, Le Sacre du Printemps, Apollo.
His height, once the major obstacle to his dance career, has now proved a calling card. It has given him an aesthetic advantage when it comes to dancing pas de deux: "A normal-sized guy could be hidden behind the ballerina," he explained. "My height frames her like a contour." Plus, it made him the ideal partner for Amazonian model Kloss, 6'2", in the Versace campaign. Calmels is lithe and long-limbed, with razor-sharp cheekbones and a fine jaw that lend themselves equally well to screen and camera.
"You have to create your own world," he said. "You build this energy inside you and project that onto the film."
Calmels stopped in New York a week after the IMG announcement; he took a few days' hiatus from his rigorous rehearsal schedule to take in a matinee at the American Ballet Theater and a quick class at the Alvin Ailey dance school — and to share his beauty and fitness tips.
Your look in three words: Classic, statuesque and with a touch of whimsy
Medicine cabinet snapshot: Neutrogena face wash; Carmex lip balm; Neutrogena face wipes (for removing stage makeup)
Shaving miracles: The Art of Shaving Lavender Essential Oil: Pre-Shaving Oil, Shaving Soap and After-Shave Balm.
Sheet mask or mud mask: Fresh-Umbrian clay mask.
Beauty from the inside out: No (or limited) alcohol and lots of water are absolute essentials. Being French, I am big on stereotypic French food. I general start my day with two soft-boiled eggs, café au lait and half a baguette. Lunch will be whatever I can grab quickly but a lot of times simple pasta with butter (real butter) or a salad. Dinner is generally four ounces of grass-fed steak or fish with a large side of vegetables and a salad with homemade vinaigrette. I will snack throughout the day on yoghurt (plain Noosa with Bonne Maman jam is my favorite) and cheese.
Exercise obsession: I'm in the dance studio five to seven days a week, seven and a half hours a day, but outside of the studio I spend an hour or so each evening stretching, doing ab exercises and rolling out my muscles on a foam roller. But when I have time, I love to add in gyrotonics (in Chicago I go to the 5th Line Studio) to my routine. Gyrotonics is especially great when I am recovering from a joint or muscle injury; it helps building strength and mobility.
Dance training regimen: I start each morning right from bed by rolling out my calves and thighs (with a stick roller) and doing a few sets of crunches and pushups. I then head to the dance studio where I have an hour and a half ballet class followed by six hours of rehearsals Monday through Friday. Many weekends and evenings are filled with performances.
Drink of choice: Fresh-squeezed orange juice.
Must-have backstage: Headphones.
Product that you borrow from the girls: Hairspray
A man should smell like: Musk.
Definite doppelgänger: I don't really know. I have been told I look like the actor Tom Ellis.