Johanna Ortiz, the South American Queen of Cocktail Attire, Would Never Wear Shorts On a Plane
The fashion designer reveals her travel secrets.
---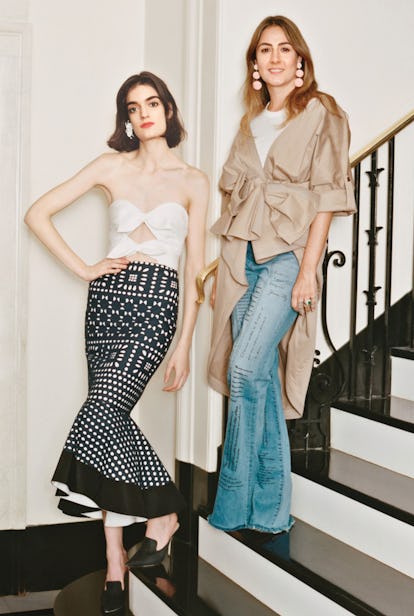 Photograph by Eff Henrikson; Styled by Zara Zachrisson; Hair by Takashi Yusa; Makeup by Jen Myles; Model: Celine Delaugere at IMG Models; Special thanks to the Carlyle, a Rosewood Hotel; Model wears Alberta Ferretti Shoes; stylist's own earrings. Ortiz wears her own t-shirt and jewelry.
In Johanna Ortiz's world, ruffles, flounces, and big, billowy sleeves are always in fashion. "Even going to a breakfast, a woman should be festive," says the Colombian designer. But then Ortiz, who is based in Cali, a balmy city best known as the salsa-dancing capital of the world, can't help her extroverted ways. "I'm from a party town," she says. "It's in the blood." Ortiz, 43, studied fashion design in the U.S. and launched her line in 2001, but she only brought her wares Stateside three years ago, selling them exclusively through Moda Operandi. Her Tulum top, a balloon-sleeve number that seemed to defy gravity, immediately sold out, putting her name on the international style map and initiating a full-force trend for off-the-shoulder dressing. These days it is nearly impossible to attend a spring benefit or a summer wedding and not see several Johanna Ortiz–attired women shimmying about like the dancing-lady-in-the-red-dress emoji. The appeal of Ortiz's clothes, aside from their sultry charm, is that they look sensational on virtually every figure. "I always want to flatter women," says the petite designer, who tries on every piece herself. "Everything looks wonderful on a model, but it has to work on real women too." That goes for her recently launched swimwear line too, which no doubt will be causing heads to turn from Cartagena to the Cote d'Azur this summer. Here, as we all plan our holidays—and accompanying wardrobe—Ortiz offers her own glamorous travel tips:
Where are you headed this summer:
We try to discover new places. I went on a road trip from San Francisco to L.A last year with my husband and kids and we stayed in Carmel at the Carmel Valley Ranch, which is a peaceful nature retreat, spa, and vineyard, all in one place. We loved it! This year, I would love to go to Portugal or South of France but, no matter where we go, we always finish our summer vacations in our house at Key Biscayne.
Favorite mode of travel both long and short:
Plane.
Best travel companion:
My husband.
Go-to travel outfit:
Anything comfortable but not too sporty. Usually, a shirtdress over jeans.
What's in your carry-on:
A sketching notebook, an iPad, magazines, and a book. Right now, I would highly recommend Laura Joh Rowland's The Concubine's Tattoo. Also, I am in love with Japan-based novels.
Best beauty products for travel:
Tata Harper Elixir and Be True lip treatment.
Something you would never wear on the plane:
A miniskirt or shorts.
A packing mistake to avoid:
Packing too light.
Favorite accessories to pair with your new swimwear collection:
Rebecca de Ravenel earrings.
Favorite hotel in the world:
Four Seasons Jackson Hole. I love the mountains in Jackson Hole. When you find the perfect true ski in, ski out, you get spoiled. And for me it is really important that it is great for adults and kids.
Best souvenir you have ever picked up on a trip:
A straw hat from Cartagena. I get one everytime I go!
Secrets of the Jet Set: 10 Up-and-Coming American Designers Reveal Their Travel Tips
Aurora James produces all of the pieces for her footwear line Brother Vellies in Africa—so naturally, she's on the road at least every other month for several weeks at a time to meet with artisans and get inspired. At this point, the designer has packing down to a science. "I usually pack thirty seconds before I'm out the door—as an accessory designer, I usually roll with like 7 pairs of shoes, but it's part of the fun. And about 8 dresses. I never bring anything black with me," she says. "Why would you travel and wear black? It's like a waste of life. You have to bring color, you can wear black in New York." Her key to traveling light? "I totally utilize the hotel's cleaning services. It's shocking to me how many people do not!"

Photo by The Coveteur, courtesy of CFDA and W Hotels.
Model-turned-fashion designer Thaddeus O'Neil is an avid surfer—and takes sunscreen really seriously. "It's essential. Neutrogrena is one that I bring a lot. I use, like 60+ on my face, for sure. I also put zinc on my face, because when you're out on the water the sun is so bright. I look almost tribal, covered in white." Other travel essentials include a surfbord, lots of books ("I'm not really a kindle person."), a journal, sandals, sunglasses, a hat, a watercolors set, and plenty of his own designs. "I wear my own brand 90% of the time," he says. "Look at these pants! They're made for travel."

Photo by The Coveteur, courtesy of CFDA and W Hotels.
Korean-born, New York-based women's wear designer Ji Oh lived in London for years—but her favorite place to shop is in Sweden. "Whenever I go to Paris for work, I go to Sweden for two or three nights to shop. I buy a lot of t-shirts. Like, a lot. They are really well made, the fabrics are amazing, and the cut is never off. In other countries, quality really varies depending on the price, but nothing is ever bad in Sweden." She also likes to pick up little tchotchkes, such as keychains or bathing suits, when abroad. "They aren't necessarily rare, but they are special to me!"

Photo by The Coveteur, courtesy of CFDA and W Hotels.
Molly Yestadt, the founder of luxury hat label Yestadt Millinery, always wears baseball hats and a scarf on a plane. "If I take a nap, I just pull the hat over my face and then you don't get bothered!" she says. Yestadte also has advice for how to bring hats on a plane, without ruining them. "You can wear it, or put it in a tote under the seat in front of you or in an overhead compartment, or carry in a hatbox—which is fabulous! We also make packable pats, that can go in a suitcase with a t-shirt in the crown. It's classic, but it's stable and it works!"

Photo by The Coveteur, courtesy of CFDA and W Hotels.
Daniel Dugoff, the founder of New York-based men's wear brand DDUGOFF, makes clothes for "normal American guys who are interested in well-made products, but have a fairly casual lifestyle." So it makes sense that his favorite mode is pretty low key. "I'm not really a yacht guy, I really like trains," he says. "There's something really nice about traveling from city center to city center, instead of taking a cab an hour outside of a city, waiting at an airport for two hours, and flying somewhere just to get back into a city." Whether on a train or a plane, Dugoff likes to pack light. "I'm kind of an anxious traveler, so I try to bring as little as possible. I never check a bag unless I have to." He had to make an exception for the trip to Mexico, though. "I wanted to bring a lot of sunscreen," he laughed.

Photo by The Coveteur, courtesy of CFDA and W Hotels.
Jason and Julie Alkire, the design duo behind women's wear label Haus Alkire, have been married for nearly twenty years—and in that time they've gotten their travel regimen down to a science. "We always take a carryon with some things in it on a plane. A fresh pair of clothes and the three things you each would need to get by for the full trip," Jason says. "Just in case." For Julie, that means a versatile Little Black Dress, of their own creation, a red MAC lipstick and "OG black chap stick, it's like a lip primer," and Bare Minerals foundation. "If your bag gets lost–you can throw on red lipstick look great."

Photo by The Coveteur, courtesy of CFDA and W Hotels.
Women's wear designer Charles Youssef worked for Calvin Klein, Ralph Lauren, Gareth Pugh and Cerruti before launching his eponymous collection in New York, in 2014. While running his own business keeps him local most of the time, the young fashion designer is lusting for an inspiration trip to Tokyo or Kyoto, to see the beautiful buildings and architecture. When abroad, he relies on a simple uniform of a "black t-shirt, some black pleated trousers and glasses." For warm weather, he swaps out the pants for pleated shorts and packs extra grooming products. "I bring a lot of moisturizer, from Shiseido Men's, and also use Neutrogena moisturizer with sunscreen in it."

Photo by The Coveteur, courtesy of CFDA and W Hotels.
Alexandra Alvarez, the 29-year-old designer of bodysuit brand ALIX, designs a body-conscious product—but loves traveling in oversized pieces that still look chic. "On planes, I always wear a t-shirt; culottes, because they are big and comfortable but still look decent; a sweater; and close-toed shoes. If not, I have socks in my bags so I can change on the flight." Once she arrives at her destination—she lives in a linen button-down shirt, tied at the navel. "The best one I ever got was at Massimo Dutti, in the men's section. It was this white linen shirt—the best ever. I wore it all summer long last season, until the drycleaner misplaced it."

Photo by The Coveteur, courtesy of CFDA and W Hotels.
Michael Miller and Katie Deguzman, the duo behind sustainable jewelry brand K/LLER COLLECTION, met as students at Parsons—and see eye to eye on just about everything. When asked about the one item they would never wear on a plane, both shouted in unison, "Heels." "I made that mistake once," Katie said. "But then again, I'd never wear Uggs either." "I always wear drop crotch jeans, an oversized shirt, a giant scarf, and some sort of cool slip on shoe," Michael added. "And tons of jewelry," Katie said. "I love how you can now go through the 3-d scanner with all your jewelry on, and I don't have to take it off!"

Photo by The Coveteur, courtesy of CFDA and W Hotels.
Tim and Dan Joo, the brothers behind accessories brand Haerfest, are always thinking about travel with their designs. "Our backpacks are for someone who has a coffee in one hand an an iPhone in the other," Tim says. But they certainly understand the need to unwind and disconnect. In order to handle the New York grind, the brothers always add a day or two to a business trip, Dan explains, "to visit any museum or restaurants we wanted to go to. It's all about work life integration."

Photo by The Coveteur, courtesy of CFDA and W Hotels.
Watch W's most popular videos here: