John Galliano's Bowie Tribute at Margiela, Jean Paul Gaultier's Runway Party, and Other News From Couture
In case you missed them, here are the top stories from couture.
---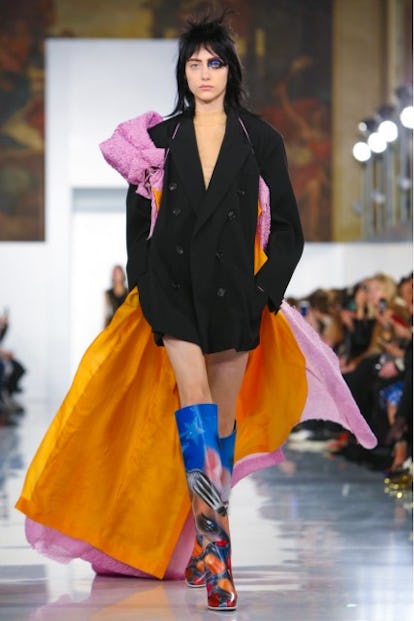 Galliano, John The designer showed his third couture collection for Margiela this morning in Paris and sent some major Bowie-inspired moments down the runway. Pat McGrath dreamed up the beauty looks, with models sporting bright mullets, sparkly lipstick, and metallic shapes on their faces.
Gaultier, Jean Paul Turned his runway into a discotheque for his Spring 2016 couture show, inspired by one of the fashion set's favorite nightclubs in Paris, Le Palace. The models sipped Champagne and smoked cigarettes as they strutted down the catwalk.
Chiquet, Maureen The day after Chanel's big couture show, it was confirmed that the brand's global CEO Maureen Chiquet is leaving her post after nine years at the company. She is departing "due to difference of opinion over strategic direction," according to WWD.
Chiuri, Maria Grazia & Piccioli, Pierpaolo The Valentino designers sent ethereal goddesses down the runway today at their couture show. There was hair and foot jewelry, as well as several excellent Oscar dress contenders. Who will snag them?
Saab, Elie It appears eco could be one of couture's standout themes. Karl Lagerfeld did a recycled set yesterday, and Saab dreamed up a leafy forest for his show's backdrop today. Who's next?