NYFW Men's: John Varvatos' Shop of Horrors
"Long Live Rock" and other subtle messages from fashion's most prominent rock 'n' roller.
---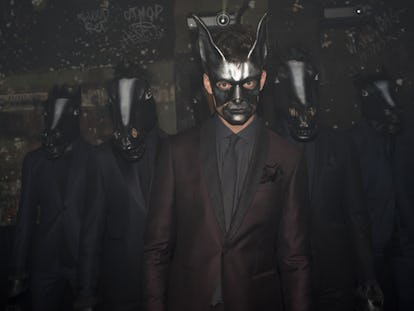 John Varvatos may have taken some convincing to move his men's shows from Milan to New York, but Tuesday night's presentation – only his second in the city – proved he's definitely settled in. After boarding up his headquarters on the Bowery earlier this week – and adding a huge banner asking "ROCK IS DEAD?" as a flourishing touch – Varvatos invited showgoers to an address just around the corner, which turned out to be the store's back entrance. With stern bouncers standing guard, it was definitely the closest the former CBGB space has gotten to its storied past since Varvatos took over: He'd turned it into a labyrinthine, rock 'n' roll shop of horrors, starting with prayer candles and open caskets for animal-themed rock stars. ("Suffered a long painful death by Pop and EDM Music," a plaque explained of the first, a rabbit called Bun E. Bass.)
From there, the masks hardly went away: Models wore heads of horses, grizzly bears, bats, and wolves, so even though plenty were mannequins, they were hardly stagnant. The live ones proved themselves so by dancing around on stages, or lunging at unsuspecting passersby. Some took over dressing rooms, their mirrors scrawled in lipstick with the lyrics of songs like the Rolling Stones' "Gimme Shelter" that were playing overhead. This was, at times, definitely overkill: "We don't need no education" was painted on the walls of the next room, in case you didn't get the message from Pink Floyd's "Another Brick in the Wall" blaring over the speakers.
Near a red bird with lobster claws for hands, a goth Statue of Liberty with matching glowing eyes stood sentry in front of the final chamber, whose curtains obscured practically the store's only real source of light. Painted entirely white, the store's usual entryway housed a single blonde living model with angelic ringlets, and a winged horse rearing in front of the words "LONG LIVE ROCK." Clearly intended in response to the "ROCK IS DEAD?" question posed both at the beginning in neon and on the storefront outside, the song playing overhead – David Bowie's "Rebel Rebel" – seemed an unintentionally macabre choice.
With showgoers – and at one point even a fire marshal – pushing forward the whole time, the final door from there was somewhat of a let-down when it opened out to the street. The fun house was definitely fun, but perhaps a little too much: with so much going on, who could remember the clothes?
NYFW Men's: Presentation at John Varvatos Fall 2016
NYFW Men's: Presentation at John Varvatos Fall 2016
NYFW Men's: Presentation at John Varvatos Fall 2016
NYFW Men's: Presentation at John Varvatos Fall 2016. Photo by Mark Hartman.
NYFW Men's: Presentation at John Varvatos Fall 2016
NYFW Men's: Presentation at John Varvatos Fall 2016
NYFW Men's: Presentation at John Varvatos Fall 2016
NYFW Men's: Presentation at John Varvatos Fall 2016
NYFW Men's: Presentation at John Varvatos Fall 2016
NYFW Men's: Presentation at John Varvatos Fall 2016
NYFW Men's: Presentation at John Varvatos Fall 2016
NYFW Men's: Presentation at John Varvatos Fall 2016
NYFW Men's: Presentation at John Varvatos Fall 2016
NYFW Men's: Presentation at John Varvatos Fall 2016
NYFW Men's: Presentation at John Varvatos Fall 2016
NYFW Men's: Presentation at John Varvatos Fall 2016
NYFW Men's: Presentation at John Varvatos Fall 2016