John Waters, Vulgar King, Is Getting Two Museum Bathrooms Named After Him
John Waters will donate 372 pieces to the Baltimore Museum of Art. All he asks for in return is that they name two bathrooms after him.
---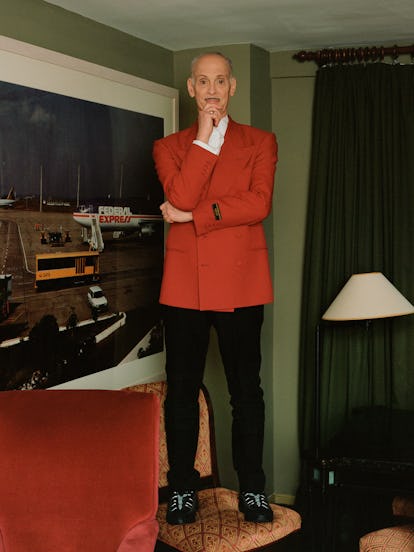 Photographed by Jeff Henrikson; Styled by Jenna Wojciechowski. Grooming by Jamal Scott using KKW Beauty; Photography assistant: Austin Perrotta.
If there's one thing John Waters understands intimately as much as he gets camp, it's the intersection of art and the abject.
The Baltimore Museum of Art appears to have recognized that, as well, as the Baltimore native has decided to give 372 pieces of art from his personal collection to the museum, to be exhibited in 2022. The collection features works by 125 artists, including Mike Kelley, Thomas Demand, Diane Arbus, Nan Goldin, Christian Marclay, Catherine Opie, Gary Simmons, Cy Twombly, Andy Warhol, and Christopher Wool. "I want the works to go to the museum that first gave me the test of rebellion of art when I was 10 years old," the filmmaker told The New York Times in an interview about his patronage.
Usually donors receive a gallery or bench named after them, and Waters will see his name placed on a rotunda at the museum. But what's even better is that the filmmaker will get not just one but two bathrooms named after him as well.
Naturally, the bathrooms were Waters's idea. "That was my first demand," he told the Times. "They thought I was kidding."
But why would anyone think Waters was kidding about asking to have a bathroom named after him? After all, this is a man who made a film in which Divine eats actual feces and is fondly known as the Pope of Trash. He's made his stance on bathrooms clear before, too—earlier this year, he amended his number one rule (you know the one, about going home with someone who doesn't have books and not doing the deed) in a conversation with W. "If they have books in their bathroom, not only don't fuck 'em…run. It's really disgusting to go into someone's bathroom and see a basket of old Us magazines lying there," he said.
You might think a site of abjection such as the toilet exists in contrast to the sophisticated lineup of artists whose works from Waters's personal collection will be on display at the Baltimore Museum of Art, but it's the exact type of vulgarity that marks the filmmaker's unique understanding of good bad taste. We all know some nasty stuff goes on in there (and have to imagine that Waters would approve of some of it, too), but there has to be no better high-low mix than going to an art museum and relieving yourself in one of the two John Waters Restrooms (or both, if you're lucky). Let's just hope nobody tries to steal any of the fixtures.