The Shape Shifters
Sharon Johnston and Mark Lee are quietly transforming L.A.'s architectural landscape.
---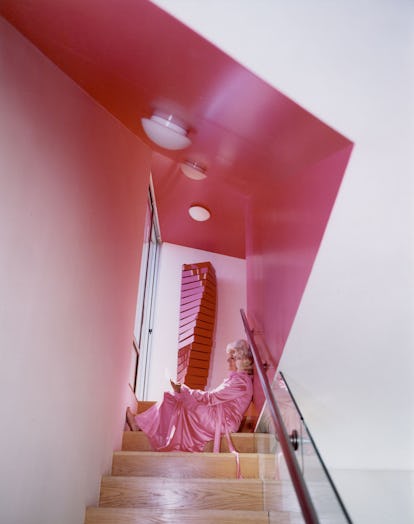 If Los Angeles architecture has a king,it's Frank Gehry, and the Walt Disney Concert Hall is his crown. Anyyoung architect working in this city has to contend with the long shadow cast by that icon of starchitecture. But that's fine by Sharon Johnston and Mark Lee, partners in the firm Johnston Marklee and also domestically, who have unassumingly become the architects of choice for L.A.'s creative class.
"We are not part of the whole architectural crowd," Lee says. "Everyone else has sharpened pencils at Frank Gehry's office or Morphosis [the Los Angeles firm where Pritzker Prize–winner Thom Mayne is a cofounder], so there's a clear lineage of very expressive and extravagant forms." The couple are sitting side-by-side in their conference room in a nondescript office building near Westwood; thick art books are scattered about, and the walls are hung with renderings for an addition to one of America's leading architecture schools. (The project, in its early phase, is still top secret.) Lee is sporting a black T-shirt and horn-rim glasses that make him appear more youthful than his 47 years; Johnston, 49, wears an asymmetrical black outfit that suggests the deliberate plainness of pious communities. Both are genial and warm, cocktail party–polished, and it is striking how when they speak of their firm, it is in a single voice. Lee tends to hold the floor more, but Johnston chooses her moments to jump in. And when she does, he often nods along in agreement, as when she declares thatthey have always avoided creating a signature style."The starchitect was very important for the cultural history of architecture in L.A.," Lee adds. "But it's not the Wild West anymore."
Johnston Marklee is the antidote to wild: thoughtful, deliberate, and intent on solving architectural riddles in an elegant and comfortable way. Hill House, built in 2004 in the Pacific Palisades, amounts to a deft sleight of hand: A developer asked the architects to maximize the buildable square footage of a steep hillside lot, so they came up with a dramatic polyhedron clinging to the canyon wall like a futuristic observatory. "The client didn't care about the look of the house," Lee recalls. "That became an excuse for us to realize the design we wanted."
The firm's work to date has consisted of similar residential projects in the United States and abroad—typical commissions in an industry that considers Johnston Marklee "young" even as its principals approach 50. Johnston and Lee have also designed galleries (Honor Fraser, Roberts & Tilton), stores (Maison Martin Margiela's Beverly Hills outpost), and architecturally sensitive additions, such as a writing studio they tucked behind the director Marc Forster's vintage Richard Neutra house, a process that Lee likens to a "dance" with the older structure and a form of "oblique collaboration" with the original architect. After they met gallery owner Esther Kim Varet of Various Small Fires at an event at the MAK Center for Art and Architecture in West Hollywood, she hired them to retrofit a historic building along Highland Boulevard with multiple exhibition spaces, offices, and a high-walled outdoor "gallery" that mirrors the interior. The new Various Small Fires opened in September. "What Johnston Mark-lee is very good at is carving space and getting volumes right," Varet says. "They nailed the proportions."
In 2012, Johnston Marklee beat out SANAA, David Chipperfield Architects, and Tatiana Bilbao to design the 32,000-square-foot Menil Drawing Institute in Houston. Renderings of their winning proposal show a long low-slung structure with a paper-thin steel roof that hovers beneath the site's oak canopy. With its scheduled opening in 2017, the $40 million building will join an illustrious lineup at the Menil's 30-acre campus, alongside the Rothko Chapel and Renzo Piano's acclaimed 1987 museum. It will certainly push Johnston Mark-lee into the spotlight they have tried to avoid. "It is unheard of that they would hire a relatively young firm that hasn't done a museum before," Johnston explains. "But the Menil is an exceptional institution. Renzo was basically our age when he was commissioned."
Johnston Marklee's aesthetic might be broadlydescribed as minimalist, given the absence of ornament and rash gestures. "Humility is their middle name," says the producer and environmentalistLaurie David, who first met the pair through a friend who now lives in Hill House. David hired them to integrate a 5,000-square-foot residence into a hillside lot overlooking wild parkland in Santa Monica. "Even though the house is very architectural, with a lot of design, it's simple and elegant," David says. "It pulls you in and makes you feel like you're living outside." Her house sits on a narrow plateau curved into the natural terrain; its white walls are cut through with careful apertures. The wow factor comes from the architects' sculptural volumes—and a view-facing glass wall that opens to allow nature in. "The architecture," Johnston says, "disappears."
A beach house they designed in Oxnard for another client has such a precise and pristine exterior that it looks like a full-scale foam-core model, but the ceiling and walls are spectacularly pierced to admit air and light. And a house that Johnston Marklee built, in an almond orchard in Spain, is circular and elevated on a conical base, so that when the trees bloom, "you feel like you're surfing on a sea of almond flowers," Lee says.
As such poetic touches suggest, Johnston and Lee don't strive for what Lee describes as minimalism's "forbidding" perfectionism. They find inspiration in the more "generous" and "human" brand of modernism identified with Southern California thanks to such landmark designs as Charles and Ray Eames's home and Pierre Koenig's famous Case Study House #22. For Lee, L.A.'s architectural style is rooted in the informality of indoor-outdoor living pioneered by SoCal architects long before Gehry created the Walt Disney Concert Hall in downtown L.A. "Neutra, Schindler, Lloyd Wright—it always happened within the private realm," says Lee, who grew up in Hong Kong and fell in love with Los Angeles when he was an undergraduate in architecture at the University of Southern California. "The history of architecture here really exists in the domestic."
Johnston and Lee met 20 years ago in graduate school at Harvard. After they set up their practice, in 1998, their first notable project was for the Lannan Foundation in Marfa, Texas, where they were seduced by the work of Donald Judd and befriended artists including Jack Pierson and Robert Irwin. They have stayed close to the art world ever since—they are currently working with Sterling Ruby on his vast new studio complex in Vernon, California—and drew on friendships with artists to create their first book, House Is a House Is a House Is a House Is a House, out this fall from Birkhäuser. Rather than issue a standard architectural monograph, Johnston and Lee invited Pierson, James Welling, Luisa Lambry, Livia Corona, and others to photograph specific houses as if they were "characters" in their work. "It's the artists showing us what we're doing," Johnston says.
This idea of "perpetually becoming," as Johnston puts it, of constantly learning something new about their own work, is more appealing to them than developing a signature style. "We hope we're never at the point where people expect us to do what we did last time," she says. "Discovery with our clients is what we really enjoy." Lee, of course, concurs. "We are always partnering with people who are fellow travelers," he says. "We are more interested in collaborators who are going places we can go to together—as opposed to someone who has already arrived and hires us as a trophy."
Photos: The Shape Shifters
Sharon Johnston and Mark Lee at Various Small Fires in Los Angeles.

Photographer: Ye Rin Mok
Walden-Wilson Studio in Culver City, California. Photograph by Eric Staudenmaier/Courtesy of Johnston Marklee.
The architects' View House in Rosario, Argentina. Photograph by Leonardo Finotti/Courtesy of Johnston Marklee.
A photograph by the artist Livia Corona from House Is a House Is a House Is a House Is a House. Courtesy of artist.
Vault House in Oxnard, California. Photograph by Eric Staudenmaier/Courtesy of Johnston Marklee.
Exterior view of Vault House. Photograph by Eric Staudenmaier/Courtesy of Johnston Marklee.
A rendering for the Menil Drawing Institute in Houston. Couresty of Johnston Marklee/Nephew.
Porch House in Los Angeles, photographed by James Welling.
Interior of Menil Drawing Institute. Couresty of Johnston Marklee/Nephew.