Instagram Is Having a Ball at Jon Rafman's Playground in Amsterdam
The tech-savvy artist's latest showing is almost swallowing Instagrammers whole.
---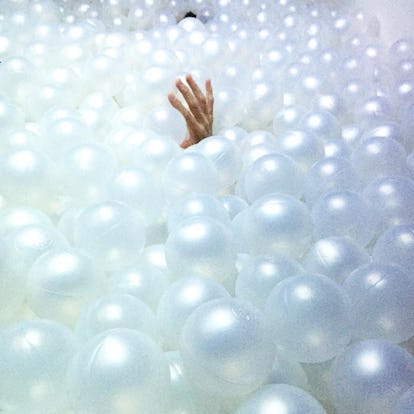 Like Pharrell before him, Jon Rafman is the latest to discover just how well the city of Amsterdam lends itself to hosting adult playgrounds. Last month, the Canadian artist and filmmaker chose the Stedelijk Museum for his awfully comfortable launching pad, filling three of its galleries with not only swings and a ball pit, but also eerie blue light, numerous screens, and virtual reality headsets. (Nothing to make the millennials feel at home like technology!)
Up until August, and named "I have ten thousand compound eyes and each is named suffering" after a film Rafman made last year, the show's a continuation of Rafman's longtime fascination with the social and behavioral effects of digital media. With the help of Oculus Rift, the VR pioneer he's been in the talks with for a year now, the videos at the Stedelijk go even further with his look into 3D online communities like Second Life, complete with realistic scenarios like driving or camping that are as strangely soothing as they are quotidian. Still, as Instagrammers are proving, you hardly have to slip on a bulky headset for the show to be immersive – all it takes is a step into the ball pit.
Watch W's most popular videos here:
Photos: Nicole Eisenman Has Both Style and Substance
Eisenman, with works in progress in her studio.

Photographer: Adrian Gaut
Nicole Eisenman, in her Brooklyn studio.

Photographer: Adrian Gaut
It Is So, 2014.
Courtesy of the artist/Anton Kern Gallery, NewYork/Susanne Vielmetter Los Angeles Projects/Galerie Barbara Weiss, Berlin/photograph by John Berens.
Fishing, 2000.
Collection of Craig Robins.
The Triumph of Poverty, 2009.
Collection of Dr. Thomas J. Huerter.
Laurie on the Train, 2015.
Courtesy of the artist and Anton Kern Gallery, New York.
The Session, 2008.
Courtesy of a Private Collection, Denver.
Commerce Feeds Creativity, 2004.
Courtesy of the Hort Family Collection.
Untitled, 2012.
Collection of Cathy and Jonathan Miller.
Brooklyn Biergarten II, 2008.
Collection of Valeria and Gregorio Napoleone.
Breakfast, 1995.
Courtesy of Momenta Art.