Return to San San
Jonah Freeman and Justin Lowe on revisiting their Art Basel Miami happening at Red Bull Studios.
---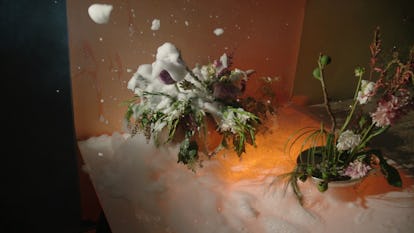 Last December at Art Basel Miami Beach, the artist duo Jonah Freeman and Justin Lowe corralled hundreds of the art fair's busier attendees to the Edition hotel for an mysterious happening called "Shadow Pool: A Natural History of the San San International." The show turned out to be an endurance test of a lecture about a bizarro fictional expo for strange collectibles, such as vintage pornography and horse-racing memorabilia—not exactly the models-and-bottles vibe you'd expect from a South Beach bacchanal.
Now, Freeman and Lowe have teamed up with the musician Jennifer Herrema to revisit the very sprawling, and very fake, San San International with "Scenario in the Shade," an immersive installation that will turn Red Bull Studios in Chelsea into a twisted manifestation of their made-up universe.
"It's a big world, and we're continuing to flesh out this narrative," Lowe said, sitting in the space's back office, which was full of coolers filled with Pabst Blue Ribbon and, yes, Red Bull (Herrema mixed hers with vodka).
"It's this, um, sprawling interior…" Freeman said.
"… and it just keeps growing, it keeps going and going," Herrema said.
Just as the performance in Miami slyly skewered the Basel madness, certain elements embedded in the show at Red Bull Studios aims to send up the art sales and hype machine of the 100-plus gallery openings in New York this week, most no more than a block or two away. There's a 30-minute film playing in a room that chronicles fake youth movements from the fake world they've invented, and when members of New York's real youth movements stream through Red Bull studios, they'll notice the installations around them are the same as the sets in the film.
"We designed the sets exactly like they were on the soundstage," Freeman said. "When we bring it here, it changes, because we had designed it for a lens before."
There's also a "secret" surveillance room here in San San land, with a vast security system that will record the goings-on throughout the show, constantly spying on the activities of its denizens. Sounds familiar, no?
"In my AirBnb last night I noticed there was a fucking film camera," said Herrema, who was wearing snakeskin boots and talking in a husky rasp between puffs on a vape. "I was like, 'Are you kidding me?"
As they go through the space, visitors will pass through a deconstructed port-o-potty, a room filled with emptied-out aquariums, broken pinball machines and arcade games, a rusted delicatessen, and a courtroom where law and order will try to reign in the chaos. The chaos will probably win out, though, as MGMT, Kurt Vile, and other rock stars will be blasting out from the Marshall stacks in the room immediately next to it. The music programming is firmly the domain of Herrema, who fronted scuzz rock legends Royal Trux for many years.
"The court's been taken over by shadow law," Freeman said.
"Yeah, because Jennifer's taking it over," Lowe added, laughing.
"Scenario in the Shade" is on view through December 6 at Red Bull Studios New York, 220 W 18th Street.
"Scenario in the Shade" is on view through December 6 at Red Bull Studios New York, 220 W 18th Street.
Photos: Return to San San