Jonah Hill Is Still "So Bummed" He Didn't Play Sean Parker in The Social Network
It was down to him and Justin Timberlake, and David Fincher wanted JT.
---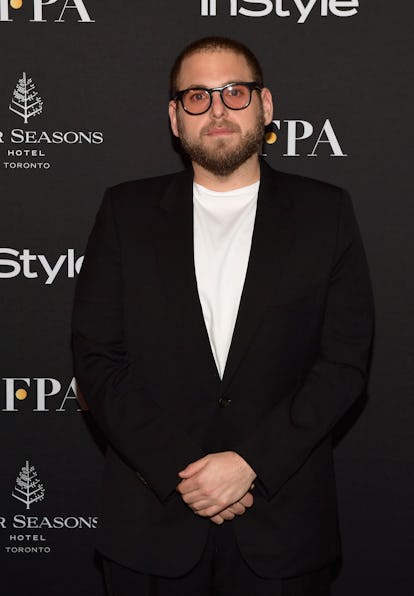 Matt Winkelmeyer
In a parallel world, it's Jonah Hill, not Justin Timberlake, who inked Sean Parker into the collective imagination with The Social Network. In a new, hour-plus-long interview for Bill Simmons's podcast, Hill, whose feature directorial debut, Mid90s, came out over the weekend, explained that the part was down to him and Timberlake; and while Columbia Pictures wanted Hill for the role, the director David Fincher was less enthusiastic.
"Low-key, David Fincher—or high-key, David Fincher didn't want me in Social Network," Hill said on the podcast. "I've only met him once or twice; he was super nice, honestly. He's the man, obviously, but he was not having me." Nearly a decade on, Hill, who has frequently found himself up for the same parts as the actor Jesse Eisenberg, who most indelibly portrayed Facebook's founder, Mark Zuckerberg, still described the part as "the only one out of my whole career" that "years later, I'm like, f–k, I'm so bummed."
Hill's new film shares something with The Social Network: the Nine Inch Nails members turned film scorers Trent Reznor and Atticus Ross, who won an Academy Award for their work on Fincher's film. (Hill said on the podcast that he petitioned them by letter because his budget was so small.) Hill described The Social Network score as "my favorite modern score," and for Mid90s, he gave Ross and Reznor direction that, on its surface, seems quite simple, but, in fact, probably isn't: "I want to hear your perverse take on warmth," he said.
The year after The Social Network premiered, Hill appeared in Moneyball, the film that marked his entrée into drama. Though Superbad was his breakout film, Hill said he never intended to remain in comedy. "For me, it was important to fight not to be in a box," he said, adding that he found it unsustainable to only show one dimension in his performances. (He also, regretfully, described himself as "someone who's been marginalized" because he has been, at times during his career, mocked for his weight.) "The most interesting move you made, career-wise, was Moneyball," Simmons said. "I wasn't expecting that. And I think if you hadn't done that when you did it, maybe one more year, you're just typecast as the comedy guy, and I don't know if you get out of it."
"But I still do a drama now, and they're like, 'Unexpected, out of left field,'" Hill replied tartly. "And I'm like, 'Alright, man, cool.'"