Jonathan Anderson on His Many Obsessions, Including His New Uniqlo Collaboration
The designer, who just curated an exhibition at Yorkshire's Hepworth Wakefield gallery, talks his obsessions, from 20th-century ceramics to musicals to, of course, Uniqlo. "My entire wardrobe's from there," he says. "I'm kind of a super-fan."
---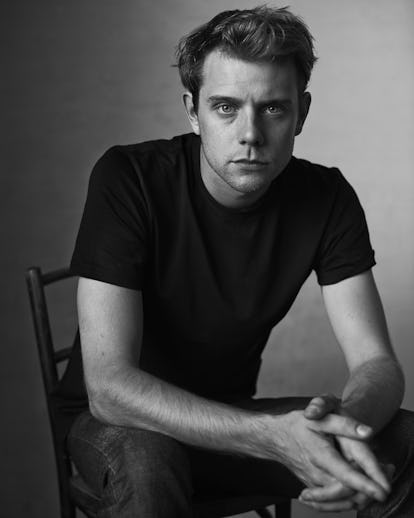 © J. W. Anderson
"It's probably the most important thing I've ever done," said Jonathan Anderson recently on the phone from London. He wasn't talking about his new collaboration with Uniqlo, or even his latest collections for Loewe or his cultish namesake label, but the newly opened exhibition he curated at Yorkshire's Hepworth Wakefield gallery. Spend just a few minutes talking to Anderson, though, and you'll realize just how important art is to the designer, who has no shortage of applications for the word "obsessed": He's obsessed with the ceramicist Bernard Leach, for one, whose admittedly obscure creations are the reason Anderson, a passionate collector, is now dealing with some personal "budget cuts." He is also obsessed with the British sculptors Barbara Hepworth and Henry Moore, the main inspirations for his exhibition, "Disobedient Bodies."
"They were tackling how to reduce the physical form, and in a weird way, I think that's what we try to do in fashion as well," said Anderson, who paired up works by artists like Jean Arp and Louise Bourgeois with fashion pieces by designers like Christian Dior and Issey Miyake at the Hepworth. (His favorite pairing? Rei Kawakubo's amorphous "lumps and bumps" collections with one of Brancusi's ultra-polished heads.) There is one marked difference between showing a collection versus opening an exhibition, of course: "It's quite nice to do something you work on for two years and it's up for three months, instead of working on something for six months and it's only on for 15 minutes," Anderson said, echoing a sentiment recently expressed by another art-obsessed designer: Raf Simons. Anderson talks his own expansive art collection, plus even more obsessions (Homeland and Uniqlo among them) in his culture diet, here.
What's the first thing you read in the morning?
Probably the BBC News on my phone. Then, because I'm a religious collector of many things, I usually go through what's happening on [the auctions site] Invaluable and look at all the auctions, to find out if something I'm looking for has come up. Then I go through my emails and try to get into work.
What do you normally look for in the auctions?
I collect primarily ceramics, but also black-and-white photography and some bits of contemporary. It's mainly more historical things than the new, but I've starting to slowly buy into the new, which is hard to get my head around. But modern British and ceramics are kind of my big things I'm obsessed by and are mainly the addiction.
How did things look this morning? Did you see anything good?
Well, at the moment I'm trying to spend as little money as possible. [Laughs.] I went a little overboard at the beginning of the year. I've been trying to find a few examples of very early Bernard Leach, and I found one and it cost me more than I thought I had to pay for, so these next four months I'm in a budget cut. But you know, part of it is that I come from Northern Ireland, and my dream would be to build something comprehensive of my own there. Because at the end of the day, these objects have no value—they only have value to those who own them. So for me, it's like, How do you add value to something like that? They should be seen or used again. If you're going to collect things because you think they have value, then don't collect. For me, you have to be obsessed and there has to be something educational. I think ceramics are so amazing because they're incredibly educational—you can buy something made in the 14th century and it looks like it was made yesterday. There's something to be learned there, and ceramics can tell you the history of the time, because they're functional vessels, ultimately.
What books on your bedside table right now?
Over the last two years, I've been reading a lot on Howard Hodgkin, who's a painter who recently died whom I'm obsessed by. I've also been reading quite extensively on [Tetsumi] Kudo, a Japanese artist.
What TV shows have been keeping you up at night?
The problem with me and TV shows is once I start watching them, I have to watch them all, because I'm so impatient. I need the entire series to be on TV, and then I'll sit all day and watch the entire thing. So I did that with Homeland and I did that with Veep. [Laughs.] At the moment, I've run out of things but usually it's a compulsive watching. I get bored.
What's the last movie you saw in theaters?
Well, on a flight back from Miami, I watched The Boss, which was hilarious. It's been a while since I was last at the theater. I saw La La Land, which I liked, but it took me a bit of time to get into it. I do love a musical.
Do you ever go to to the theater for plays or performances?
I do. I'm looking forward to going to New York to see Sunset Boulevard, if I can get a ticket. I love musical theater. I wish I could go more than I do. I went recently to see a conceptual dance performance at the Barbican and it was quite amazing. I sometimes quite like to be told to sit down and not move. [Laughs.]
What's the last piece of art you bought?
A Bernard Leach from 1962—quite an iconic one, with six jumping fish across it. I got a tile by him, and then a vase came up last year and I didn't get it, but then I found one. What I think is so amazing about Bernard Leach is he's kind of a godfather of studio ceramics—he gives some perspective about a contemporary movement within ceramics.
It's incredible that 70 percent of the clothing items in the exhibition actually belong to you. Do you collect clothing as well?
I do. It mainly comes from a textile point of view—interesting textural forms or prints, so textiles by artists like Barbara Hepworth and Henry Moore and David Hockney. It's this sort of fascination that fabric can be made into clothing, and artists making fabrics means you can add another later. There were periods in history where even Salvador Dali was making fabrics—how amazing was that, that you could collaborate in that way? Recently, I got an amazing piece of fabric that the British painter Wyndham Lewis did for the Amoeba Workshops, which used to do the most amazing collaborations with artists and furniture designers in the 1900s and '20s. It's a large swatch that was made for a coat in 1912. [Laughs.] So all of it's pretty obscure.
What's the most prized item in your collection?
I have a blue-and-white plate my grandfather gave me that I seem to have had all my life—every time I move house, I always have it. For me, it's sort of priceless because it's a very early example of transferware, when blue and white first started in Britain, and from it, I became obsessed. One of the things I'm most obsessed by recently, though, I haven't even installed in my house yet—a line piece by Richard Tuttle, where you draw a line on the wall and it has a tiny little object at the bottom. I think he's one of the best there is. It's like Howard Hodgkin's idea of painting emotion and painting a place that's abstract that I'm obsessed by—Tuttle is very good at doing something that's fundamentally reduced. My dream would be able to do that, but it's a difficult thing to do. So it's just drawing a line on the wall, but finding a wall to put it on is my problem at the moment.
What's the last museum exhibition that you loved?
At the Hepworth, I really loved this show Anthea Hamilton curated of the Kettle's Yard collection. It was really actually nerve-wracking doing a show next to hers—it was so amazingly done, it was a bit daunting.
What's the last concert you went to?
I haven't been to a concert since I went to Glastonbury about six or seven years ago. [Laughs.] I'm not the biggest concert person; I need to get a bit more free time. But I would go back. I don't know if I'd be in a tent again, and I would probably have more clothing on, and not as much sunburn, but I would definitely go back. I think sometimes you've got to let go of it.
What are your favorite social media accounts to follow?
This tea shop called Postcard Teas, and then the other one I really, really love is a chef in England called Nigel Slater. He's amazing. His page is on another level. He has, like, the dream house. Every time he posts something or cooks something, I'm like, Why doesn't my stuff look like that…
What's the last thing you do before you go to bed?
I usually watch something like the news or anything else that's on to try to shut down, and force my mind not to think.
What's next? Your Uniqlo collaboration?
That's all done, actually. It's all basics and British classics, and it'll be out in September. And that's been a dream come true, because I've never been approached for a collaboration that is actually somewhere I shop religiously, so it's sort of like killing two birds with one stone. I love what they do; my entire wardrobe's from there. I'm kind of a super-fan.
"Disobedient Bodies: JW Anderson curates The Hepworth Wakefield" runs until June 18, 2017.