Jonathan Anderson Awards Loewe Craft Prize to Germany's Ernst Gamperl
In a Monday ceremony in Madrid, Anderson and actress Charlotte Rampling also named Japanese glassmaker Yoshiaki Kojiro and the Mexican weavers Artesanias Panikua runners up for the 50,000 euro prize.
---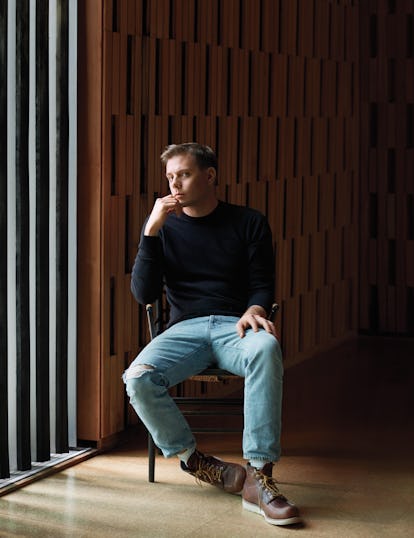 Photographs by Julia Hetta; Sittings editor: Esmé René; digital technician: Dovile Babraviciute; photography assistant: Mickael Bambi
"There are more exciting things going on in craft right now than in contemporary art," declared Jonathan Anderson, minutes before the winner of the 2017 Loewe Craft Prize was to be announced in Madrid.
And yet, the 25 finalists present (a 26th, Sona Rani Roy from Bangladesh, was unable to procure a visa in the end) seemed surprised by the rock star—or at the very least art star—attention they were receiving from the swarm of photographers and journalists who had been flown in for the occasion.
The 50,000 euro prize was awarded by the English actress Charlotte Rampling to Ernst Gamperl of Germany whose series of majestic wood vessels were meticulously carved from a fallen 300 year old oak tree.
But the consensus was hard won, prompting the last minute addition of two runner up prizes. Special mention went to the Japanese architect and glassmaker Yoshiaki Kojiro, whose beguiling alchemy combines glass powder and copper oxide powder. (His piece "Structural Blue" is like a cauldron of bubbling lapis lazuli.)
And one could not help but root for Artesanias Panikua, a family workshop of weavers from Mexico, who also received special recognition. (Husband and wife Antonio and Cornelia arrived at the presentation in their traditional native dress.)
The selection points to not just the global reach of craft but its dual embrace of tradition and technology.
As for the choice of Rampling to present the prize? "I am obsessed with her," Anderson confessed point blank. "She's getting used to that."
In a new interview with W, Anderson said the prize was one of his priorities as Loewe's creative director, a role he's occupied since 2013. "I've had this project in the back of my head since I joined Loewe," Anderson said. "It's a passion of mine. I collect craft. It inspires me. And creatively, it's important to give back."
Nearly 4,000 applicants submitted work for consideration for the prize, which a committee then narrowed down to a short list of 26. They are all currently on view in Madrid at the Colegio Oficial de Arquitectos de Madrid, and will travel to the New York art-and-design gallery Chamber on May 30.
Watch How Street Style Stars Do Paris Fashion Week
Jonathan Anderson Leads Loewe Into a Dark Scavenger Hunt for Fall 2017
The presentation of Loewe's Fall/Winter 2017 Collection, during Paris Fashion Week. Photo by Landon Nordeman.

Landon Nordeman
The presentation of Loewe's Fall/Winter 2017 Collection, during Paris Fashion Week. Photo by Landon Nordeman.

Landon Nordeman
The presentation of Loewe's Fall/Winter 2017 Collection, during Paris Fashion Week. Photo by Landon Nordeman.

Landon Nordeman
The presentation of Loewe's Fall/Winter 2017 Collection, during Paris Fashion Week. Photo by Landon Nordeman.

Landon Nordeman
The presentation of Loewe's Fall/Winter 2017 Collection, during Paris Fashion Week. Photo by Landon Nordeman.

Landon Nordeman
The presentation of Loewe's Fall/Winter 2017 Collection, during Paris Fashion Week. Photo by Landon Nordeman.

Landon Nordeman
The presentation of Loewe's Fall/Winter 2017 Collection, during Paris Fashion Week. Photo by Landon Nordeman.

Landon Nordeman
The presentation of Loewe's Fall/Winter 2017 Collection, during Paris Fashion Week. Photo by Landon Nordeman.

Landon Nordeman
The presentation of Loewe's Fall/Winter 2017 Collection, during Paris Fashion Week. Photo by Landon Nordeman.

Landon Nordeman
The presentation of Loewe's Fall/Winter 2017 Collection, during Paris Fashion Week. Photo by Landon Nordeman.

Landon Nordeman
The presentation of Loewe's Fall/Winter 2017 Collection, during Paris Fashion Week. Photo by Landon Nordeman.

Landon Nordeman
The presentation of Loewe's Fall/Winter 2017 Collection, during Paris Fashion Week. Photo by Landon Nordeman.

Landon Nordeman
The presentation of Loewe's Fall/Winter 2017 Collection, during Paris Fashion Week. Photo by Landon Nordeman.

Landon Nordeman
The presentation of Loewe's Fall/Winter 2017 Collection, during Paris Fashion Week. Photo by Landon Nordeman.

Landon Nordeman