Jonathan Anderson on Why Craftsmanship is the Definition of Real Luxury
Ahead of the launch of the Loewe Craft Prize on Monday, Jonathan Anderson talks about rethinking the Spanish brand and turning the tables on our ideas about luxury.
---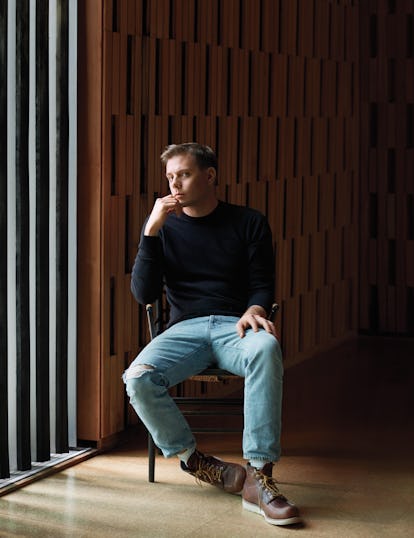 Photographs by Julia Hetta; Sittings editor: Esmé René; digital technician: Dovile Babraviciute; photography assistant: Mickael Bambi
Designed by Philip Speakman Webb around 1860, the Sussex chair is one of the emblems of the British Arts and Crafts Movement. William Morris, an Arts and Crafts pioneer and a leading figure of the movement, had several of the ebonized-beech chairs with their turned frames and rush seats in his home. Sussex furniture could also be found in the studios of prominent artists at the time, as well as the dormitory rooms at Newnham College, Cambridge. And the Sussex chair was among the first acquisitions made by the designer Jonathan Anderson for Loewe, when he arrived at the helm of the Spanish luxury brand in 2013.
Loewe's roots extend back to the 1840s, when it began as a co-op workshop on a narrow backstreet of Madrid. Reports from the period describe a small group of leather artisans struggling to keep up with the sudden demand that had arisen for tobacco pouches and coin purses (forebears of the modern-day It bag) at the time of the dual weddings of the Bourbon Queen Isabella II and her sister, the Infanta María Luisa Fernanda. In 1988, Loewe established a foundation to support the arts (to this day it sponsors one of the most prestigious prizes for poetry in the Spanish language).
Still, while Loewe, which has been owned by the French luxury juggernaut LVMH since 1996, has an illustrious history, until recently, the brand had no coherent or compelling narrative to promote.
"When I got to Loewe, I went on a massive crusade," says ­Anderson. It's just a couple of days before he will present his fall women's collection, and we are driving outside of Paris to do a casting for the show—not of models, mind you, but of orchids. These will be displayed throughout the show space, on the ground floor of the Marcel Breuer–designed UNESCO building, along with photographs from the 1930s by the Sri Lankan artist Lionel Wendt, several of which have also been acquired, under Anderson's direction, by the Loewe Foundation.
"I was so overwhelmed, the only thing that I really cared about at first was the factory," Anderson continues. "The rest didn't exist. But as I started to work through the process of the brand, I realized it was like a chair that had been painted so many times and that it might be better just to go back to the wood."
Many luxury brands tout the craftsmanship of their products. ­Hermès and Louis Vuitton, both masters of the heritage narrative, fetishize their bags as the result of hours of highly specialized handwork. But Anderson, whose interests are quirky, far ranging, and deep, has not been so literal in his approach. His collections for Loewe don't just draw attention to the techniques employed to produce them, but celebrate them in ways that are strange, elegant, and modern.
Perhaps the best example of this also happens to be one of his best-sellers: the Loewe Puzzle bag. Made from 41 individual pieces of leather and crisscrossed with seams, the edges of which are painted by hand, the Puzzle can be worn as a shoulder bag or a handbag, or carried as a clutch. Its unusual cuboid construction allows it to fold completely flat—the ultimate meeting of craftsmanship and design.
"Crafts, tradition, and innovation have always driven the company," says Enrique Loewe Lynch, the honorary president of the Loewe Foundation. "Craftsmanship has been to Loewe like oxygen to plants. It has been of vital importance in its search for beauty and passion. I think we legitimately represent Spain in this search."
The plant metaphor seems particularly apt as Anderson trolls the narrow greenhouse aisles of Vacherot & Lecoufle, a 131-year-old orchid breeder. Philippe Lecoufle, who took home a gold medal from the RHS Chelsea Flower Show last year, guides Anderson in selecting specimens that will be in full bloom on the day of the Loewe show, steering him away from "model" orchids, as he calls them, which are not, under any circumstances, for sale. This is a man of singular obsession. During the hour or so we are there, Anderson asks him multiple times if he would like to come to his presentation. And each time, Lecoufle politely rebuffs the invitation, saying he'd like to, if he has time. (In the end, he not only attended, but showed up early to help with the setup.)
Clearly, Anderson recognizes a kindred spirit when he sees one. ­Anderson, too, is a man obsessed—with craft.
Building on the work of the Loewe Foundation, he has helped Loewe to enter into a larger cultural conversation, and transcend a tired and narrow one that revolves only around luxury leather goods. This in turn has enabled Anderson to distinguish the brand, which, while legendary in Spain, has only just begun to find the sort of fashion-world traction enjoyed by its LVMH sisters Vuitton and Dior.
"Looking at people like William Morris or the studio potter Bernard Leach," Anderson explains, "you realize that the current idea of luxury is so gross. I thought, Let's not focus on that."
Indeed, Anderson has stated that his mission at Loewe is nothing short of creating a cultural utopia through collaborations with artists and artisans, and the acquisition of important works of art and design through the foundation. Now he is perhaps one giant step closer to realizing that Elysium with the launch of the Loewe Craft Prize, a global initiative designed to seek out and recognize works that show artistic vision and innovation, and which reflect the personal language and distinct hand of their maker.
"I've had this project in the back of my head since I joined Loewe," Anderson says. "It's a passion of mine. I collect craft. It inspires me. And creatively, it's important to give back. I wouldn't be in the situation that I am without a prize." (In 2012, ­Anderson was the recipient of the British Fashion Award for Emerging Talent, Ready-to-Wear, for his namesake label, J.W.Anderson, which is based in London.)
After the Loewe Craft Prize was first announced last spring, nearly 4,000 people from five continents sent in applications. These were whittled down earlier this year by a panel of experts to 26 finalists. Among the standouts are Jerusalem-born Adi Toch, whose enigmatic "Whispering Vessels" transcend their functionality; Artesanías Panikua, a collective from Mexico that weaves humble wheat-fiber strands into objects of astonishing lyrical beauty; and Celia Pym, from the U.K., who upcycles old Nordic sweaters, giving them new life while drawing attention to the possible stories contained in their worn-out threads.
All 26 works are currently on view in Madrid at the Colegio Oficial de Arquitectos de Madrid, and will travel to the New York art-and-design gallery Chamber on May 30. Anderson, along with the Droog Design cofounder Gijs Bakker, the former Vitra CEO Rolf Fehlbaum, the architect and industrial designer Patricia Urquiola, and W's Stefano Tonchi, among others, will select a single winner, who will receive 50,000 euros and, by way of a trophy, a bowl by the acclaimed British silversmith Alex Brogden.
In the hierarchy of aesthetics, craft is considered a mere also-ran, coming in at a very distant third behind the sexier, racier fields of art and design. "Cultures do tend to value useless things above useful things," notes Deyan Sudjic, codirector of the Design Museum, in London, and a member of the Loewe jury. But for craft, the image problem seems to be much greater than a simple question of utility over beauty. Craft exists primarily in the service of art and design, not on its own merits, a prejudice even Anderson is quick to acknowledge.
"People have this idea of craft," he tells me. "It could be really bad jewelry or some other really bad thing." And this is what Anderson is hoping to change.
The Arts and Crafts Movement sprung up at a time when anxieties about life in the age of industrialization were at a peak. William Morris, in particular, was concerned about the dehumanization of labor and the alienation between the designer and the manufacturer. "As we head into an incredibly digital landscape, we want to connect to things made by hand more," Anderson says, echoing the words of his hero.
Sara Die Trill, who has worked at Loewe in the design department for almost three decades, was part of the first-round experts panel. "The high number of entries shows the worldwide interest in preserving traditions," she observes. "Also, the superior level of design of some of the pieces shows that the borders between art and craft are often blurred."
She, too, points to the Puzzle bag as an example of contemporary design with handcrafted finishes, passed down through generations at Loewe since 1846, in every detail. The goal of the prize, she says, is not only to preserve traditions but to discover the artisans who may set new standards for the future of craft—and, for that matter, luxury.
"I have learned a lot seeing all the works, and it has personally enriched me, being moved by some done by entire families who work together in unison," she says. "That is also real luxury."
For his part, Anderson says he was more excited to learn how many people entered the competition than he was to know how many Puzzle bags Loewe has sold. He confesses that he had someone print out the more than 3,900 submissions for him so that he could personally review each one. How he found the time to do so is anyone's guess.
"It's just one of many projects we are doing this year," he says. "But it's the one that means the most, because it's not about fashion."
Watch W's Most Popular Videos Here:
Jonathan Anderson Leads Loewe Into a Dark Scavenger Hunt for Fall 2017
The presentation of Loewe's Fall/Winter 2017 Collection, during Paris Fashion Week. Photo by Landon Nordeman.

Landon Nordeman
The presentation of Loewe's Fall/Winter 2017 Collection, during Paris Fashion Week. Photo by Landon Nordeman.

Landon Nordeman
The presentation of Loewe's Fall/Winter 2017 Collection, during Paris Fashion Week. Photo by Landon Nordeman.

Landon Nordeman
The presentation of Loewe's Fall/Winter 2017 Collection, during Paris Fashion Week. Photo by Landon Nordeman.

Landon Nordeman
The presentation of Loewe's Fall/Winter 2017 Collection, during Paris Fashion Week. Photo by Landon Nordeman.

Landon Nordeman
The presentation of Loewe's Fall/Winter 2017 Collection, during Paris Fashion Week. Photo by Landon Nordeman.

Landon Nordeman
The presentation of Loewe's Fall/Winter 2017 Collection, during Paris Fashion Week. Photo by Landon Nordeman.

Landon Nordeman
The presentation of Loewe's Fall/Winter 2017 Collection, during Paris Fashion Week. Photo by Landon Nordeman.

Landon Nordeman
The presentation of Loewe's Fall/Winter 2017 Collection, during Paris Fashion Week. Photo by Landon Nordeman.

Landon Nordeman
The presentation of Loewe's Fall/Winter 2017 Collection, during Paris Fashion Week. Photo by Landon Nordeman.

Landon Nordeman
The presentation of Loewe's Fall/Winter 2017 Collection, during Paris Fashion Week. Photo by Landon Nordeman.

Landon Nordeman
The presentation of Loewe's Fall/Winter 2017 Collection, during Paris Fashion Week. Photo by Landon Nordeman.

Landon Nordeman
The presentation of Loewe's Fall/Winter 2017 Collection, during Paris Fashion Week. Photo by Landon Nordeman.

Landon Nordeman
The presentation of Loewe's Fall/Winter 2017 Collection, during Paris Fashion Week. Photo by Landon Nordeman.

Landon Nordeman