Jonathan Anderson on His Costumes for Rufus Wainwright
The designer talks about designing costumes for the singer's two-night residency recreating Judy Garland's famous concert at Carnegie Hall.
---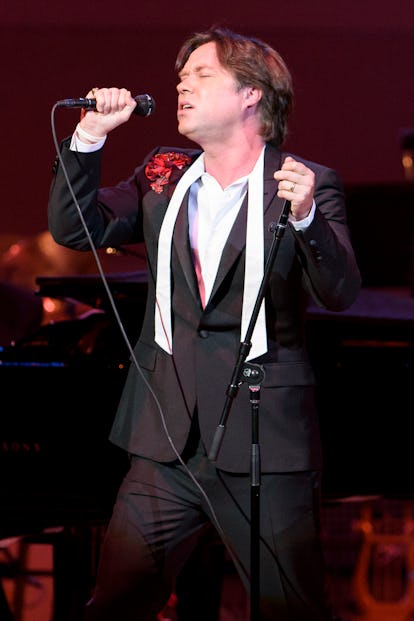 Last Thursday, Rufus Wainwright began his two-night residency at Carnegie Hall recreating Judy Garland's legendary concert at the New York venue in 1961. Wainwright, a larger than life performer with a penchant for playful sartorial choices, did not disappoint in the wardrobe department.
For the second act, he emerged in a sparkly red suit and matching shoes the color of Garland's slippers in The Wizard of Oz. The audience lapped it up; it was a nod to the late diva's showbiz pizzazz and Wainwright's own flair for hamming it up.
As it turns out, this "farfetched" outfit, as Wainwright described it, was from Loewe and designed by Jonathan Anderson, who has known the singer for some time. "We dated for a period right when he started fashion school," Wainwright said, adding, "He had been studying acting and probably could have been a matinee idol as well." Anderson, for his part, said, "I have followed him for years….It was an honor for me to design the costumes."
Unlike the laborious costuming process for most pop shows, which require months of fittings and back-and-forth's between designer and performer, this one went by quickly, in part because of the pair's history. "Because he knows me so well the ideas came fast and furious," Wainwright said.
Garland, naturally, was the direct inspiration for the two costumes Anderson created. "Judy Garland and the Wizard of Oz bring a lot to the table," Wainwright said.
"I designed a red sequins tails jacket, with red pants and tux sleepers shoes in red glitter, contrasted with a gingham shirt," Anderson said. Then, he balanced it out with a traditional black tuxedo with a casually worn bow shirt, but, he noted, they kept the black tux shoes glittering.
"We wanted something fun, daring and classic," Anderson said. Like Garland herself, Wainwright worked up a sweat during the nearly three-hour performance, so the duds didn't stay on him for too long. The sparkly shoes, though, those stayed on until the end.
Watch W's most popular videos here:
Rufus Wainwright Returns For His Encore