Jonathan Safran Foer Gets His Writing Done in a Red Corduroy Chair
Now that he's finished Here I Am, his first novel in a decade, the author has time for, naturally, "Hamilton." See what else he's been up to in his culture diet.
---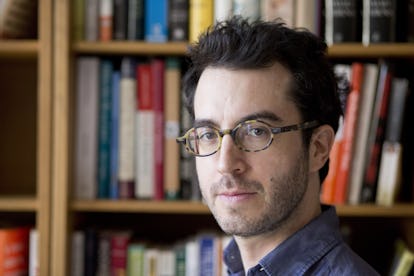 Jeff Mermelstein
The author Jonathan Safran Foer hasn't just been composing emails to Natalie Portman since the release of his last novel, Extremely Loud and Incredibly Close, over a decade ago. Working away in Brooklyn on a vintage corduroy chair, he's been finishing his new novel Here I Am, a story about a Jewish family grappling with suicide and divorce that's already one of this fall's buzziest books. Find out more about what he's been up to, including listening to both Built to Spill and "Hamilton," with his culture diet, here.
First thing you read in the morning:
Probably whatever I was working on the day before. It takes a while for me to get into the world.
Books on your bedside table right now:
The Bible. (I'm in a hotel.)
The TV show keeping you up at night:
I use the TV to get to sleep.
Last piece of art you bought, or ogled:
I don't ogle art. And I don't have a desire to buy it. That said, R.B. Kitaj made a portrait of Philip Roth that I'd sure love to steal.
Favorite time and place to work:
"Favorite" is probably not the right word. My "best" time and place, in the sense of actually having a chance of being able to do it, is the morning, just after dropping the boys off at school. Place is my red corduroy chair, which migrates from room to room as I feel stymied.
Last movie you saw in theaters:
I'm afraid to say it was The Secret Life of Pets. I generally enjoy such movies, but Jesus was it a stinker.
Last thing you saw at the theater:
"Hamilton." If my kids had attended the parting of the Red Sea they wouldn't have been more awed.
Last museum exhibition you loved:
MoMA's Philip Guston retrospective. But that might have been 10 years ago. I'm sure I'm surrounded by amazing things, but who has the time?
Release you're most eagerly anticipating:
Wouldn't it be plainly dishonest if I said anything other than my own novel's publication?
Last song you had on repeat:
A very old one: Built to Spill's "Car."
How you get your news:
From my brothers [former The New Republic editor Franklin and Atlas Obscura co-founder Joshua, both journalists].
Favorite accounts to follow:
I don't even understand this question.
Last thing you do before you go to bed:
It all depends, doesn't it?
Watch W's most popular videos here: