A New Swimwear Collection Is Already a Favorite of It Girls like Julia Restoin Roitfeld and Caroline Vreeland
Jonathan Simkhai designed the bikinis and cover-ups with his friends in mind. And they are forever grateful.
---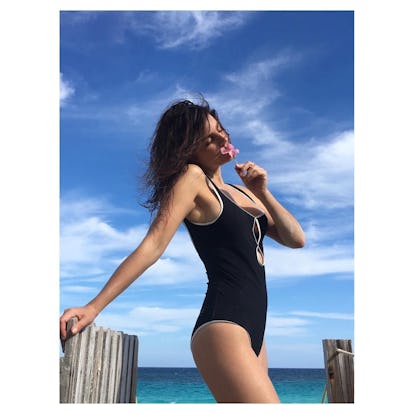 Photo by @JuliaRestoinRoitfeld.
New York-based fashion designer Jonathan Simkhai has been a favorite of fashion-loving party girls since he launched his eponymous collection of sporty, body-con dresses in 2010. Now, with his clientele in mind, he's adding swimwear to his line, as well. "My friends needed stylish swimwear and cover-ups to go from the pool to drinks, and that compelled me to design the collection," he explained of the new addition to his brand, which, like the designer's ready-to-wear collection, draws on geometric elements and athletic silhouettes for inspiration.
For the launch, he brought some of his most loyal supporters, including Julia Restoin Roitfeld, stylist Nausheen Shah, and Dutch blogger Charlotte Groeneveld, to the Coral Sands Hotel in the Bahamas to celebrate the launch of the collection. "I really wanted to see the pieces in action on my friends," he said. In between a lunchtime boat ride, and a rowdy dinner party that included a performance by Caroline Vreeland and a mannequin challenge, Simkhai opened up about why he launched the collection, who he wants to see wear it, and more. Mission accomplished.
Why did you decide to launch swim? Because my friends asked me to.
What colors and styles did you decide to start with, and why? The colors of this collection are black, white, red, and navy. I wanted to the palette to be very simple so the design details were the focus: like the navy bikini with red lacing up the front.
If one person (dead or alive) would wear your swim collection, who would it be? Definitely Robin Wright.
What are the swimwear mistakes that people make? There are no right and wrongs, but I do think it's chic to have a full look even when you're on the beach.
Is there a swim silhouette you don't like or that you would never create? A mankini.
Who are your favorite celebrities who wear Jonathan Simkhai? I'm really lucky that most of the women I dress are my friends and nothing gets me more excited when I see my friends having a great time in my designs. However, if I had to choose it would be Gigi Hadid and Cate Blanchett.
What was your best beach holiday of all time? My 30th birthday in Anguilla, for sure.
What's next? My collaboration with Carbon38 which launches in January! Everyone needs something hot to wear when you're working out to get that beach bod!