José Parlá's "Character Gestures" Opens at OHWOW in LA
While José Parlá may have begun painting on the street, you'd be remiss to call him a graffiti artist—not that he'd let you, anyway. His new solo show, "Character Gestures," at OHWOW's Los Angeles...
---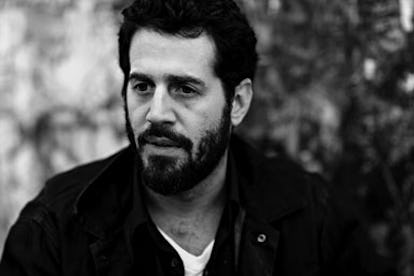 While José Parlá may have begun painting on the street, you'd be remiss to call him a graffiti artist—not that he'd let you, anyway. His new solo show, "Character Gestures," at OHWOW's Los Angeles gallery is rich in its depth and varied in its media—including no less than three sidewalk squares. We caught up with Parlá a few hours before his opening to discuss Cy Twombly, getting physical in the studio and a New York graduation.
How long ago did you start working on "Character Gestures?" They [OHWOW gallery's Al Moran and Aaron Bondaroff] wanted to do something in LA even before they had their space there. We began talking about it in Miami last October, so I guess it's been almost a year since.
Let's talk about the term graffiti art. With a rise in its embrace by museums and representation in galleries, is that a term you associate your work with? Obviously it's a term that's familiar to the public. It has so much to do with popular culture. My work isn't much about pop culture.
Growing up as an artist in the 1980s, that term was used mostly in a derogatory way. For me it was attached to a lot of confusion and struggle. It's not a comfortable association for me. We never referred to ourselves as graffiti artists. It was a very underground culture and we referred to ourselves as writers or painters. And I think that remained with me.
I basically have a vision and a voice as an artist who lives in a city and travels around the world. And with these experiences that I accumulate, I basically tell a story with my paintings. I let the story reflect my livelihood. My experiences. I let these works express my life.
So what part of your life are we learning about in this show? The works are very much inspired by a city atmosphere. The title of the exhibition signifies how there are so the many characters that I take on while painting. How I become a pedestrian walking by, observing, taking away, leaving a mark—all of that theater is involved in my everyday thinking about painting.
Some of the titles in the show suggest inspiration beyond the city walls. Yes, for example the painting entitled "Miming the Mediterranean," which is a vision of what I was feeling when I was looking through the water into the sun in the South of France. I tried to memorize the colors and movement and expressed it through that work.
Another work, "Cyclones' Capsule," came from a memory of a jungle in Colombia. So I was working with the thoughts of the movement of the trees, the color in the depth of the jungle. That painting began on the day that I found out Cy Twombly passed, so it was also an homage to him.
Was Twombly an influence on you as you were developing as an artist? I discovered Cy Twombly's work in 1990 when I was at Savannah College [of Art and Design]. I got into an argument with my professor over how much text I was using in my work. It was a heated moment, so I walked out and ended up in a small gallery at the library that was exhibiting a body of photographs by Robert Rauschenberg . One of the images was a shot taken by Rauschenberg of Cy Twombly's studio. In the studio were his black and white script based chalkboard paintings. I armed myself with this information, and went back to continue my argument with my painting professor. I asked, why did you not tell me about Twombly? Why did you try to put me down rather than teach me? My work continued to use the calligraphic gesture.
This show definitely carries the calligraphic gestures you're known for, but there's a definite departure from your previous works, no? The show has a lot of different aspects now that it didn't have before. While I was never interested in people labeling my work urban or street or graffiti, I can say that this show is the biggest jump from that—not only in the work, but mentally and spiritually as well.
Let's talk about the pieces entitled "Painter's Rags." For years I've been working with painter's rags. You get these huge boxes of cut-up fabrics. Scraps. You use them to wipe the edges or absorb color, things like that. So I've been using these for ages. I was using tons of them for this show. You work quickly with them, and since these paintings are very large, it gets very physical. The rags get torn and beat up in the process.
When I would clean up the studio, I would just stack the rags, and then I started looking at these stacks that had accumulated and saw how beautiful they were. One of the bundles really started to look more sculptural, so I began to photograph it and place it in different ways. It occurred to me that this stack reflected some of the ideas of sculpture that I had seen in other artists' works, particularly Louise Bourgeois' dangling bodies. Of course these were more abstract, but seeing them hanging in three dimension somehow captures the soul of the making of the artwork.
Why did you choose to suspend them? I tried a few different ways, but on a clean box, for instance, it looked dead. It looked like it wasn't showing its full potential. All of the individual pieces that are dangling looked very relaxed—like the way I feel after an exhibition.
Are these your first sculptural works? These are the first I've presented. I've done some experimentation before, but this is the first time I've felt comfortable showing things this three-dimensional.
Yet some of the paintings are sort of three-dimensional. Wall and canvas sort of converge in a very sculptural way. It's funny because a few of the people that have previewed this show have commented on that, too. I think when you make the conscious decision to push the envelope in your work, you go beyond what you're used to doing.
The title work in the show is actually the one I struggled with the most. It's a painting with so many layers, you feel as though you can put your hand in the piece and pull something else out of it. There's so much volume.
Tell us about the installation in OHWOW's central space. The gallery is very wide, and from the beginning I knew I wanted to do something to change the space itself. I wanted to create something three-dimensional, so I created three fragmented sidewalk pieces. They look very realistic, like I went and dug them up.
I made the pieces here in LA, and I worked with a cement contractor who taught me how to lay down cement for a sidewalk. Each one is titled after a location in three different cities—Bangkok, LA and the Bronx—and there are specific marks engraved into the sidewalks, which help you to understand why it's titled under a certain location.
How much do you think about the viewer's experience? I think that the viewer is the person that finishes your work. There's not a specific message in mind, but I guess what I want is for the person to relate to the painting in their own way, for them to have a reflection to a special place, a special memory, a special moment.
José Parlá's "Character Gestures" runs at OHWOW in Los Angeles through October 22.
Installation image: Mark Quetgles (Courtesy of OHWOW). Artwork: courtesy of José Parlá