Joseph Altuzarra
Every so often a designer comes along with enough skill to charm editors, enough charm to seduce socialites, and enough good sense to make you believe he just might stay a while.
---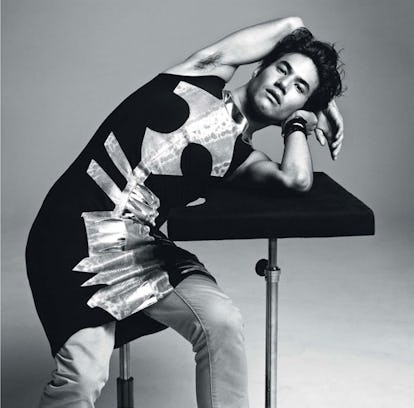 Every so often a designer comes along with enough skill to charm editors, enough charm to seduce socialites, and enough good sense—for both hemlines and bottom lines—to make you believe he just might stay a while. In the five seasons since he launched his namesake collection, Joseph Altuzarra's carefully constructed, unabashedly body-conscious clothes have been embraced by such disparate icons as socialite Lauren Santo Domingo and pop star Rihanna. Though the Paris-born, New York–based designer interned at Marc Jacobs and landed his first real design job under Riccardo Tisci at Givenchy, his most obvious influence is Tom Ford during the glam Gucci years. The result of his careful study? The sex goddess is returning to a runway near you.
It's 7 p.m. and you're having a coffee. I'm drawing tonight, and I have a weird schedule when I draw. I end around 5 a.m. I really can't work during the day.
But it's a Friday night, and you're a 27-year-old fashion designer. Shouldn't you be out doing cocaine or something scandalous? I'm afraid of drugs. I honestly think that with our generation—Alex Wang, Prabal Gurung, Jason Wu, Christian Cota, Robert Geller—there's a different expectation of what our behavior should be. People expect designers to be good businesspeople and PR people, and I don't think partying is a part of that persona the way it used to be.
A stylist friend of mine described your clothes as "whorish." That's funny. It's important not to take all this fashion stuff too seriously, and I kind of love the idea of cheesiness. But, yes, the clothes are definitely for a woman, not a girl. They're in the vein of Azzedine Alaïa.
You didn't go to design school, but you're clearly educated. Does that give you an inferiority complex or a superiority complex? When I started in fashion after studying art history at Swarthmore, I definitely had an inferiority complex, because I didn't learn about any of the technical stuff. The best and the worst thing about fashion is that anyone can do it. But because fashion can be the most unintellectual thing, you have to turn it into an intellectual exercise just for your own sanity. You have to start with a conceit.
What was it like to wear one of your dresses for this shoot? This was my first time fully putting on a dress. Drag's not really my shtick. Maybe it's the very French-Catholic thing, but I'd have to be very drunk. Still, I like how you go to Fire Island and there's an obese drag queen in a sequined bikini splashing around in the water, and it's, like: Great! No judgment!
But couldn't your clothing be accused of casting a pretty harsh judgment on women who don't have the bodies to pull it off? [Laughs.] They're definitely a gay man's ideal of a woman, which is why I work with women—like my creative consultants, Vanessa Traina and Melanie Huynh, and my mom, who's also the CEO of Altuzarra. Because they can be like, Yeah, this dress is great, but I can't wear a bra with it.
Do you feel that the socialites who like your dresses have put you on the map? Whether it's Lauren Santo Domingo or Mary J Blige or Carine Roitfeld, it would be dumb of me to say that famous people wearing my clothes doesn't do anything for the brand. Let me say this, though: I'm aware that many people are not wearing them because they like them but because they think it's what's hot right now. I'm comfortable with the idea that I'm the flavor of the moment and that in a couple of years people might not think I'm cool anymore.
What flavor is that? Maybe the French-export flavor—although there are some very un-French things about me. For example, I hate cheese; it's moldy and disgusting. And I don't do bone marrow. And I don't eat oysters.
When did you become aware of the difference between clothing and fashion? In high school. I was really unpopular, so a lot of it came from wanting to change my social status. Then I discovered Tom Ford through the Gucci advertising. It was really about image more than clothing.
Do you think it's better to have bad style or no style at all? No style. I don't think everyone should be interested in clothing.
Are you a good dresser? Not really. One of my biggest pet peeves is well-dressed designers. If you spend that much time thinking about your own clothes, you're not spending enough time thinking about what you're designing.
What do you feel you need to get better at? I'm a poor communicator because I'm terrified of confrontation. I can be miserable in a relationship for months without showing anything, then very abruptly break up with the guy over the phone.
What do you think a psychiatrist might say about that? I think it's very hard for me to feel loved.
Is it easier to feel that your clothes are loved? Exactly. Which is probably why designers become designers.