Josh Smith Applies a Technicolor Touch to Cityscapes and a Limited-Edition Bag
The artist's views of New York in lockdown are on display at two David Zwirner locations, while his name enlivens one of Louis Vuitton's special edition "Artycapucines" bags.
---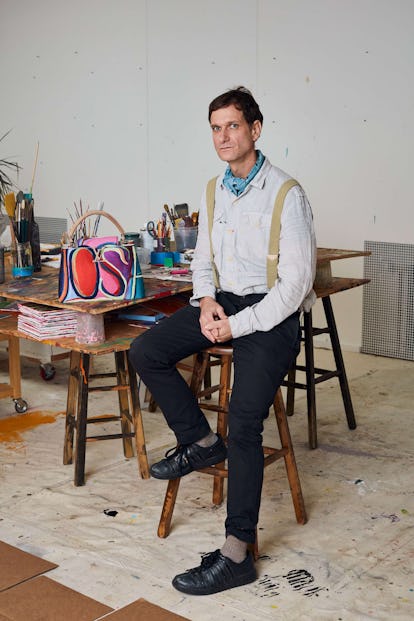 In May, during the strictest part of New York City's lockdown, the artist Josh Smith staged a unique online exhibition of paintings and sculptures. Titled "High as Fuck," the exhibition involved a series of photographs of the artworks propped up against the edge of his building's rooftop interspersed with video clips of Smith speaking about his creative process. In lieu of wall text, Smith pasted red paper letters of the show's title on the stairwell door.
Of his mood while making the works, which depicted the empty streetscapes of his neighborhood, Smith said, "It was like being a kid again, I think I might be a new person." As for the title, it was a message of hope and optimism. "I want it to be aspirational, I want New York to be high right now, I want people to understand that the future is in front of us," he said.
Now, more cityscape paintings and monotypes from the same series are being displayed in Zwirner's New York and London galleries in twin shows titled "Spectre." Now that the streets are clogged with outdoor dining pens and non-essential businesses have reclaimed their space in the landscape again, the paintings feel like a time capsule of a strange and silent spring, almost like Edward Hopper works with the saturation turned way up and run through a dream-sequence filter.
In a statement that accompanied the exhibition opening, Smith wrote that while making a six-part large painting that's on view in the London show, he felt that "a sort of city" was developing as he made them. Via email, I asked him if he felt like he was creating an ideal version of the city he experienced while New York was in lockdown.
"I did not know what I was doing. The quietness led me to look up rather than down. In hindsight, yes, the paintings do depict what I felt during those first few weeks of the COVID shutdown," he wrote. "Not really how the city looked, but how it felt. There was nowhere to go, and people had not yet begun to re-emerge from their homes. I was painting for myself to allay my fears and concerns."
As for whether he still felt the optimism that coursed through "High as Fuck," he was more hesitant. "Definitely do not feel like that. Still kind of high but not high as fuck," Smith wrote. "The future has always been scary. I had no idea how bad things would be turning out. Awful events have transpired since then, and the world is more constricted and dark."
On a lighter note, he added that he was happy with how the artworks turned out. "The scale and something about what I was feeling made them jump into place—that doesn't always happen for me," he said. "The 'High as Fuck' show was really more of an internet artwork. I understood it was not a proper painting show. I only wanted to communicate."
While he can't get to the UK to see the London show in person, and he admits it's a bit surreal to be showing work in a physical gallery these days, he's happy that they're out in the world. "The paintings are for the people who see them. Not everyone is looking at art right now, but some people are," Smith wrote. "It is a contemplative time and these are quiet paintings. That's why I wanted to share them."
In addition to the New York and London shows, which will remain on view through the end of the month, Smith fans have another opportunity to interact with his work this fall. For the second iteration of Louis Vuitton's "Artycapucines" series, which launches later this week, Smith was invited to design a limited-edition bag for the house, enlivening a squared-off purse with his name in swirls of technicolor, while a print made from his painting Palm #3 lines the interior.
Smith, who has previously collaborated with Supreme and the Australian brand P.A.M., said he often thinks critically about fashion and has always admired it as an art form. "It is a special form of expression," he wrote. "I learn a lot fast working with ace, sensitive designers. It's human and cool. Quite different than painting."
He treated the Capucine form as a blank slate, going for an effortless, elegant approach and choosing to forgo the use of animal products in the bag's construction (it's made from canvas, with metal accents and a wooden handle). "The talent and versatility of the craftspeople who work for LV was humbling," Smith wrote.
When asked if he could envision the kind of person who might carry such a bag (there will be only 200 of them made) Smith declined to speculate. "No, I can't guess, but someone nice and happy. Someone who is thoughtful and good to others," he wrote. "I have not yet held one of the final bags, it's a mystery how it'll feel and project. I want one, for sure."
Related: Cindy Sherman's Enigmatic Self-Portraits Take Over the Louis Vuitton Foundation