Back Draft
Artist Josiah McElheny reveals the backstory behind his new show at Andrea Rosen.
---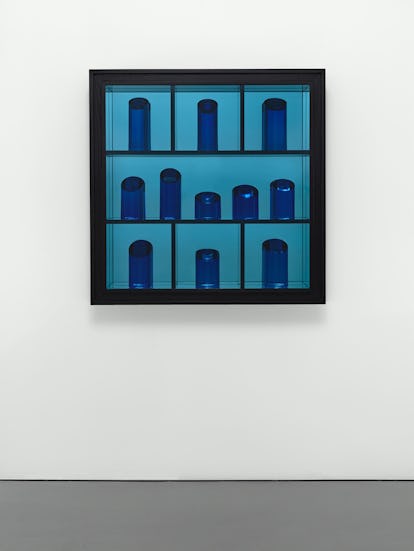 In 2013, when the Museum of Modern Art put on the enormous exhibition "Inventing Abstraction," which was in many ways the story of the past century of art, it included, of course, work by Wassily Kandinsky, Kazimir Malevich, and Ellsworth Kelly. But the survey neglected to include Hilma af Klint, the pioneering Swedish abstract painter who was overlooked during her lifetime—and for several lifetimes thereafter. This omission troubled the artist Josiah McElheny, who is not known as a painter but a glass artist whose blown works often dazzle with their execution and scale. He is also an active participant in the art historical conversation, dredging up the past to re-examine it through his work. In his new solo exhibition at Andrea Rosen gallery in New York, McElheny wonders: What if af Klint were a titan of her time—she did her damage mostly between the years of 1906 and 1915 (before even Kandinsky)—and thus influenced the abstract artists who followed? "These historical figures—Kandinsky, Malevich, Kelly, and others—are reimagined retroactively as if they had an awareness of Hilma's work, which was hidden for 100 years," McElheny explains. This theoretical play is made physical in McElheny's "paintings," shallow boxes with crystalline pieces behind their glass surfaces, like depths contained beneath layers of paint on a canvas—the latest development in the long line of abstraction. "It's not a literal one-to-one relationship between these influences. But I think if you looked at Hilma's work and the work of these artists, and then you looked at my work, it wouldn't seem strange to say that." See if you can trace its genetic tree.
"Josiah McElheny: Paintings" is on view through October 24 at New York's Andrea Rosen Gallery, 525 West 24th Street.
Josiah McElheny The Alpine Cathedral and the City-Crown 2007 Installation view: Moderna Museet, Stockholm, Sweden, Josiah McElheny: The Alpine Cathedral and the City-Crown, 2007
Josiah McElheny Blue Prism Painting V 2015 Photo by Ron Amstutz; Courtesy of the artist and Andrea Rosen Gallery
Josiah McElheny Crystalline Prism Painting II 2015 Photo by Ron Amstutz; Courtesy of the artist and Andrea Rosen Gallery
Hilma af Klint The Swan, No.17, Group IX/SUW The SUW/UW Series 1915 Photographed by Albin Dahlstrom; Courtesy of Moderna Museet. © the estate of the artist
Josiah McElheny Window Painting I 2015 Photo by Ron Amstutz; Courtesy of the artist and Andrea Rosen Gallery
Gerhard Richter 6 Graue Spiegel (6 Gray Mirrors) 2003
Photo by Richard Barnes. Courtesy of Dia Art Foundation, New York.
Ellsworth Kelly Window, Museum of Modern Art, Paris 1949
Courtesy of artist, photo by Hulya Kolabas.