Jourdan Dunn Relives Her Childhood Through Food
The English supermodel and actress has strong stances on instant noodles, Marmite, fish and chips, and Caribbean dishes like oxtail.
---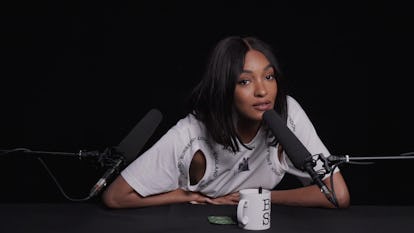 In Jourdan Dunn's ASMR interview, we can deduce two things about the supermodel and actress: first, food is linked directly to her upbringing in West London, and secondly, she has some strong opinions about what she does and does not like to eat.
So strong, in fact, that these opinions cause her to break character as an ASMRtist, busting up with laughter at times at her own pickiness, or having some kind of physical reaction to the smell of a pungent snack. Curry-flavored cup of noodles with mango seasoning makes her gag, SPAM is "not really appealing," and Marmite represents the worst kind of condiment.
"You either love it, or you hate it," Dunn whispers. "I am part of the hate gang."
Before the coronavirus pandemic hit, the 29-year-old came to W magazine's studios to discuss how food played prominently in her childhood, and as a result, is ingrained in memories of her early years spent in England.
"I grew up in London, with my mum and my two brothers," she says. "I would always be at my grandmother's in northwest London. Growing up in a Caribbean household, food was very, very important. I mainly grew up having Caribbean food, and not so much English food, apart from a Sunday roast and some snacks.
"The weirdest thing I've ever eaten—it's probably weird for other people—but in the Caribbean, they eat a lot of different cuts of meat. So there'll be things like pig tails and cow foot. I had oxtail, but they are actually quite tasty, especially pig tails. Once I started traveling for fashion, the weirdest thing was probably frog legs and snails. I wasn't here for snails, I think because when I was younger, I used to collect snails. As a kid, I was weird. To eat one was a bit nasty and not right."
Related: Billie Lourd Couldn't Be More Impressed by Her Own ASMR Skills