In Living Color
Art Director Juan Gatti comes full circle with his latest eye-popping project for Kenzo. Karin Nelson takes it all in.
---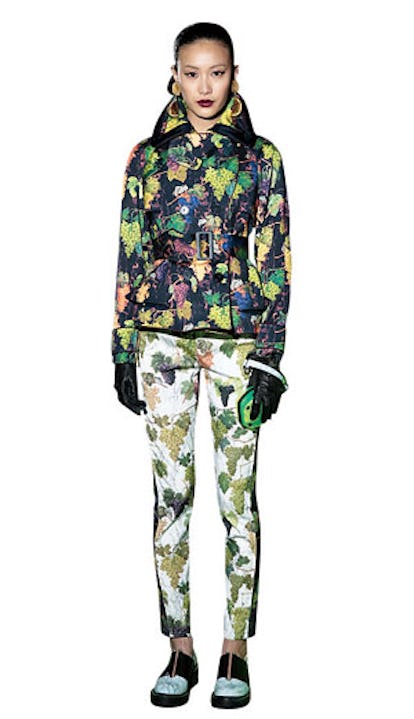 Juan Gatti has, as he puts it, ­a peculiar relationship with the house of Kenzo. At the very least, it is a circuitous one, dating back decades. In 1979, Gatti—who as a child spent endless hours in his mother's dressmaking studio cutting images out of magazines and collaging them ­together—was living in New York, honing his cut-and-paste aesthetic within an art col­lective called Hello Again. Kenzo Takada, meanwhile, was taking the fashion world by storm with his exotic designs and over-the-top shows, including a few circus-themed extravaganzas in which he strode atop an elephant. The two knew each other from the nightlife scene—and, impressed with Gatti's work, Takada invited the Argentine graphic designer to create prints for the French label. So Gatti set off for Paris, thinking he would make just a pit stop in Madrid. "I went to spend Christmas with friends," he explains. "And while I was there, someone offered me the position of art director at CBS Records Spain." Five years later and still in Madrid, Gatti had worked on a host of seminal ­album covers for Latin musicians like Mecano and Alaska y Dinarama and had set up his own design studio, with clients including Chloé, Karl ­Lagerfeld, and Loewe. Needless to say, he never quite made it to Paris.
Kenzo's spring 2012 ad campaign
Gatti soon became friends with the Spanish director Pedro Almodóvar, who in 1985 enlisted him to make a poster for his black comedy ­Matador; it was the beginning of a legendary partnership. The splashy art and title sequences that Gatti has since been creating for the filmmaker have all but come to define contemporary ­Spanish cinema. In Juan Gatti: Photographics (La Fábrica), his two-volume anthology, Gatti describes that period: "I had been working with a more glamorous, elitist world, and ­[Almodóvar] was closer to the fresh feeling connected to people on the street. Thus, a kind of everyday Spanish surrealism was mixed with a more sophisticated part from fashion."
Meanwhile, the fashion world still beckoned. In 1989, Italian Vogue's Franca Sozzani hired Gatti as creative director of the magazine, where he turned out a year's worth of playful, striking issues—a cover with Linda Evangelista looking like a young ­Sophia Loren, with the word stars in a dynamic hot pink; Gio Ponti's name spelled out with his own creations—before ­deciding that the gig, with its tight deadlines and back-and-forth travel, wasn't for him. "I remember that time like a sitcom," he says. "The work we were doing was very important and serious—but we laughed nonstop."
Last fall, when Humberto Leon and Carol Lim, Kenzo's new creative directors, were dreaming up their spring 2012 ad campaign, they ­recalled those powerful Vogue images. "They had so much energy," says Leon, who managed to bring Gatti to Paris, where he directed a series of whimsical photos, shot by Roe Ethridge and starring the models Ajak Deng, Alek Wek, and Nairoby Matos.
A poster for Women on the Verge of a Nervous Breakdown, 1988
Now, nearly 35 years after the initial request, the elusive Kenzo prints have finally come to fruit—quite literally. Leon and Lim's fall 2012 collection featured punchy grape and strawberry patterns created by Gatti, who was ­inspired by 19th-century botanical prints. With the recent release of Gatti's monograph and a retrospective of his work at the Sívori museum in Buenos ­Aires this fall, the timing couldn't be more fitting. "It's like karma," he says. "It closed a circle."
Photos: courtesy of Kenzo (2); all others: courtesy of Juan Gatti and La Fabrica Editorial