Judaica Standard Time Makes Menorahs for the Millennial Aesthete
Musicians David Kitz, Jesse Kivel, and Michael David's brand blurs the lines between a chic home good and a piece of religious iconography.
---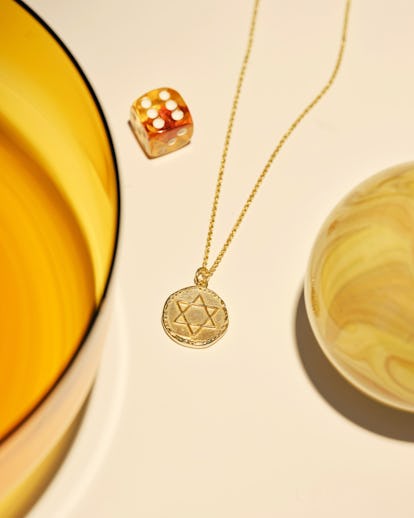 Two of the three founders of Judaica Standard Time, a brand taking an artistic approach to Jewish-forward ephemera and art, met at Hebrew School. Before any preconceived notions of what Hebrew School looks like enter your mind, it's important to note that David Kitz, Jesse Kivel, and Michael David all had variant and alternative experiences with Judaism. Kitz and Kivel first came to know one another at that reformed temple in their hometown of Los Angeles—but the building was owned by Bob Dylan, they were both confirmed (a religious rite most often associated with Catholicism), and to rid themselves of sin, they'd travel to the beach with the congregation and throw their symbolic wrongs into the Pacific Ocean.
The point here is there isn't one way to be Jewish—and that was the idea behind Judaica Standard Time, which launches online today. The digital store features modern, abstract takes on menorahs fashioned out of blocks and pieces of stone; gold Star of David pendants on rope chains, and t-shirts with artful screen prints that look like the kind of merch you'd buy at a concert. The wares are the result of Kivel, David, and Kitz's collaborations with a range of artists, including the ceramicists ANK Ceramics and B. Zippy, illustrator Mike Pare, and Vada Jewelry.
"We're open to the ambiguity," David said of the brand. "The pieces don't necessarily have to be connected to the overtly religious aspects of Judaism, and connection with Judaism culturally is something that we're interested in exploring."
Before starting Judaica Standard Time, David, Kivel, and Kitz grouped up through music—David is one half of the electronic duo Classixx, Kitz has worked with Robert Frances, and Kivel was in the band Princeton with his twin brother. Throughout their relationship with one another, as Kivel explains, "our Jewish identity was bubbling. It was percolating."
They'd share holidays together, spending Hanukkah and Passover with each other's families. But they found they did not visually identify with the objects associated with those holy days.
"The mainstream commodification of the menorah is a beautiful piece, but what has become ubiquitous at stores and Judaica shops seems frozen in time," Kivel explained. "Tall, usually sterling silver, ornate, a little bit garish, and they do not fit in the day-to-day home."
The trio set out to create pieces that could live in people's houses on a daily basis, and which didn't have to be put away in a dusty drawer or closet between holidays. They wanted to blur the lines between what was a home good and what was a piece of religious iconography—make clothing that wasn't necessarily overtly religious but still slyly referenced being Jewish (one of their t-shirts is printed with the text "Judaica Standard Time" in white, set on a white tee).
The artists with whom they collaborate, further, weren't sought out because they were Jewish, or even Judaism-adjacent. David, Kivel, and Kitz simply chose folks whose stuff they thought was cool.
"They've been excited to do something new and dive into something they don't normally make," Kivel said.
"We're not interested in a purity test," Kitz added. "We're not trying to get super secular quasi-Jews out there—sort of like ourselves—to suddenly get really into it. We're meeting people where they're at."
Following this initial drop, timed to Hanukkah, the three are working on another collection that will be released around the time of the next major Jewish holiday—in this case, Passover. But the overarching message of the brand isn't to, as David put it, "dominate with some business that scales up in a crazy way."
"We're certainly not an authority on what makes someone Jewish or what excludes them from being able to call themselves Jews," he said. "I think we're curious about being inclusive and creating items that can serve all versions of what that might mean."