Jude Demorest Was Completely Shook Upon Meeting Naomi Campbell
From a hit Fifth Harmony track to the lead in a Lee Daniels television series, Demorest says in a new interview she has come a long way since her childhood in Detroit.
---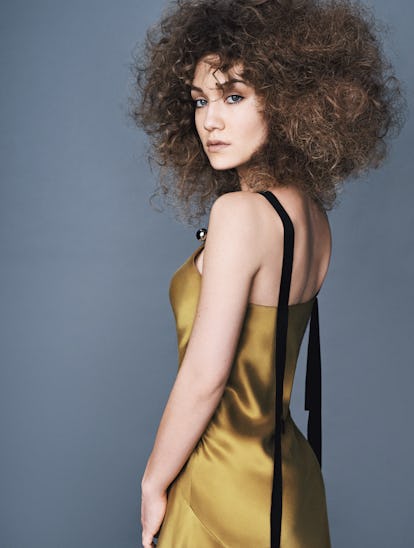 Photograph by Steven Pan, Styled by Deborah Afshani; Hair by Teddy Charles; Makeup by Ozzy Salvatierra at Streeters; digital technician: Wayne Wakino; photography assistants: Giancarlo D'agostaro, Jason Cook; fashion assistant: Kirsten Alvarez
When Jude Demorest first showed up on the set of Star, Lee Daniels's Fox melodrama, which just wrapped up shooting its first season, she discovered that her dressing room was already occupied—by Naomi Campbell.
"I said, 'Naomi Campbell? I'm sharing a dressing room with Naomi Campbell? I don't think I can do that,' " recalls the 25-year-old. "I was completely shook."
We caught up over the phone in early December, just a week before the series premiered on Fox; Demorest was still in the throes of filming the first season, plagued with a case of nerves but relishing the distraction being on set offered.
In the series—which has garnered comparisons to Empire for its breakneck pace, its focus on the insider intrigue in the music industry, and outsized characters—Demorest plays the titular aspiring singer-songwriter who flees the foster system with her half-sister Simone, played by fellow screen rookie Brittany O'Grady. The two young women escape to Atlanta, where they meet up with Alexandra Crane (Ryan Destiny), herself an aspiring musician and producer who Star first met through Instagram. (Campbell plays Alexandra's mother, an austere alcoholic married to a musician, played by Lenny Kravitz; Queen Latifah rounds out the cast of "legends," as Demorest described them, playing the sisters' godmother.)
Though Star is the group's front-woman, and the show takes its double-entendre name from Demorest's character, it is, in many ways, a three-hander—which proved a challenge when Daniels cast the show, and resulted in no fewer than 11 auditions for Demorest before she even went in front of the camera to screen test for the network.
"He's looking for three girls who looked good together, sounded good together, could all dance, could all sing, and could all act," Demorest said. Each audition presented a new challenge—learning eight-count choreography from Beyoncé collaborator Frank Gatson, singing for The-Dream—and with each, Demorest gained increasing confidence on who her character was supposed to be. (It helped that Daniels also sent her home with considerable homework: the documentary Girlhood, a slew of Bette Davis movies including Whatever Happened to Baby Jane?, the Sharon Tate film Valley of the Dolls, and John Waters's Female Trouble, among others.)
It couldn't hurt Demorest's empathy for her character that, professionally, she was already a successful songwriter. She signed with Epic Records shortly after moving from Detroit to Los Angeles, where she co-wrote the massive Fifth Harmony hit "Work From Home"—while lounging poolside with popsicles at a writing camp with several other songwriters, no less.
"We had no idea how big it was going to be," Demorest said, likening the experience to summer camp. "We went on and wrote two more songs that day." With more than one billion views last year, the music video for "Work From Home" was the most-watched of 2016 — and it beat out both Beyoncé's "Freedom," with Kendrick Lamar, and Rihanna's "Work," with Drake, for the Best Video Collaboration award at the MTV Video Music Awards.
Though Demorest has been writing for as long as she could hold a pen, "Work From Home" is a far cry from the kinds of tracks she conceived growing up—"I'm from Detroit, and at some point, every kid from there thinks that they're destined to be a rapper," she said.
She scribbled down bars in the margins of her notebooks during class, preferring what she saw as the gritty reality of rap music over the more frivolous subjects of pop songs. "I still write like I'm rapping—so if there's a melody and I'm trying to put words into it, they still pop into my head as if I was battle-rapping someone," she added. "I have to calm down and condense it into a cute little pop song."
Yet for all her success on the airwaves, when Demorest arrived in Los Angeles, it was with screen, rather than radio, aspiration—"Music just happened to me first," she said. Acting is now her focus, but she continues to write every opportunity she gets—just as she's been doing for much of her life.
Demorest grew up in Detroit, Michigan, in a house full of foster brothers and sisters; though she went to 11 different schools throughout her childhood and into her teenage years, she attended just one church, a gospel-infused sanctuary where she spent most of her evenings training for her future as a triple threat, learning dance, drama, and choir. (Her role in Star bridges all three worlds.) The church, and Demorest's community more broadly, was predominantly black; she was stunned to receive the script Daniels, with its extensive, uncanny parallels to her own life, because "people don't write white girls from the hood for TV or movies," she said. "For the first time in my life, I don't have to cover up my accent or try to talk differently."
At 16, she left Detroit and made for Los Angeles without so much as a car or a place to stay. Almost immediately, she made a fortuitous connection with the friend of a childhood neighbor, who became her agent.
"That's not how that's supposed to work," she said, still sounding stunned.
From there, in addition to the deal with Epic, Demorest landed bit parts on television series like the Disney Channel series Jonas and TNT's revival of the '80s soap opera Dallas prior to Star. Then, an encounter with Daniels's sister Leah, a casting director who worked on his series Empire, brought Demorest to the director's attention.
"Almost all of it is completely unbelievable," she said. It's very Star, I ventured. "My life is corny," she agreed. "It's like a Lifetime movie." Or a Lee Daniels TV series.
Naomi Campbell: The First Lady of Fashion
Nina Ricci jacket and skirt; Cornelia James gloves (throughout); Hermès bag.

Photographer: Willy Vanderperre Stylist: Edward Enninful
Giorgio Armani jacket and skirt; Kiki de Montparnasse bra; Nancy Gonzalez bag; Philippe Matignon socks (throughout); Marc Jacobs shoes (throughout). Beauty note: Win them by force of legs with Michael Kors Liquid Shimmer Dry Oil Spray.

Photographer: Willy Vanderperre Stylist: Edward Enninful
Prada jacket and skirt. Beauty note: Speak softly, but carry a sexy pout with MAC RiRi Lipstick in Nude.

Photographer: Willy Vanderperre Stylist: Edward Enninful
Dior coat and skirt; Hermès bag.

Photographer: Willy Vanderperre Stylist: Edward Enninful
Proenza Schouler jacket and skirt. Beauty note: For hair worthy of a head of state, try Aveda Damage Remedy Restructuring Conditioner.

Photographer: Willy Vanderperre Stylist: Edward Enninful
Michael Kors jacket and skirt; Nancy Gonzalez bag.

Photographer: Willy Vanderperre Stylist: Edward Enninful
Azzedine Alaïa jacket and skirt; Nancy Gonzalez bag. Hair by Jimmy Paul for Bumble and bumble; makeup by Fulvia Farolfi for Chanel Beauté. Model: Naomi Campbell at Marilyn Agency. Produced by Mina Allotey, Adwoa Abrafi Ampiah-Kwofi.

Photographer: Willy Vanderperre Stylist: Edward Enninful
Photographers "Always Ask" Kate Moss to Take Her Clothes Off
­