Juergen Teller's Visions of Iran Are Now On View in Berlin
The photographer's archive from a recent trip to Iran, now on view at Grisebach in Berlin, offers an intimate look his unique, indiosyncratic vision.
---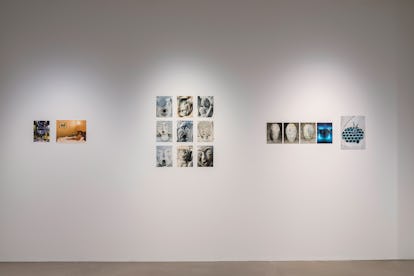 A view of Juergen Teller's latest exhibition, If You Pay Attention, on view at Grisebach in Berlin.
The German photographer Juergen Teller needs no introduction, let alone in W, where his loose, playful, high-exposure portraits have been featured on innumerable covers over the years. Earlier this year, with the fashion industry stalled by the pandemic, Teller directed his attention toward a body of artwork that is far more personal than his frequent campaigns and editorial spreads: the 15,000 iPhone images Teller took with his girlfriend and creative collaborator, Dovile Drizyte, during a 12-day trip through Iran last year.
The couple spent part of lockdown editing, condensing and curating what became of the archive into an exhibition called "If You Pay Attention," now on view at Grisebach in West Berlin, alongside another Teller exhibit ("Araki Teller, Leben und Tod"). The show's title is an homage to their Iranian tour guide. "Every time she pointed out something worth remembering, she would start the sentence with 'If you pay attention," Teller explains in the exhibition text. The raw collection of photographs on display is equal parts conceptual travelogue and contemporary love story. "I didn't just want to take tourist pictures, I wanted to put something of myself or us into the pictures of Iran," Teller writes. The show's still lives of local produce and pottery are punctuated by rare, intimate portraits of Teller's partner — which he typically finds difficult to take: "There is a big difference in photographing a subject that I have no attachment to versus a person I am deeply connected to."
Teller says he overcame the challenge of capturing his girlfriend because she didn't look like her typical self. As any respectful tourist would do, Drizyte adapted to Iran's dress code of covering her head and body, and in the final four days of their trip, chose to wear the more conservative chador. Drizyte says her days in the chador reshaped her perceptions of the country's misunderstood customs and gender politics. "Chador felt like an armor… and at the same time, it was a weapon that commanded respect and power," she recounts.
In "If You Pay Attention", Teller shows a more gentle, quotidian side of Iran than is typically conveyed in Western headlines. Nevertheless, the couple happened to be there during a newsworthy time: Their travels overlapped with the assassination of General General Qasem Soleimani. Though predominantly shaped by an interpersonal narrative, "If You Pay Attention" also serves as a snapshot of an explosive moment in the country's recent history. Viewers will also see pictures of flags, banners, posters and news broadcasts in response to his death. In attempting to leave Iran, Teller and Drizyte also had a near fatal accident. After missing their original flight, the couple nearly boarded Ukrainian Airlines Flight 752 — which shortly after taking off was shot down by the Iranians, who mistook the plane for a cruise missile. Drizyte is quoted in the exhibition text, "We cannot fully explain why we decided against taking that flight." This brush with death heightens the stakes of an already existential show which ruminates on the frightening link between the personal and political.
"If You Pay Attention" is on view at Grisebach in Berlin until November 9th.