Julia Restoin Roitfeld Prefers Not to Dress for the Weather, Because She's Still a Paris Girl at Heart
The model, stylist and daughter of Carine Roitfeld also talks holiday cooking – she'll put truffles in anything, including cocktails – the best shopping in Paris, and why she's really into New Age self-help books.
---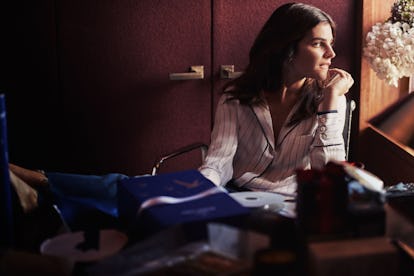 David Burton
The daughter of famed fashion editor Carine Roitfeld and Equipment founder Christian Restoin, Julia Restoin Roitfeld comes by her fashion cred by birthright.
The French model and stylist — not to mention street style star — has been a front-row fixture since childhood; at 36, she's something of the previous generation's North West. She relocated to New York to attend Parsons School of Design, graduating in 2006 — and immediately moved on to become the new face of Tom Ford's Black Orchid fragrance. (The designer once, somewhat grandly, referred to Restoin Roitfeld as "exactly what beauty is to me.") She's since worked with designers as varied as Kiki De Montparnasse (for whom she designed a capsule collection), Lancôme, Tod's, and Givenchy. And, evidemment, she's appeared in the pages of CR Fashion Book, the magazine helmed by her mother.
She's bringing that transatlantic glamour to a new project this weekend, when the impossibly chic scion will unveil Le Marché Bleu, a festive Paris-inspired holiday pop-up she curated in collaboration with Grey Goose. The Soho shop opens for previews Wednesday, and the collection will be available online Dec. 8 and in stores Dec. 10. And while she's now based in New York, Restoin Roitfeld is still a quintessential Parisian girl: She loves ballet flats and military-inspired pieces, and La Grande Épicerie at Le Bon Marché is still her go-to destination for French culinary staples. Ahead of the opening, Restoin Roitfeld paused to share her holiday style secrets and why she'll (probably) never be caught dead in weather-appropriate footwear.
Age: 36.
Describe Your Style: My style is rooted in my Parisian upbringing — I wear a lot of neutrals and black. But I also love how New York women put together their outfits, mixing diverse styles and influences. Overall, my style is a fun mix of sexy, innocent and girly. It just depends on my mood!
Favorite Stores in Paris: One of my favorite stores in Paris is Cire Trudon. The company is a classic brand, steeped in French history (founded during the reign of Louis XIV!). The scent is synonymous with Christmas in Paris to me. When Grey Goose asked me to curate their holiday shopping experience Le Marché Bleu, I immediately thought of Cire Trudon candles! I also love La Grande Épicerie where I buy my favorite French produits du terroir as well as La Maison de la Truffe. Like most French people, I love truffles and will use them in anything and everything, even cocktails! I've started making a really delicious holiday cocktail with Grey Goose and truffle oil from La Maison de la Truffe called "Truffe d'Hiver".
Daily Uniform: I wear my body con cashmere dress from Equipment anywhere and everywhere paired with Manolo ballet flats (I am a French girl after all!) or thigh-high boots from Stuart Weitzman. I throw on my navy Tommy Hilfiger military coat to top it off. My other look is black jeans from Frame paired with a cashmere sweater from Equipment or Screw and boots from Saint Laurent.
Nighttime Look: I always feel my best in a mini black dress with stilettos and a coat. For a more casual look, I'll wear high waisted paints and a nice camisole top from Carine Gilson. Or when I'm feeling more adventurous and want to show some skin, a crop top from Reformation. I always finish off my nighttime look with big hoop earrings.
Style Icons: The style icons of the 20th century — Bridget Bardot, Romy Schneider, Elizabeth Taylor, Jackie O.
Best Recent Discovery: I just learned how to make the Le Fizz cocktail while working with Grey Goose! It's my new favorite cocktail using St-Germain, fresh lime and soda. It's the perfect drink to ring in the holidays with friends.
Last Purchase: Navy military cashmere sweater at J. Crew
Travel Essential: Any scarf that can double as a blanket on the plane
Something You Would Never Wear: Well I would never say never, but maybe rain boots? People in New York tend to dress for the weather – rain boots when it pours, snow boots in winter storms. I am still totally Parisian when it comes to that and never go for comfort, which is admittedly hard sometimes! Ballet flats and puddles don't go well together!
Favorite Accessories You Own: A classic Chanel bag my grandmother gave me ten years ago.
Holiday Essentials: My home is quite modern and minimalist so the holiday time is when I indulge and make it more warm and cozy. Nothing smells better than a pine tree! I always get a lot of candles and lights. My daughter and I also have fun holiday traditions — we love snuggling under cashmere blankets and watching Christmas movies together. We also go to see The Nutcracker at the New York City Ballet every year. I also love going to holiday parties with family and friends and I can spend hours looking for the perfect gift to bring the hostess. I always used to just bring champagne or wine but it's so overdone now. I always try to find unique gifts that other people wouldn't expect.
Book You're Reading Right Now: I have a hidden New Age side and am really into self-help books! I'm loving The Power of Now by Eckhart Tolle.
See W's most popular videos: