Julia Roberts and 17 Other Oscar-Winning Actresses With TV Projects in the Works
Julia Roberts is just the latest former Best Actress Oscar winner to tackle the medium of television, joining previous converts like Meryl Streep and Julianne Moore
---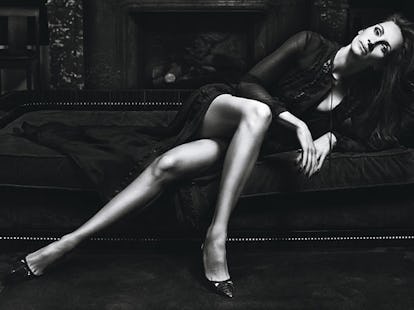 Photographer: Mario Sorrenti Stylist: L'Wren Scott
Maybe we can thank Jessica Lange for breaking down the barrier. When the two-time Academy Award signed on to Ryan Murphy's American Horror Story, it might have seemed like a step down to some, but soon the actress was rewarded with some of the more memorable lines of her career and shelves full of awards to accompany them. Of course, Maggie Smith and Shirley MacLaine deserve some of the credit, too, as the Oscar winners sure seemed to have a great time trading quips as dueling mothers-in-laws on Downton Abbey.
Whatever the case, some of film's finest actresses are leaning into TV's Golden Age like never before. Julia Roberts is just the latest to announce that she's tackling a TV project, starring in a limited series based on the bestselling novel Today Will Be Different. It will be the first series in the Erin Brockovich actress's career. (She appeared in Murphy's HBO adaptation of The Normal Heart two years ago.)
Roberts is not alone. Along with the actress, 17 (or quite possibly 18) winners of the Academy Award's Best Leading Actress trophy are working on television series projects. Here's a roundup of what the queens of the big screen have in the works on the small screen.
Julianne Moore
Oscar Win: 2014 for Still Alice
TV Project: "Untitled David O. Russell Project"
Julianne Moore is coming to Amazon, and she'll be accompanied by director David O. Russell and Robert De Niro. Little is yet known about the project, but Russell, who created the show, told us earlier this year that "The chance to work in new formats, whether serialized tv or surrealist shorts, is always exciting for me." The plot is said to revolve around a mafia family in Massachusetts. Moore is no stranger to TV. She played Sarah Palin in a movie for HBO and had a recurring role on 30 Rock, but this is first time as a regular cast member on a television series since her stint on soap opera As The World Turns in the '80s.
Meryl Streep
Oscar Win: 2011 for The Iron Lady and 1982 for Sophie's Choice.
TV Project: The Nix
Yes, even Meryl is coming to the small screen. She's signed on to star in a limited series adaptation of Nathan Hill's novel The Nix. J.J. Abrams is onboard to produce and direct at least some of the episodes. Streep will play the estranged mother of an apathetic college professor who suddenly returns into his life after she commits a crime that sets off a media frenzy. Streep, of course, has done miniseries before, most notable Holocaust back in the '70s and Angels in America earlier this century. No word yet on when or where the series will premiere.
Reese Witherspoon
Oscar Win: 2005 for Walk The Line
TV Project: Big Little Lies
Witherspoon is not just starring in this limited series adaptation of the novel Big Little Lies. She's producing as well. She'll play one of three mothers of kindergarten-aged kids who become close and realize that some of their personal problems are intertwined. Witherspoon signed up fellow Oscar winner Nicole Kidman to co-star. Shailene Woodley, Laura Dern, Zoë Kravitz and Alexander Skarsgård are also along for the ride. The series premieres this February on HBO.
Hilary Swank
Oscar Wins: 2004 for Million Dollar Baby and 1999 for Boys Don't Cry
TV Project: The One Percent
Swank took a few years off to care for her ailing father (and to design an athleisure line), but she's about to return to screens both big and small in multiple projects. One of which is the Alejandro González Iñárritu-created television series The One Percent. Swank plays the wife of a farmer who suddenly strikes it rich in the lottery. The series premieres next year on Starz.
Nicole Kidman
Oscar Win: 2002 for The Hours
TV Projects: Big Little Lies and Top of the Lake
We've already covered Kidman's HBO team up with Witherspoon, but that's not the only television project Kidman has in the works. She's also joined the cast for the second season of the Elisabeth Moss-starring series Top of the Lake. The new series will premiere sometime next year on the Sundance Channel.
Julia Roberts
Oscar Win: 2000 for Erin Brockovich
TV Project: Today Will Be Different
As announced just on Thursday, Roberts will co-produce and star in an adaptation of Maria Semple's novel Today Will Be Different, a darkly comedic book that unfolds in a single day. No premiere date or channel have been set.
Helen Hunt
Oscar Win: 1997 for As Good as It Gets
TV Project: Shots Fired
Hunt famously won her Oscar while still starring on the sitcom Mad About You, and now she's coming back to TV in the Fox "event series" Shots Fired. The show follows the controversy that erupts after a racially charged shooting in a small town in North Carolina. Hunt will play the state's Governor. The series is expected to premiere sometime next year.
Susan Sarandon
Oscar Win: 1995 for Dead Man Walking
Jessica Lange
Oscar Win: 1994 for Blue Sky
TV Project: Feud
Feud is the Academy Award-winning actress on television event of the season, not only in that multiple winners are in the cast, but multiple winners are being fictionalized on the show. The Ryan Murphy-produced series focuses on the famous feud between Joan Crawford and Bette Davis. Sarandon plays Crawford while Jessica Lange plays Davis. Oscar winner Kathy Bates plays Joan Blondell (a supporting actress winner), Oscar nominee Judy Davis plays gossip columnist Hedda Hopper, Sarah Paulson plays Oscar winner Geraldine Page, and supporting actress winner Catherine Zeta-Jones plays multiple trophy winner Olivia de Havilland. Got all of that? Basically lots of Oscar winners who will go on to win multiple Emmys, at least if all goes according to plan.
Holly Hunter
Oscar Win: 1993 For The Piano
TV Project: Untitled Alan Ball Project
Hunter is no stranger to television. She starred in TNT's Saving Grace and had a role in the first season of Top of the Lake. Now she's primed to lead an HBO series. Alan Ball, the creator of True Blood and Six Feet Under, has cast Hunter as the lead in his upcoming and as-yet-untitled new project for the network.
Kathy Bates
Oscar Win: 1990 for Misery
TV Projects: Feud, Disjointed, perhaps another American Horror Story?
Bates is a television vet at this point. She had recurring roles on Six Feet Under and The Office before starring in her own NBC series Harry's Law. Since then she's joined up with Ryan Murphy and has appeared in multiple seasons of American Horror Story and will be on hand for Feud as well. Now she'll also have her own Netflix series titled Disjointed. It's produced by Chuck Lorre (yes, the guy behind Two and Half Men and Big Bang Theory) and centers on Bates as the owner of a Los Angeles-area cannabis dispensary. No word on when it will premiere.
Marlee Matlin
Oscar Win: 1986 for Children of a Lesser God
TV Project: The Final Season of Switched at Birth.
Matlin has been on Switched at Birth, the critically adored Freeform (née ABC Family) series since the beginning. Unfortunately, the show's fifth season, which will premiere next month, will be its last.
Sissy Spacek
Oscar Win: 1980 for Coalminer's Daughter
TV Project: The Final Season of Bloodline
A similar situation to Matlin. Spacek's been a presence on Netflix's Bloodline from the start, but the show's upcoming third season will also be its last.
Jane Fonda
Oscar Wins: 1978 for Coming Home and 1971 for Klute
TV Project: The Third Season of Grace and Frankie
Yes, Fonda is at work on the third season of the Netflix show she shares with Lily Tomlin. Thankfully, this is not slated to be its final season.
Diane Keaton
Oscar Win: 1977 for Annie Hall
TV Project: The Second Season of The Young Pope
This HBO series just finished its first season, and a second is on the way. Keaton plays an American nun who serves as the titular young pope's secretary.
Faye Dunaway
Oscar Win: 1976 for Network
TV Project: The Second Season of Hand of God
Dunaway just joined this Amazon series in a recurring role for its second season, but unfortunately in between production and the season premiering, Amazon announced that the show is now canceled. Oh well, at least we'll get to see Dunaway on TV when the season streams next year.
Liza Minnelli
Oscar Win: 1972 for Cabaret
TV Project: Arrested Development season 5?
This is the biggest question mark on the list, so much so that we didn't include it in the headline count. If it happens then that means it's actually 18 Best Actress winners coming (back) to television soon. Here's what we know: multiple cast members have said they've been contacted about a fifth season. Some reports suggest it could start filming in January 2017.
Season 4 ended on a cliffhanger in which the character of Buster is arrested for Liza Minnelli's character Lucille 2's death. There are rumors that the next season will focus, at least in part, on the question of who killed Lucille 2. Of course, there's no actual evidence that Lucille 2 is really dead, which would set up a grand return for Minnelli in season 5. Minnelli has kept a low profile as of late, but she did perform at a San Francisco club in October. A lot of questions there, but here's hoping!
Julie Andrews:
Oscar Win: 1964 for Mary Poppins
Upcoming TV Project: Julie's Greenscreen
No gritty cable dramas for Julie Andrews, thank you. Instead, Andrews has teamed with Netflix and The Jim Henson Company for this educational series aimed at pre-schoolers.
Of course, this whole list is comprised of just the Best Actress winners (which, mind you, doesn't even include the actresses who have won for supporting roles) who now have projects in the works. Now, imagine a world where Halle Berry's CBS drama Extant wasn't canceled, where MacLaine and Smith are still going strong on Downton and where Ellen Burstyn stuck around for an additional season of House of Cards. In that case we'd have 22 different Oscar lead actress winners on TV within the next year or so, but, with this list as it is, who can complain?