NEW YORK FASHION WEEK: MEN'S
Meet Julian Woodhouse, the Designer for the Man Who Doesn't Want to Peacock
The 27-year-old founder of the label Wood House designs sophisticated clothes for a man who doesn't take himself too seriously. "Guys don't want to look like they're peacocking," he says.
---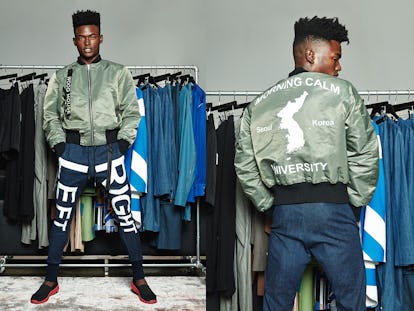 Because being a 27-year-old African-American, openly gay soldier in the United States military wasn't enough of a challenge, Julian Woodhouse also used to run to model castings before and after work, or sometimes even during his lunch break. He also happened to be based in Seoul, South Korea, but being a self-proclaimed "army brat" and having moved every two years since birth, Woodhouse is uniquely skilled in constructing a new idea of normal. He's since gone on to start his own namesake brand, Wood House, and he's only just getting started.
"I see something that I want, and then my military brain figures out the logistics of how to get there," said Woodhouse a week before his presentation at New York Fashion Week: Men's, which took place today. "And then the other part of my brain is like, 'Okay, cool! Let's do it!'"
Born in Germany, Woodhouse has lived in more cities and states than he can count, bouncing between the United States, Europe, and Asia. For college, he did a four-year Reserve Officers' Training Corps (R.O.T.C) program at the University of Minnesota, where he studied business, and then he paid his scholarship back with service in Seoul. Starting in 2012, his time there coincided with increased global attention on Seoul Fashion Week, and it was while milling about outside the shows at Dongdaemun Design Plaza where he was first spotted by a street style photographer.
From there, Woodhouse, who cuts a striking profile with his impossibly defined cheekbones, decided to dabble with modeling, and gained a following on social media as a result. While still in Seoul, he started his own brand in 2014. "After growing up there, I knew where all the pattern makers were and where the fabric market was," he explained. "I knew the city like the back of my hand."
It was also during this time that Woodhouse met his now-husband, Kirill Kabachenko, a Ukrainian model who was on contract in Seoul. Woodhouse was interested in casting him in his first show, but he didn't show up on the day of the call. "I was busy," said Kabachenko with a flirtatious grin. But Woodhouse liked his look so much though, that he cast him anyway. The couple wed last year in New York City—both wearing black t-shirts—and Kabachenko is still very much Woodhouse's model and muse.
Despite both of Woodhouse's parents being in soldiers, their sophisticated sense of style sparked his interest in fashion at a young age. "My mom wears a lot of fur and diamonds," he said. "She loves to show off. And my dad's style is a really interesting mix of '80s hip hop mixed with cowboy Western. Like, cowboy boots, snakeskin, and trench coats."
As for his own style, Woodhouse rejects any connection to a military uniform and instead feels his clothes appeals to a modern male consumer. With each season, (this will be his fifth and third in New York), the Wood House aesthetic becomes clearer, the first collection beginning in all-black and today ending with more color and louder prints, more advanced tailoring techniques, and better production value. The most recent fall 2017 collection also has a voice of its own, featuring sassy graphic slogans like: "Make my day, I dare you."
"Guys don't want to look like they're peacocking," Woodhouse said of the modern male customer. "I wanted to make things that people would wear everyday. And once you get to a place where you're comfortable, you can laugh at yourself. The graphics that I use that are just funny phrases, and I think they're a way for people to express confidence."
In this way, Woodhouse has perhaps developed a more self-aware sense of peacocking, because phrases like, "You don't want to f–k with this little piggy," which he's printed for fall 2017 on an all-pink sweatsuit and paired with metallic Ugg-like boots, are really anything but subtle.
And while he's putting his own flamboyant spin and sense of humor on male peackocking, the idea of sophisticated comfort was something he picked up in New York City. "This season, coming to New York I saw how men represented themselves here, and it's very different than Korea," he said. "In New York, it's very natural and raw; it's very diverse. No one's trying to show off. I tried to pull that vibe into this collection using men on the streets today as an inspiration."
In the same way that Woodhouse is pulling inspiration from New York today, it was his time spent abroad, and especially in Seoul, that trained not just his eye, but also his business savvy.
"They're really progressive in Seoul," he said. "They pick up on trends so quickly and are definitely the earliest adopters in menswear. I'm trying to study how men in Korea buy clothes and which trends they pick up, because the trends that they pick up aren't really trendy in America until like a year or two later. In Korea, they see it; they like it; they buy it."
In Asia, the market for luxury men's fashion is higher than anywhere in the world, and men spend almost much money on clothing as women. Woodhouse knows this, and is innately attune to what men of the world want right now—not just men in New York—which makes him one step ahead of the game.
At the end of the day, despite showing as an "emerging designer" for another season, it may be Woodhouse's New York-centric style mixed with a global business sensibility that makes him exactly what the meh New York Men's fashion week needs, and not the other way around.
Beefy Male Models and an Impressive Amount of Sass at New York Fashion Week: Men's Courtesy of Julian Woodhouse
Backstage before the presentation of Wood House A/W '17 Collection. Photo by Landon Speers
Backstage before the presentation of Wood House A/W '17 Collection. Photo by Landon Speers
Backstage before the presentation of Wood House A/W '17 Collection. Photo by Landon Speers
Backstage before the presentation of Wood House A/W '17 Collection. Photo by Landon Speers
Backstage before the presentation of Wood House A/W '17 Collection. Photo by Landon Speers
Backstage before the presentation of Wood House A/W '17 Collection. Photo by Landon Speers
Backstage before the presentation of Wood House A/W '17 Collection. Photo by Landon Speers
Backstage before the presentation of Wood House A/W '17 Collection. Photo by Landon Speers
Backstage before the presentation of Wood House A/W '17 Collection. Photo by Landon Speers
Backstage before the presentation of Wood House A/W '17 Collection. Photo by Landon Speers
Backstage before the presentation of Wood House A/W '17 Collection. Photo by Landon Speers
Backstage before the presentation of Wood House A/W '17 Collection. Photo by Landon Speers
Backstage before the presentation of Wood House A/W '17 Collection. Photo by Landon Speers
Backstage before the presentation of Wood House A/W '17 Collection. Photo by Landon Speers
Backstage before the presentation of Wood House A/W '17 Collection. Photo by Landon Speers
Backstage before the presentation of Wood House A/W '17 Collection. Photo by Landon Speers
Backstage before the presentation of Wood House A/W '17 Collection. Photo by Landon Speers
Backstage before the presentation of Wood House A/W '17 Collection. Photo by Landon Speers
Backstage before the presentation of Wood House A/W '17 Collection. Photo by Landon Speers
Backstage before the presentation of Wood House A/W '17 Collection. Photo by Landon Speers
Backstage before the presentation of Wood House A/W '17 Collection. Photo by Landon Speers
Backstage before the presentation of Wood House A/W '17 Collection. Photo by Landon Speers
Backstage before the presentation of Wood House A/W '17 Collection. Photo by Landon Speers
Backstage before the presentation of Wood House A/W '17 Collection. Photo by Landon Speers
Backstage before the presentation of Wood House A/W '17 Collection. Photo by Landon Speers
Backstage before the presentation of Wood House A/W '17 Collection. Photo by Landon Speers
Backstage before the presentation of Wood House A/W '17 Collection. Photo by Landon Speers
Backstage before the presentation of Wood House A/W '17 Collection. Photo by Landon Speers
Backstage before the presentation of Wood House A/W '17 Collection. Photo by Landon Speers
Backstage before the presentation of Wood House A/W '17 Collection. Photo by Landon Speers
Viggo Mortensen Doesn't Usually Allow Himself to Be Pampered, But He Made an Exception on His Birthday
Viggo Mortensen Doesn't Usually Allow Himself to Be Pampered, But He Made an Exception on His Birthday