Julianna Margulies
With a hit show, a hot husband and an adorable son, Julianna Margulies proves it's possible to have it all—even in the entertainment business.
---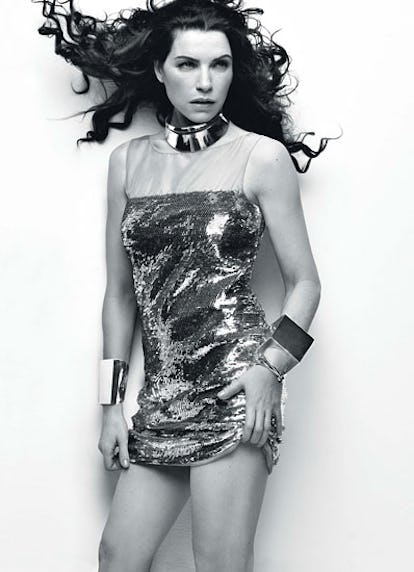 It's Oscar Sunday, approximately five hours before Hollywood's shellacked and starved-svelte legions will begin streaming onto the red carpet, and Julianna Margulies is sipping an iced latte on a couch at the Crosby Street Hotel in SoHo, some 2,500 miles from Los Angeles's Kodak Theatre. It's not as if she has been a stranger to the red carpet—or the victor's podium—this awards season: She won both the Golden Globe and the SAG award for best actress in a drama series for her starring role on CBS's runaway hit The Good Wife.
But the fact that her success is on the small screen means that Oscar day for Margulies is blessedly free of stylists, stilettos and Spanx. Instead, the actress is in jeans and boots, having just come from brunch at Bal­thazar with her girlfriends and their respective children, followed by a playdate in Gramercy Park with her two-year-old son. Though she was up at 6 a.m., is now submitting to a lengthy interview and will later spend hours learning a court scene for tomorrow's filming in Brooklyn (pick-up time: 5:30 a.m.), Margulies considers it a day of leisure.
"I'm tired," she admits after detailing a work schedule that consists of 14-hour-plus days on The Good Wife in addition to promotional appearances for her latest film, City Island. Somehow she also manages to fit in daily quality time with her son and near-nightly dinners—and even Saturday-night dates—with her husband, Keith Lieberthal, a Harvard Law–educated attorney (who, as many Internet gossips have noted, rivals most any Hollywood leading man in the adorableness category). Margulies is still recovering from Friday's filming session, which lasted until 4 a.m. Saturday. "I drink too much coffee," she says with a sigh. "I've learned what a red eye is: a cup of coffee with a shot of espresso in it. Then the other day I was complaining about how I needed to wake up, and someone said, 'Do you know what a black eye is?'" Margulies giggles conspiratorially, as if she's talking about an illicit substance. "Two shots of espresso in a cup of coffee. I thought, I don't want to cross that threshold just yet."
Yet, magically, she looks as fresh as if she has just returned from a week at Canyon Ranch. If she's wearing any makeup, it's undetectable, and still there's not a trace of darkness under her eyes. (Comfortingly, though, when Margulies emotes, fine lines befitting her 43 years do appear around her eyes and across her forehead, extinguishing the suspicion that she must rely heavily on needles to look so good on high-definition television.) "I think the whole under-eye-bag thing is hereditary, and I just got lucky," she says. Goodness knows it's not the result of pampering: "Someone recently asked me the last time I had a facial. What am I going to say to my child? 'I know you don't see me all week long, so Mommy's going to go get a facial on Saturday?'"
But something more than good genetics is at play. "I know this is going to sound corny, but I love my life," she says. "I love my baby, so I love getting to wake up with him. And I have the most amazing job, with writing that any actor would love and costars who I can't wait to see on Monday mornings. And I love coming home to my husband. If I had a job I hated or a husband who I was always fighting with, then I would look tired."
The domestic bliss is a bit unexpected, considering that wife and mother were the last roles Margulies ever expected to play. "I was never­ much of a kid person," she says matter-of-factly. "I mean, I thought they were cute to look at, but I didn't want them in my house." She spent a decade in a relationship with actor Ron Eldard without any desire to tie the knot (the two split in 2003), and says she was contentedly single when she met Lieberthal. They were at the nearby SoHo restaurant Raoul's celebrating the birthday of a mutual friend and just clicked. "But I said, 'If you're looking for the marrying type, it's not gonna be me,'" she recalls. Cut to a year and a half later, when he proposed during a romantic jaunt to Paris. By this point Margulies had abandoned her skepticism about marriage, and happily agreed—and then six days later the couple learned she was pregnant. "It was a total surprise," she confesses. "But I said, 'Okay, I guess we'll roll with it.'"
Lieberthal felt strongly that they should marry before the birth, and soon a seven-months-pregnant Margulies was heading down the aisle in Lenox, Massachusetts, wearing a billowing gown made by her friend and go-to designer, Narciso Rodriguez. Two months later, in January 2008, the couple welcomed a son named Kieran. "We figured we'd celebrate his father's Irish side, since the last name is quite Jewish," she explains, adding, "Yes, my husband's an Irish Jew. He can think and drink."
A celebrity interview can often feel like a game of Battleship, full of strategy—your subject doesn't want you to know that she's hooking up with Josh Hartnett, for instance, or she does want you to know but doesn't want to come off as someone who'd tell a reporter that sort of thing. This is not the case with Margulies; perhaps her openness in discussing her personal life reveals a sense of stability. Which isn't to say she doesn't value her privacy—she would prefer if you'd refrain from snapping a picture of Kieran and her on the crosstown bus or during an outing at the American Museum of Natural History, as a few tactless tourists did the day before. Most of the time, though, when fans wave to her on the street, she says her first instinct is to worry that they're forgotten acquaintances from her college days at Sarah Lawrence, where she'll give this year's commencement speech.
"There's an honesty to her; there are no tricks," says Ridley Scott, an executive producer of The Good Wife who insisted on casting Margulies. "You always feel that what she's delivering is real and straight from the shoulder, and that's who she is in real life. She appears compassionate, like someone you'd ask for advice. That's why I wanted her—and apart from that, she's a hell of a good time at dinner."
It's true Margulies inhabits her characters so completely that they can seem a triumph of typecasting rather than talent. For a long time after her six-year run as nurse Carol Hathaway on ER, Margulies was offered nurse and doctor roles almost to the exclusion of anything else. And she is so believable as The Good Wife's Alicia Florrick, the supremely dignified and self-possessed spouse of a politician caught in a sex scandal, that one expects her to be a bit of a goody-two-shoes in person. "She is the antithesis of that," says Andy Garcia, her costar in both City Island and 2001's The Man From Elysian Fields. "She's gregarious and has a great sense of humor. As an actress she's extraordinarily flexible; she can do anything—dialects, Shakespeare. But if you do a part well, people think that's the way you are."
In fact, Margulies says she wishes she was more like Florrick. "She has this way of looking at both sides of the coin before reacting," she says. "I don't have that—for me, it's black or white; there's no gray area. And I'm an actress, so emotions are much more on my sleeve." She relays an anecdote from earlier that day, when she and her friend were attempting to hail a cab. A free, on-duty driver slowed but then saw the two women were with toddlers and sped away, likely turned off by the sight of little ones. "I said, 'Is this because we have children?' And then I just yelled 'You're a f—ing a–hole!' Out loud! I gasped—I couldn't believe I did that in front of my kid and my girlfriend's kid. I just got so angry. Alicia Florrick would never do that. She would be like, Okay, let me take down the license plate number and file a report."
The outburst is more typical of another Margulies character: City Island's Joyce Rizzo, a sexy, feisty Italian-American mother of two with a penchant for lipstick and Lycra. It's a performance that proves Margulies can stretch beyond roles marked by pragmatism. She loved playing Joyce in the summer of 2008, especially in light of the Waspy persona she would take on for The Good Wife a few months later. "It's funny, people always thought I was Greek or Italian—in fact, I'm Jewish," she says, noting that early on, her looks presented a problem with casting directors who wanted stereotypical American beauty. "But as I've gotten older, the less ethnic my roles have become. I don't know—maybe it's because I've learned to pluck my eyebrows? They used to be really big and bushy."
When the City Island script came to Margulies, Kieran was only five and a half months old. She had just turned down a film shooting in South Africa, but six weeks of work in her hometown actually sounded refreshing. "I needed to get back into someone else's life," she recalls. "I was very overwhelmed—I was like, I'm a mother now; what is it I do for a living again? You lose your identity for a second when you have a baby. So even though I was in heaven [being a mom], it just felt so good to sort of go, Oh, I can do this, too."
Fortunately for Margulies, not everyone sees the allure of playing a loudmouthed cougar in a charming, shoestring-budget film. "I know a lot of actresses who turned down Joyce Rizzo because she was the mother­ of a 20-year-old," says Margulies. (According to director Raymond De Felitta's blog, those who passed include Laura Linney, Laura Dern, Mary-Louise Parker and Marisa Tomei.) "Why would I turn down a great role? I mean, talk to me in five years and maybe I'll be whining that no one will hire me. Maybe now I can only play 'the mother of,' never 'the girlfriend of.' But I think you have to go with a role because it's good, not because of what it says about your age."
Margulies knew she'd struck gold again when she read the pilot for The Good Wife. "When I left ER, people asked me if I'd still do television," she says. "I'll always do television—television celebrates women. It's where the best, richest roles for women are, period." The major caveat, though, was Margulies's insistence that the show shoot in New York. Her husband's work is firmly based here, and she adores the idea of raising her child in what she calls "truly the best city in the world." She spent six years in L.A. doing ER, and, she says, "It's not that I don't like it; it's just not my home. I need four seasons. My family is here, my roots are here." Indeed, one of her two sisters lives nearby, and while the other lives in California, her daughter is a New York University student who gives Kieran his bath every evening between the nanny's departure and his father's arrival from work. Margulies's parents, though divorced since she was a child, live only a few miles apart in Massachusetts, just across the border from the upstate New York town where she has a country house. "I love sharing my kid with my family because I know no one else is going to care the way I do except them," she says. "And babies have a way of making people live longer."
Thankfully, the team behind The Good Wife wanted Margulies so badly that convincing them to film locally was easy. And preparing for the role was made simpler by the political sex scandals that seemed to be cropping up by the day. A key activity for Margulies was studying the before, during and after pictures of the wives involved: Elizabeth Edwards, Dina Matos McGreevey, Hillary Clinton, Silda Spitzer. "The one that hit me the most was Silda," she says. "Two months before the whole thing blew up, she looked incredible. And then you saw her standing beside him at that podium, and it looked like she had aged 10 years. And then a year after that, she was in this Vogue article and she looked like a brand-new woman. There was a light in her eyes." Anyone who saw Alicia Florrick looking haggard and drawn in the pilot of The Good Wife and then appearing sleek and regally self-sufficient in subsequent episodes will recognize this same transition.
Margulies has had to make her own adjustments since taking on the role. Her critically acclaimed performance has brought a level of public attention that has left her poor husband reeling. "We met when I was a guest on The Sopranos and doing an Off Broadway play," she says. "I was off the radar. And now, four years later, he's like, 'Whoa!'" Margulies is truly bewildered by stars who draw even further attention to themselves by tweeting: "Why would you want someone to follow you on Twitter? I guess it might feel like a way of existing, if you have insecurity about your existence."
She speaks more like a journeyman actor than a Hollywood fixture. "When a job ends for an actor, you do wonder when the next job will come," she says. "I'm not above auditioning." And Margulies, who spent the first two years of her career doing theater—and who, since ER, has starred in productions both on and off Broadway—longs for the day when she can again project her voice from a stage.
None of which means she's not enjoying the success of The Good Wife. "I'm most thrilled that drama is succeeding at 10 o'clock," she says, before launching into a critique of NBC's failed decision to put Jay Leno on every weeknight at that hour. "It took away jobs from actors, writers, directors, producers, crew members…. It was a devastating move, and I'm so thrilled it didn't work out." And, of course, she's excited about her own accolades—she admits that attending and winning at awards shows have been "fun" and "an honor."
When it comes to tonight's Oscars, though, Margulies is content to be a viewer. She says she will definitely tune in for the red carpet, and she'll try to stay up to watch her old friend George Clooney vie for the best actor trophy, but she suspects that—with that big court scene left to learn and her alarm set for 5 a.m.—she might be snoozing before the first acceptance speech.
Is there not even a part of her that would rather be there, looking glamorous in Narciso and quaffing champagne with the likes of James Cameron and Meryl Streep? "Are you kidding?" she asks, groomed eyebrow arched. "It's a lot of work and anxiety." And you believe her when she adds, "I'm going to be very happy watching it in my pajamas, eating Chinese food."
Michael Kors's silver silk dress with paillettes, at select Michael Kors stores, 866.709.KORS. Robert Lee Morris collar; Tom Binns cuffs; Hermès bracelet.

Click the blinking icon for a direct link to shop.

Photographer: Nathaniel Goldberg Stylist: Lori Goldstein
Bottega Veneta's silk chiffon gown, at select Bottega Veneta stores, bottegaveneta.com. Jean Schlumberger for Tiffany & Co. bracelets.

Click the blinking icon for a direct link to shop.

Photographer: Nathaniel Goldberg Stylist: Lori Goldstein
Ralph Lauren Collection's silk dress, at select Ralph Lauren stores, ralphlauren.com. Giles by Cutler and Gross sunglasses; Carolina Amato gloves; Kiki de Montparnasse belt.

Photographer: Nathaniel Goldberg Stylist: Lori Goldstein
Dior's silk satin romper, at Dior, 800.929.DIOR; Agent Provocateur's polyester bra, at Agent Provocateur, agentprovocateur.com.

Photographer: Nathaniel Goldberg Stylist: Lori Goldstein
Julianna Margulies shines in Dolce & Gabbana's silk dress and silk jacquard bodysuit, at select Dolce & Gabbana stores, 877.70.DGUSA. On left wrist: Pomellato's 18k rose gold and diamond cuff, $32,895, and 18k rose gold and white gold and brown diamond cuff, $38,400, and on right wrist: 18k rose gold cuff, $14,100, at Pomellato, 1-800-254-6020, www.pomellato.com.

Beauty Note: Margulies simmers with Lancôme's Photogenic Lumessence Foundation in Ivoire; L'Absolu Rouge lipstick in Absolute Rouge; Hypnôse Drama Mascara in Excessive Black; Color Design Eye Shadow in Ciel du Soir; Brow Expert in Sable; Blush Subtil in Rose Fresque; and Ageless Minérale loose powder in Natural Ivory.

Hair by Eugene Souleiman/Wella Professionals; makeup by Stéphane Marais/L'Atelier NYC; manicure by Deborah Lippmann/Lippmann Collection. Lighting and digital technicians: Lionel Koretzky and Chris Lutrel for PiL. Photography assistants: John Guerrero, Jason Geering and John Ruiz. Fashion assistants: Rebecca Grice and Molly Thompson.

Photographer: Nathaniel Goldberg Stylist: Lori Goldstein
Actress Julianna Margulies and husband Keith Lieberthal at Narciso Rodriguez's spring 2009 runway show.

Stylist: Lori Goldstein
Julianna Margulies and husband Keith Lieberthal at the 16th annual Screen Actors Guild Awards. (January 2010)

Stylist: Lori Goldstein
Julianna Margulies and her son, Kieran, in New York. (December 2009)

Stylist: Lori Goldstein