Julianne Moore's 14-Year-Old Daughter Liv is a Reluctant Celebrity Scion
The actress brought her daughter with director Bart Freundlich to Ralph Lauren's September Collection show at New York Fashion Week.
---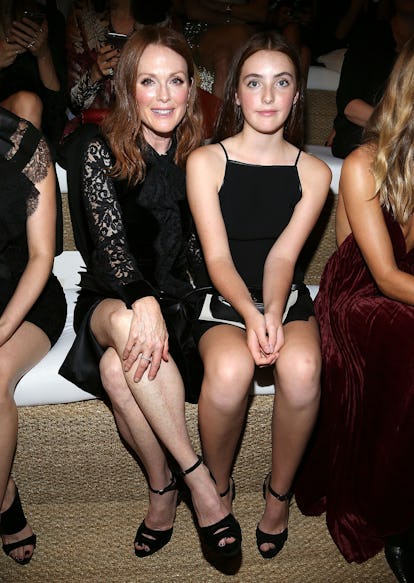 WireImage
The Ralph Lauren September Collection show during New York Fashion Week was a family affair this season with actress Julianne Moore and her 14-year-old daughter, Liv Freundlich sitting front row alongside Lauren's wife, Ricky Lauren, plus their son David Lauren and his wife, Lauren Bush Lauren. They were also joined by Jessica Alba, Rosie Huntington-Whiteley, and Annabelle Wallis of Peaky Blinders.
But Moore and Freundlich stood out from the star-studded crowd, as they were a spitting image in black dresses and pumps, plus a matching middle-part in their stunning red hair.
This was not Moore's first time sitting front row at a Ralph Lauren show, however it was the actress's first time bringing her daughter along for the ride. Despite the fact that it was a school night, the two made the trek from their West Village home to the show uptown, which took place on the sidewalk outside the flagship store last Wednesday. Being the brand's first "see now, buy now," collection, it was fitting to have a Millennial such as Freundlich in the audience. Although, she'd have to steal her mother's credit card to participate — but you get the idea.
Being only a teenager, it's impossible to say whether Freundlich, whose father, Bart Freundlich is a director, wants to one day be in film, fashion, or both — but at this rate her chances of booking a job look promising. She's currently a student at the Chapin School for girls, which boasts notable scion alumnae like Aerin Lauder, Tricia Nixon, and Ivanka Trump. And she's also been an extra on some of her father's films including The Rebound (2009) and Trust the Man (2005). Unlike most Hollywood scions, however, Freundlich is reluctant about curating her own public profile, as her Instagram account is set to private.