Julianne Moore Is Coming to TV in a Very Mysterious (and Very Expensive) Amazon Show
Academy Award-winner Julianne Moore will team with Robert De Niro and David O. Russell for what may be Amazon's biggest original TV show yet.
---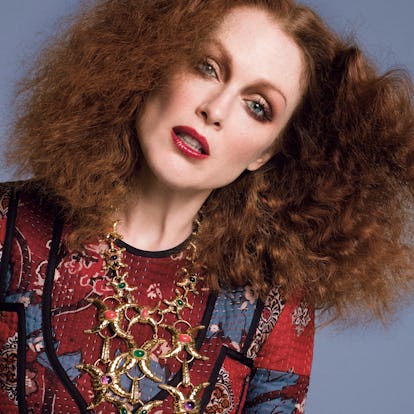 More than thirty years ago a young Julianne Moore got her start in the acting business on television. In fact, that gig involved playing two roles at once. She starred as half-sisters Frannie and Sabrina Hughes on daytime soap As The World Turns from 1985 to 1988.
She hasn't been a regular cast member on TV since. Since then, her returns to the small screen have been brief, including a recurring gig as the very Bostonian Nancy Donavan on 30 Rock and a handful of TV movies (playing Sarah Palin in HBO's Game Change being the most notable).
Amazon, of all places, is paving her way back to full-time cast member status. The on-demand network has outbid rivals to land the prestige project.
Except, no one seems to know much about the show other than that it has an all-star cast and a crew and a very hefty price tag.
Deadline reports that Amazon Studios ponied up $160 million to secure the project for two eight-episode seasons.
For that amount, they'll not only get the services of Moore, but co-star Robert De Niro and writer-director David O. Russell as well. No one knows exactly what the show will be about, but Deadline has heard whispers it might be a mafia-themed show.
Russell and De Niro have worked together numerous times before. The legendary actor has appeared in Russell's Silver Linings Playbook, Joy, and American Hustle. De Niro and Moore have worked together on the flick Being Flynn. Interestingly, Moore and Russell have never worked together before this. Russell's main movie muse of the moment is Jennifer Lawrence.
Aside from being Moore's first TV foray in some time, this will also be Russell's first stab at the serialized medium. Maybe the real headline here thought is that this is the first time in De Niro's 51 year-long career he's signing up to be a TV regular.
Though, television attracting A-list talent both in front of and behind the camera is nothing new.
Actors and actresses that no one would have dreamed would ever return to regular television gigs just five years ago are lining up for gigs left and right.
Hillary Swank will star in Alejandro Inarritu's One Percent on Stars. Kevin Spacey is still having a grand time on the David Fincher-produced House of Cards. Amy Adams is coming to HBO in Sharp Objects, and even Oscar frontrunner Emma Stone has a Netflix series lined up.